These are the 11 best private city tours in Perth, Australia we could find on Viator and Get Your Guide.
1. Private Wine Tour from Perth: Bickley Valley Half-Day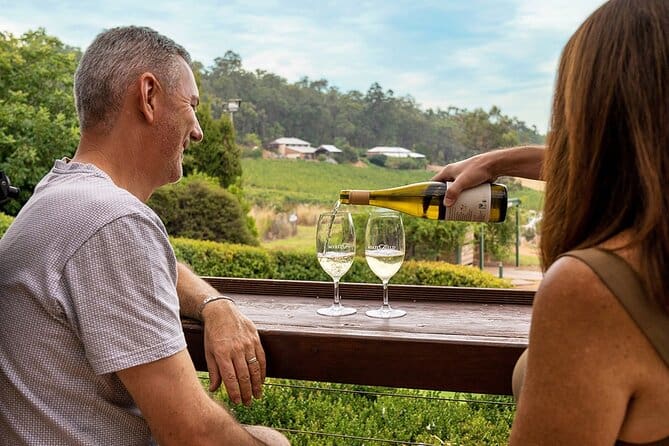 Key Details
Cost: From $156.50
Review Score: 5.0
Number of Reviews: 29
Tour Length: 5 hours
Languages
English
Tour Description
Get off the beaten track to uncover one of Perth's best hidden gems on this private half-day tour of the Bickley Valley wine trail, nestled in the Perth Hills Wine Region. Boasting stunning views of endless vineyards and orchards, the scenery here is a treat in itself!
Your private local guide will introduce you to the best of the region, with a personalised tour away from the crowds. Your afternoon will be filled with award-winning boutique wineries and artisan cider, along with a delicious cheese platter to enjoy with your tastings.
Get a taste of the Bickley Valley on a relaxed afternoon tour
Enjoy tastings at three boutique wineries and a tasting paddle at a picturesque cider house
Immerse yourself amongst vineyards with a delicious cheese platter
Get access to venues that can't accommodate the big bus tours
Travel in air-conditioned comfort with private transfers from your Perth City or Crown Perth hotel
This tour also offers the option to upgrade to include lunch.

What's Included

Guided wine tastings at three boutique wineries
Tasting paddle of artisan ciders at a Cider house
Light afternoon Cheese platter with stunning vineyard views
Private tour with a knowledgeable, local Tour Guide
Air-conditioned, comfortable transport
Pick up/Drop off at Perth City Hotels or Crown Perth Hotels

What's Not Included

This is an afternoon tour and includes a snack but does not include lunch

Cancellation Policy

You can cancel up to 24 hours in advance of the experience for a full refund.

Click Here To Book Private Wine Tour from Perth: Bickley Valley Half-Day

2. Harvest Your Own Pearl Private Experience – Perth

Key Details

Cost: From $326.04
Review Score: 5.0
Number of Reviews: 29
Tour Length: 1 hour

Languages

English
German
Chinese
Japanese

Tour Description

Enjoy the unique, once-in-a-lifetime experience of harvesting your very own pearl, straight from the oyster. Sip on Margaret River sparkling wine and enjoy canapés while your guide reveals fascinating insights about pearl harvesting and demonstrates intricate techniques. Then you will get to harvest one for yourself to keep.

Private tour, exclusively for your party: Ensures a personalized experience
Keep the pearl, whose value could range from $500 up to $5,000
Includes sparkling wine and canapés that include pearl meat
Romantic experience that is ideal for couples

What's Included

Private pearl harvest
1 x Australian South Sea Cultured Pearl (min. value $500)
Canapé containing pearl meat
Complimentary sparkling wine from Margaret River, WA Wine Region
Personalised attention across our flagship showroom
Tour offered in languages other than English – Mandarin, Japanese, German, please contact the supplier after booking the tour to request.
Snacks
Coffee and/or Tea

What's Not Included

Price does not include pearl jewellery settings. This is optional and can be arranged with your guide for an additional cost.

Cancellation Policy

You can cancel up to 24 hours in advance of the experience for a full refund.

Click Here To Book Harvest Your Own Pearl Private Experience – Perth

3. Pinnacles Desert (Private) Day Tour

Key Details

Cost: From $286.92
Review Score: 5.0
Number of Reviews: 23
Tour Length: 8 to 10 hours

Languages

English

Tour Description

Enjoy a day exploring the unique landscape of the Pinnacles Desert without the risk of getting lost on this easy private day tour. The itinerary is customizable to suit your needs and interests, but can include time at the Yanchep National Park, Lancelin Sand Dunes, Hangover Bay, and more. A must for travelers interested in the outdoors, nature, and geology.

Receive personalized attention on a private tour
Entry to the Pinnacles Desert is included
Snacks and water will be provided
Pick-up from your accommodation can be arranged

What's Included

Pinnacles Desert Entry is included
Flexibility to stay as long as you like at the Pinnacles
Flexibility to take lunch at a choice of locations
Bottled water

What's Not Included

Lunch. There are a number of lunch options in the area.
Sand Board Hire at Lancelin dunes: $10/hour for 1 board
Yanchep National Park and Cave entry fee is $10 per person

Cancellation Policy

You can cancel up to 24 hours in advance of the experience for a full refund.

Click Here To Book Pinnacles Desert (Private) Day Tour

4. The Big Wave Rock (Private) Day Tour

Key Details

Cost: From $358.65
Review Score: 5.0
Number of Reviews: 13
Tour Length: 10 to 12 hours

Languages

English

Tour Description

This convenient day tour is the easy way to visit the "wheatbelt" area from Perth. The area is enormous, so you can't see it all in a day, but you can see a lot with the help of a local guide. Choose the sights and activities that interest you most; as this is a private tour you have the ability to customize the itinerary. Visit a range of natural and cultural attractions, and enjoy a classic Aussie road trip.

Receive personalized attention on a private tour
Enjoy traveling in a comfortable air-conditioned car
Relaxed trip can include as much (or as little) activity as you wish
Learn more about this remote area from your guide

What's Included

An amazing fun filled day with a lot of options
A knowledgeable and fun guide to keep you amused on the longer stretches
Lots of photo opportunities – and I take photos of you as well!
A very comfortable airconditioned car with loads of "roadtrip" music.
Bottled water

What's Not Included

Lunch can be "On The Road" Cheap & Cheerful sandwiches means you see more.
Hats & sunscreen are required in Summer

Cancellation Policy

You can cancel up to 24 hours in advance of the experience for a full refund.

Click Here To Book The Big Wave Rock (Private) Day Tour

5. Big Perth (Private) Day Tour

Key Details

Cost: From $277.57
Review Score: 5.0
Number of Reviews: 12
Tour Length: 6 to 12 hours

Languages

English

Tour Description

Discover all the highlights of Perth including Fremantle, Cottesloe Beach, and Kings Park on this jam-packed day trip. A great way to squeeze in visits to all Perth's best sights—and see some friendly kangaroos—without having to worry about planning an itinerary, renting a car, or finding parking, this full-day tour is perfect for maximizing your time in the city. You can even customize it to suit your interests (and those of your group).

Enjoy a whistlestop full-day tour from the city to the coast and back again
Visit some of Perth's best cultural and historical sites in one day
Suitable for private groups of up to seven people (including children)
Includes hotel/port pickup, transport, driver-guide, and customizable itinerary

What's Included

Knowledgable local Driver/guide. The sights you want to see.
Hotel/port pickup and drop-off
Plenty of photo stops and I take photos of you too.
Multiple destinations & Loads of fun!
Flexibility to change destinations at any time.Within reason.

What's Not Included

Lunch. Many Lunch stop options are available to choose from.

Cancellation Policy

You can cancel up to 24 hours in advance of the experience for a full refund.

Click Here To Book Big Perth (Private) Day Tour

6. Spring Wildflower (Private) Day Tours

Key Details

Cost: From $316.91
Review Score: 5.0
Number of Reviews: 8
Tour Length: 6 to 12 hours

Languages

English

Tour Description

Every spring, Perth and the surrounding countryside fills with carpets of colorful flowers and orchids in one of the greatest displays of wildflowers in the world. Led by a passionate wildflower expert and photographer, this private tour will take you to some of the best wildflower-spotting sites around the city and in the countryside. There is also the option to go on a full-day wildflower road trip out through the Central Wheatbelt.

Discover the best spots to see wildflowers with your passionate guide
Enjoy a tailor-made tour around the city or a country road trip
Suitable for families and groups of up to seven people (including children)
Includes hotel pickup, transport, local guide, snacks, and souvenir photos

What's Included

Air-conditioned vehicle
Bottled water
Photography. I take photos of the tour for you.
Flexibility to choose specific Parkland destinations

What's Not Included

Lunch. There are many lunch options on the way.

Cancellation Policy

You can cancel up to 24 hours in advance of the experience for a full refund.

Click Here To Book Spring Wildflower (Private) Day Tours

7. Margaret River (Private) Day Tour

Key Details

Cost: From $349.22
Review Score: 5.0
Number of Reviews: 7
Tour Length: 10 to 12 hours

Languages

English

Tour Description

One of Western Australia's most popular regions, Margaret River is known for its amazing wineries, beautiful beaches, and stunning scenery. A great way to maximize your time in the region, this guided tour takes you from Perth to Margaret River and back, all in one day. This private tour can be fully tailored to your own interests and includes the support of a local driver who will help you get the most from the experience.

Discover the sights of Margaret River on a personalized day tour from Perth
Visit wineries, caves, chocolate factories, townships, and beaches
Enjoy the freedom of a tailor made tour designed to suit your interests
Suitable for families, children, and groups of up to seven people

What's Included

A fun-filled day of mystery depending on what you want to choose to do
A cold esky/Icebox for any drinks & snacks you like to bring along.
A knowledgeable and fun local guide to keep you amused on the longer stretches.
Lots of photo opportunities and I take your pics too.
A very comfortable airconditioned car with loads of "roadtrip" music
Cold bottled water
Snacks

What's Not Included

Lunch is not included (there are too many options)

Cancellation Policy

You can cancel up to 24 hours in advance of the experience for a full refund.

Click Here To Book Margaret River (Private) Day Tour

8. Pinnacles Day Tour

Key Details

Cost: From $238.01
Review Score: 5.0
Number of Reviews: 6
Tour Length: 10 hours

Languages

English

Tour Description

Take in the natural wonders of the Indian Ocean coastline on this fun and informative private day trip from Perth. Heading north, you'll visit the Nambung Desert, where thousands of limestone pinnacles rise out of golden sands. Then, you'll swing by the quiet coastal town of Cervantes for a walk along the beach and lunch, before visiting the incredible 3,500-year-old stromatolites at Lake Thetis.

Go for an off-road adventure through the Pinnacles in Nambung National Park
Check out the amazing white sand beaches and ocean vistas at Thirsty Point
Enjoy the freedom of a tailor made tour designed to suit your interests
Travel in a comfortable air-conditioned vehicle with a local driver-guide

What's Included

Lunch

What's Not Included

N/A

Cancellation Policy

You can cancel up to 24 hours in advance of the experience for a full refund.

Click Here To Book Pinnacles Day Tour

9. Margaret River Private Tour

Key Details

Cost: From $358.65
Review Score: 5.0
Number of Reviews: 5
Tour Length: 12 hours

Languages

English
Portuguese
Italian
Spanish

Tour Description

Take a break from the city and head into the country for the day on this full-day tour around the Margaret River region. Nearly 170 miles south of Perth, Margaret River is a charming town that's part of a premium wine-making region with a strong national and international reputation. On this private tour, enjoy the undisturbed quiet of sites like the unearthly Ngilgi Limestone Cave and visit a couple of wineries without worrying about being crowded out of your tastings.

Stop by a chocolate shop and a coffee roastery and sample their products
Enjoy impressive Indian Ocean views at Yallingup Beach and Busselton Jetty
Ask your private guide all your questions about the region and its wines
This tour is accessible for wheelchair users with foldable wheelchairs

What's Included

Professional driver-guide and informative commentary.
Private transportation in a classy and comfortable fully air-conditioned vehicle.
Pick up and drop-off from included from most centrally located Perth hotels.
Live commentary in English, Italian, Spanish and Portuguese available.
Chocolate tasting included.
Individual bottled water provide during the tour.
Foldable wheelchair vehicle accessible. Person must be able to get in and out of the vehicle.

What's Not Included

Entrance fees to attractions unless specified in the inclusions.
Food and drinks except what is stated in the inclusions.
Alcoholic Beverages

Cancellation Policy

You can cancel up to 24 hours in advance of the experience for a full refund.

Click Here To Book Margaret River Private Tour

10. Swan Valley Region (Private) Day Tour

Key Details

Cost: From $248.01
Review Score: 5.0
Number of Reviews: 4
Tour Length: 6 to 8 hours

Languages

English

Tour Description

Sitting on the edge of the Perth Hills, the Swan Valley is one of the oldest wine-growing regions in Australia, but has plenty of other attractions hidden amongst the vineyards. This tailor-made private tour of the Valley is a great way to explore the things that interest you most—from historic buildings and artisan cheese, honey, coffee, and chocolate producers, to local artists and craftspeople, and wineries, breweries, and distilleries (all at own cost).

Enjoy a tailor-made private discovery tour around the Swan Valley
Learn about the history of the Swan Valley and opt to tour local producers
Explore the historic streets of Guildford and visit curiosity and antique shops
Great for families and groups of up to seven including children

What's Included

Knowledgeable and fun guide
Hotel pickup and drop-off
Private tour
Comfortable Airconditioned Car
Great music,conversation & local knowledge
Chilled bottled water
Flexibility to choose your own Wineries & Lunch stop

What's Not Included

Lunch. There are many Lunch stop options
Tastings are additional and range from $5 -$10 pp

Cancellation Policy

You can cancel up to 24 hours in advance of the experience for a full refund.

Click Here To Book Swan Valley Region (Private) Day Tour

11. Perth: Harvest Your Own Pearl Experience with Champagne

Key Details

Cost: From $319.88
Review Score: 5.0
Number of Reviews: 2
Tour Length: 1 hour

Languages

English
German
Chinese
Japanese

Tour Description

Enjoy a truly unique and romantic once-in-a-lifetime opportunity to harvest your own Australian South Sea Cultured Pearl which you can keep. Enjoy sparkling wine and a canapé of rare pearl meat as you learn about the history of pearling.

Assist your guide to harvest an Australian South Sea Cultured Pearl from its oyster
Enjoy the private experience with light refreshments/li>
Taste the rare delicacy of pearl meat in a special canape
Keep the Australian Pearl you harvest
Learn about modern day pearl farming and how pearls are grown

What's Included

Private pearl harvest
1 x Australian South Sea Cultured Pearl (min. value $500)*
Canapé containing pearl meat
Complimentary sparkling wine from Margaret River, WA Wine Region
Personalised attention across our flagship showroom

What's Not Included

Price does not include pearl jewelry settings. This is optional and can be arranged with your guide for an additional cost.

Cancellation Policy

Cancel up to 24 hours in advance for a full refund

Click Here To Book Perth: Harvest Your Own Pearl Experience with Champagne

How Much Do Private Tours Cost In Perth?

The best private tours in Perth cost between $156.50 and $358.65. However, you can always check the listings below for something cheaper or even more exclusive.

Other Popular Private City Tours

Sydney Private Tours
Sydney Opera House Private Tours
Schönbrunn Palace Private Tours
Vienna Private Tours
Brussels Private Tours