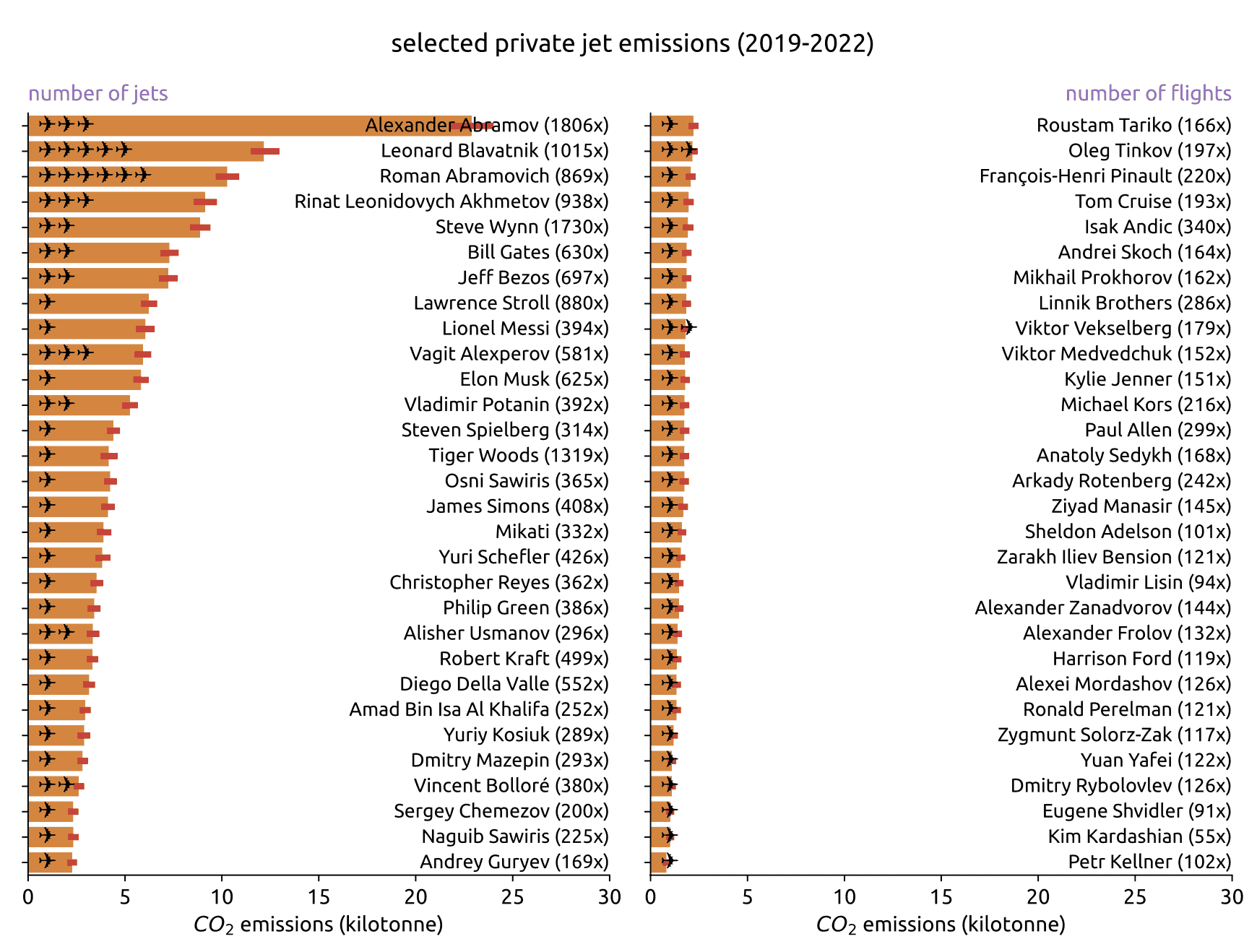 Data comes from reddit user AndooBundoo
The table above private jet emissions in the last 3 years of many well-known individuals, computed using open ADS-B data. It shows how many more times each person polluted compared to an "average" human.
The data is especially impressive when one considers that the average person on Earth produces 5 tonnes of CO2, and the average person in industrialised countries about 10 tonnes of CO2 per year. In the graph above, the x axis is kilotonnes (thousands of tonnes).
Reddit provided some interesting comments about it:
user knorkinator stated:
·
Please keep in mind that this is the data of their jets, which are often rented out to cover costs. It does not mean that they themselves actually flew this much.
to which AndooBundoo replied:
You can still draw some very meaningful conclusions on the discrepancy between public civil aviation and private aviation.

Take the example of Elon Musk given in the research article where this work is published in (link in my other comment in this thread). In one month, his aircraft emitted 600 tonnes of CO2, equal to what approximately 720 average people would emit in the same time period. And the aircraft travelled between well-known destinations of the owner, so the probability that it was rented out is small.

Edit: As this is my most visible comment in this thread, I'll give credit to the original author again here:

The data was collected using crowdfunded open access ADS-B data from OpenSky Network.

Work was done by J. Sun et al., article manuscript available here.

Aircraft performance model used to generate the data: OpenAP.
If you are concerned about your carbon emissions you can look into carbon offsetting schemes. Organizations offering these include: Gold Standard, Green-e and Climate Action Reserve.