When booking a flight or a whole private jet, many people are under the impression that the company they've contacted is the one behind the whole experience. In reality, that's not the case.
Every private jet owner, or a company that has a fleet of over 20 jets, has another company that does the maintenance for them. And since there are different types of maintenance and management, there are also different kinds of companies that provide different services.
Some companies offer booking flights plus maintenance, while others are focused specifically on the mechanical part of the job. Before confusing you even further, let's get into the details of what these management companies provide.
What Does an Aircraft Management Company Do?
An aircraft management company is a private entity that offers services to an individual or another company that owns aircraft. For instance, if you have a private jet and want to use it for commercial purposes, you'll need someone that will arrange that for you.
Moreover, assuming that you're not an aircraft mechanic, you'll also need someone to maintain and do check-ups of your aircraft every now and then. For this and other reasons, there are aircraft management companies that offer this type of service.
There are two types of aircraft management services.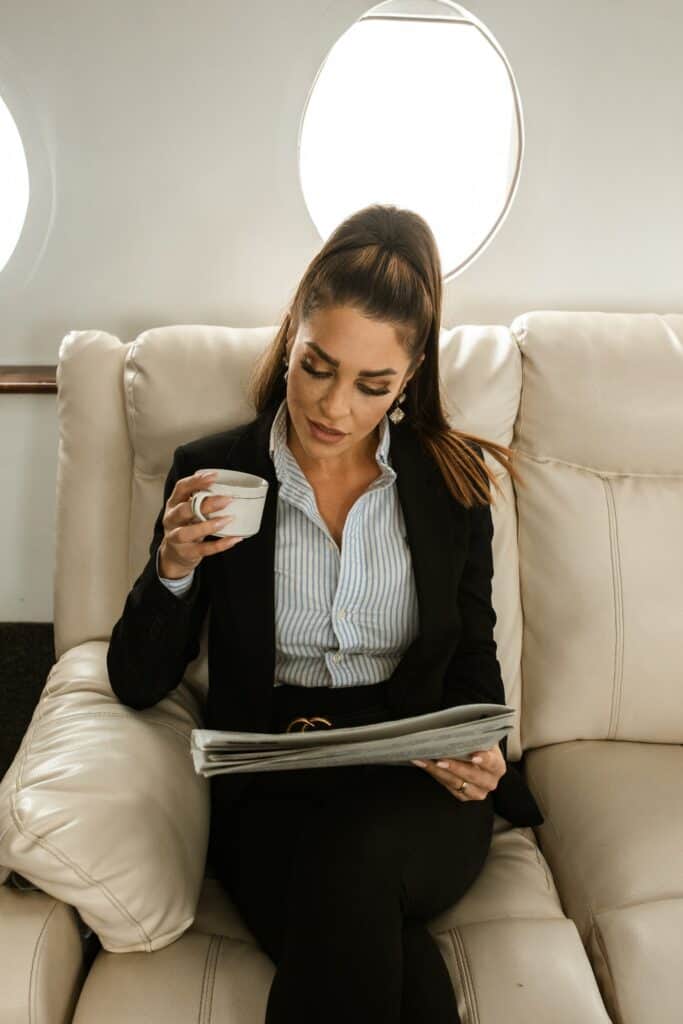 Charter Aircraft Management
The charter aircraft management model is used by almost all aircraft owners who wish to make some additional money out of their aircraft while operating it. I'm saying this because there are people who use their private jets for their own purposes only.
With this model of management, the aircraft management company is only in charge of offering charters, while the owner of the jet operates it, and does further maintenance. In other words, the company will make your jet available for charter, and once you get the passengers and destination, the rest is your job.
Of course, the owner must first acquire a charter certificate, in order to charter their jet. But this is a great way to generate revenue if you don't use your aircraft that often but enjoy operating it.
Turnkey Aircraft Management
This form of aircraft management is quite different from the first one and includes a lot more responsibilities and activities. With this model, there are more maintenance duties that the company offers to the client.
This is a full-management model, where the owner of the jet leaves all responsibilities, including the operational ones, to the maintenance company. This means that the company does everything regarding the aircraft, without necessarily informing the owner of every flight or check-up.
Of course, the company cannot decide to sell the aircraft, but it will take on responsibilities such as hiring or firing personnel, training the staff, worrying about their payrolls, and so on. All bookings and flights will be managed by the company, meaning that the aircraft is de facto under their control.
This type of management also includes technical support, like repairs and maintenance. The management company will also ensure that the aircraft meets all Federal Aviation Administration (FAA) compliances.
If you decide to go for a turnkey management, you can expect that the company takes over customer service support, as it will provide all the trip details to the customers. At the same time, it will be managing the finances of the company or an individual's aircraft.
The owner of the jet, whether it's a company or an individual, can still benefit privately from the aircraft, as they will have the right to charter it when the plane is not in use. Bear in mind that every operational jet needs to have a charter certificate.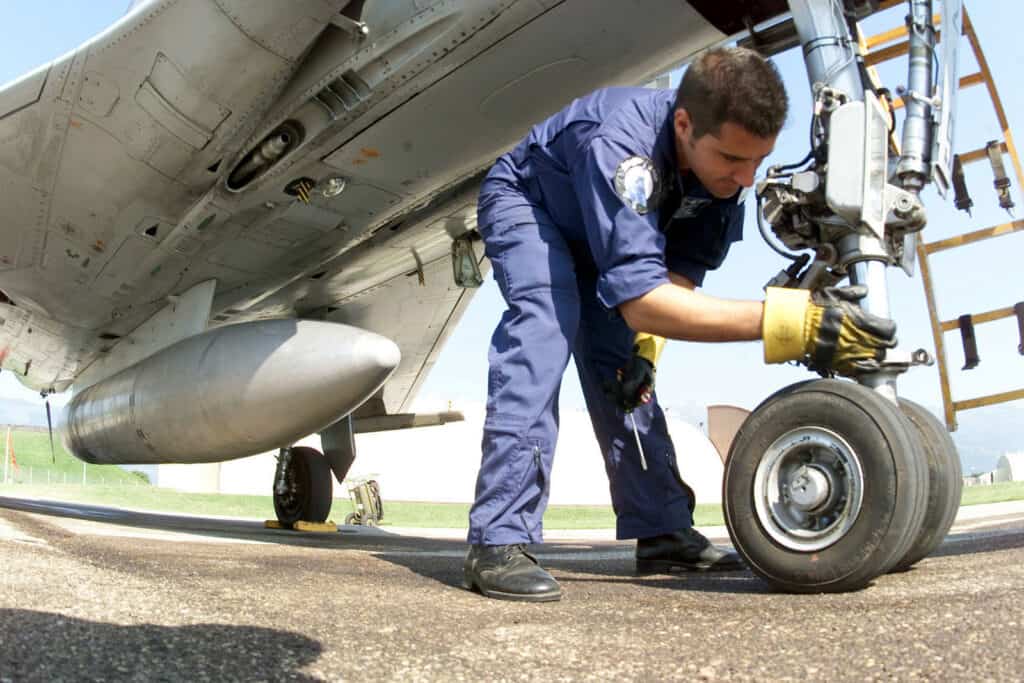 How Much Does Aircraft Management Cost?
Everything that we discussed so far means nothing if we don't get to the part where I tell you how much an aircraft management service could affect your budget. As it usually is with private jets, prices are flexible and depend on many factors.
Roughly speaking, the basic costs can range from $5,000 to $15,000 a month, depending on the type and size of your aircraft. This will cover all the logistics, bookings, and regulatory requirements for the aircraft to be operable, such as maintenance or pouring fuel.
However, there are dozens of additional costs that will make this price skyrocket on an annual level. For example, if you add the variable costs of aircraft catering, handling fees, and crew travel, your bill is already significantly higher.
Other costs can be operating or fixed. The former includes the most important thing – fuel. You can imagine how much fuel needs to be poured for a busy jet. This also includes maintenance, navigation fees, as well as operational support.
Fixed fees, on the other hand, include insurance, staff training, crew costs, fees for airworthiness, and others. When you take all of this and put it together, you get a price of a minimum $1.5 million per year, while some aircraft can even cost up to $4.5 million.
Free Management
While searching for the best company to maintain your aircraft, you'll notice that certain companies offer "free aircraft management". This is not completely true, given that these agreements usually come with a fair share of hidden fees and costs.
You probably know by now that nothing is free in life. If you have a jet that you've spent millions on, expecting that someone will maintain it for you, for free, is not realistic. I won't discourage you from taking the "free model" into consideration, but please be very careful what you're signing.
Top 3 Aircraft Management Companies
Now that we covered the theoretical part, let's take a look at some companies working in this sphere. I'll introduce three companies that are famous in the business, in an order that is random and doesn't have the goal to gradually rank them from best to worst.
The companies that I chose have everything that I feel should be offered by an aircraft management company. It's hard to write down the pricing for the services since that's something that these companies don't easily disclose.
Everything regarding pricing will have to be checked directly with the company, either via email or phone.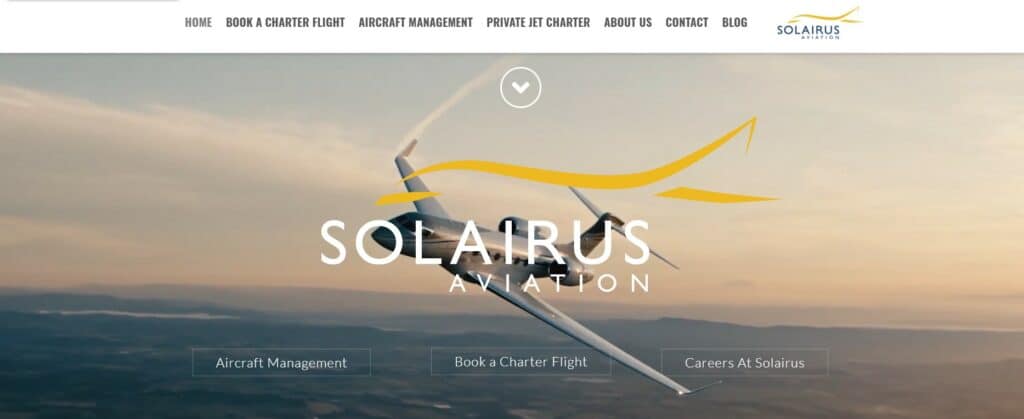 Solarius Aviation is an aircraft company with years of experience. They don't only maintain jets, but also sell and charter them. The company focuses a lot of its energy on safety, which is perhaps one of its key moves to attract clients.
There is a very busy safety department in the company that constantly works on observing the flight operations, managing the crew's training, and dealing with promotions. At the same time, they regularly hold safety committees where all staff members participate.
Solarius even uses the SMS (Safety Management System) tools in order to enhance the level of safety. According to the company, that is their number one priority.
Other than that, Solarius offers operational support services, or in other words, dealing with the logistics, purchasing fuel, or getting insurance. Moreover, they will take care of overnighting safety procedures, and manage the sales or charters of the aircraft.
The company has a highly experienced financial crew that will take care of your account. You will still have insight and access to the account, so you can be sure that the fiscal stuff is being managed properly.
All in all, your aircraft is in safe hands with Solarius. The company spends on average some $35 million every year on aircraft maintenance, including labor, tracking programs, engineering, and procuring parts for the jet.

Aurora Jet is yet another aircraft management company that I recommend, offering turnkey services and looking after every little detail regarding your aircraft. The company is one of the most experienced ones in the United States, and it's safe to say they're one of the industry leaders.
Other than maintaining your jet, Aurora can assist you in purchasing one, and help you with collecting all the needed documents and flying permits.
The company has a strong HR department and will do quality hiring and training of your crew, mainly pilots. Also, you can leave the payroll to them, and Aurora will manage all the bonuses, days off, accommodations, holidays, and so on.
The maintenance of your aircraft is in safe hands, and I say that with confidence. They will make sure that your jet is airworthy and ready to take off. In case that an unwanted scenario occurs off base, the company will send an engineering team wherever it's needed.
Safety is also a huge priority for Aurora Jet, as it uses the SMS system to ensure everything is the way it should be. The system enables the user to easily identify and reduce potential risks via its tools. By using the SMS option, you will know in time if there is a hazard regarding the state of your jet, difficulties at the landing airport, or decrease in the food quality you have on board.
With an experienced fiscal team, the company will take over the finances for your aircraft. This will also bring you a lot of discounts for crucial items such as fuel, or pilot training, insurance fees, and so on.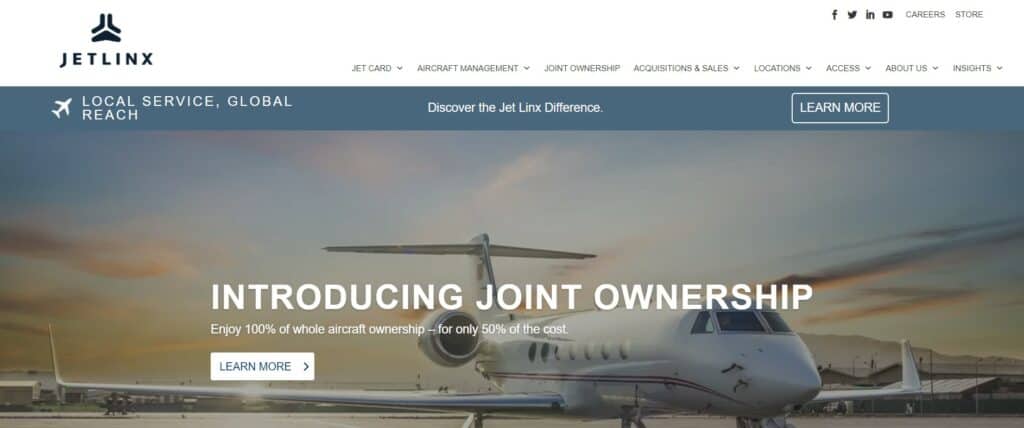 Jet Linx is a company that offers high-level aircraft maintenance services. The company offers tools that help it track and oversee over 4,500 jets in the US only, and support almost 200 different aircraft models and makes.
Unsurprisingly, Jet Linx also prioritises safety, just like every other aircraft management company. However, they claim to go beyond the FAA regulations and do more for the safety of their staff and clients.
The company has strict rules when it comes to hiring new pilots, both captains and first officers, thus supporting their motto: "Experience matters." To be a captain at Jet Linx, one must complete a minimum of 3,000 hours of flight time. First officers are required to have half that amount.
Jet Linx wouldn't be a serious aircraft management company if they didn't pay special attention to safety. With the safety system they use, owners can sleep tight at night because the company has data on risks at any given moment.
This management company also offers high-quality catering and concierge services, and perhaps it's the best one on the list regarding this point. They pay special attention to their clients' lifestyle needs, so they've developed the Elevated Lifestyle Benefits Program, offering only the best to those who have adopted a certain lifestyle.
Summary
Most people who own a private jet, or other aircraft, have the need to hire a company that will manage the aircraft for them. This is done by individuals or companies, and aircraft management companies are here to offer their services.
There are two models of aircraft management – charter and turnkey aircraft management. The former will only take care of the booking and chartering procedure, while the owner takes care of operations and maintenance.
Turnkey aircraft management means total control of the jet by the management company. This service costs more but covers all aspects from HR and finances to hiring and training pilots.
Hopefully, the article has made it clearer where to find these companies and how they function.
Here are the most important services that an aircraft management company should provide:
Maintenance;
Fuel purchasing;
Crew hiring and training;
Safety risk assessments;
Flight booking and planning;
Charter sales and marketing.
Obviously, such companies have a few other items they offer, but these are the basics. The costs for hiring a management company can range from $1.5 million to $4.5 million, depending on the price.
This is not the price you will see on any of the companies' pricing lists, and there are usually many hidden costs. So, make sure that you talk thoroughly before you make a deal with some of the companies.