Doha-based Qatar Executive, known for their long-range fleet and luxury jet amenities aboard each flight, operates private jet charter services all over the world. The most popular locations for charter arrivals and departures include:
From Qatar to the US and Europe;
From Russia to East and Southeast Asia;
From Europe to the East and West coasts of the US.
Let's see what Qatar Executive offers in more detail.
About the Company
Founded by a Qatari royal family, Qatar Airways entered the aviation industry in 1994. In contrast to other airlines, Qatar Airways has its own fleet of private planes in addition to its commercial fleet. The airline's subsidiary, Qatar Executive, was formed in 2009 and flies principally Gulfstream luxury aircraft.
The Qatar Executive wholly-owned business jet fleet offers stunning jet services for international charter from its headquarters at Doha International Airport. Clients have access to the Block Hour Agreement, a contract-based program that lets flyers reserve flights at hourly prices.
The airline's sustained support of the Middle East, the international business travel community, and its strong worldwide expansion plan, are all reflected in Qatar Executive.
Moreover, Qatar Executive works with highly qualified personnel from more than 52 different nations and cultures to provide ground handling services to foreign airlines, high-ranking government officials, private aircraft, and air cargo carriers.
Let's explore their membership programs and continue with the other services.
Membership Programs
Customers can pre-purchase flying time on cutting-edge large and ultra-long-range private planes at set hourly rates through Qatar Executive's unique and exclusive Block Hour Agreement.
The Block Agreement offers an exceptional flying experience specifically suited to each flyer's taste and expectations.
To join this program, customers must purchase a minimum of 50 hours of flying time without any additional membership costs. Both flight hours and taxi time are included in the fixed hourly price. Additionally, clients benefit from having assured availability for reservations made as early as 72 hours before the flight.
Pricing
Due to the fact that clients receive the price after submission, Qatar Airways doesn't disclose any specific pricing ranges or alternatives for Qatar Executive.
You may get a general idea of what you could be in for from Qatar Executive's pdf list of all the prices and services.
Additional Services
Qatar Executive offers some additional services other than aircraft leasing.
Aircraft Management
In this role, Qatar Executive serves as an adviser, providing direction when needed and offering advice on the most economical way to satisfy clients' demands. Clients can choose a private management solution – exclusive usage, or a commercial management solution, in which the aircraft is leased to other customers in exchange for considerable cost savings on the total price.
Aircraft Servicing and Maintenance
Qatar Executive provides ground handling services and fixed base operations to international airlines, government officials, private aircraft, and air cargo transportation. Thanks to Qatar Executive's staff of skilled and factory-trained technical experts, all aircraft maintenance tasks are carried out to the highest standards. The Challenger 604/605, Global XRS, 5000, and Gulfstream G650/G500 are among the aircraft on which Qatar Executives can do base and line maintenance.
The Fleet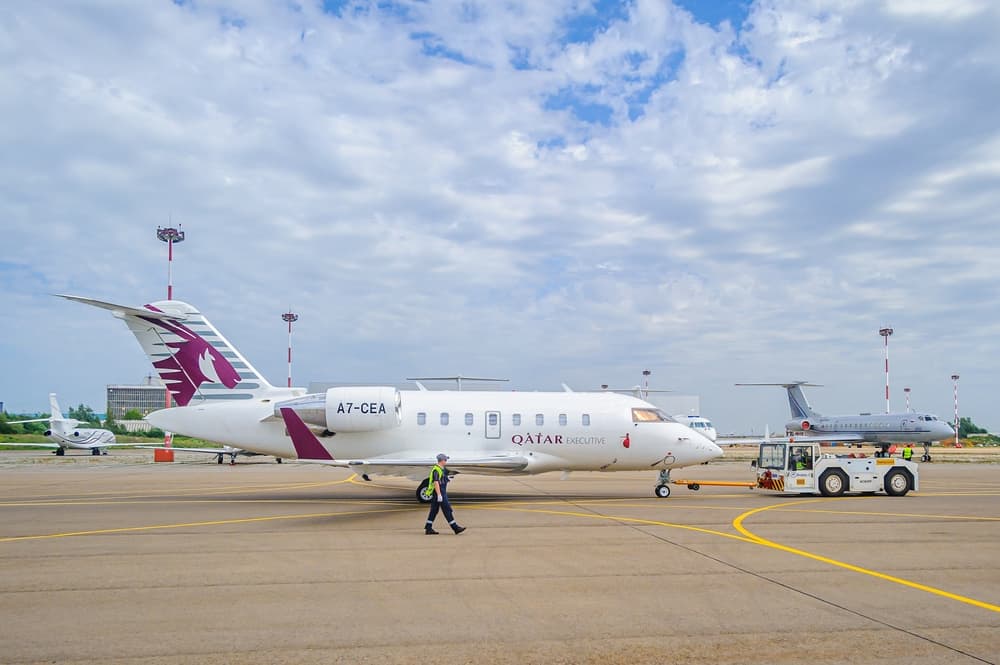 When you charter a private jet with Qatar Executive, you will have direct access to their fleet and the most modern Gulfstream and Bombardier planes managed to the latest safety standards. These jets are only for private hiring and are not used for regularly scheduled commercial flights by Qatar Airways.
The Gulfstream G650ER, Bombardier Global Express XRS, and Gulfstream G500 are the airline's current aircraft, counting approximately 20.
What all these jets have in common are features like opulent interiors with roomy seating configurations, dining space, and other functional spaces and furniture, just like private aircraft from other companies. Their interior is designed with a small, selected group of passengers traveling together in mind, so it's very functional and aesthetically pleasing.
Let's take a look inside the top three aircraft models in the Qatar Executive fleet and see their performance, size, and amenities.
1. The Gulfstream G650ER
Gulfstream G650ER is a member of the ultra-long-range business jets and is one of the fastest jets on the market with its outstanding engine.
One More Orbit is a successful international attempt to break the Guinness record for the quickest circling of the planet via both poles. For the mission, they utilized a plane owned by Qatar Executive to break the previous record for the quickest pole-to-pole trip around the globe. In 2019, they surpassed the previous record of 52 hours and 32 minutes, setting a new record of 46 hours and 40 minutes flying on a G50ER.
The elite Gulfstream G650ER has a cabin length of slightly over 45 feet and can accommodate 13 passengers flying directly between Asia and Africa or between the Middle East and North America. It's the best aircraft for individuals who need to go halfway across the world since it can travel farther and quicker than just about any jet of its size.
The aircraft's operational capabilities, interior technology, fuel usage, and passenger safety make it a highly sought-after jet. With a 7,500 nm range, the Qatar Executive Gulfstream G650ER has the ability to fly faster and further than any other aircraft of its class.
Specifications and amenities:
Passengers: 13;
Cabin height: 6 ft 5 in;
Cabin width: 8 ft 6 in;
Cabin length: 46 ft 10 in;
Maximum altitude: 51,000 ft;
Maximum speed: 1,132 km/h;
Flight range: 7,500 nm;
Crew: 2 pilots, 1 flight attendant;
20 bags allowed;
WiFi;
Sleeping room;
Smoking allowed.
2. Bombardier Global Express XRS
The Bombardier Global Express XRS is the ideal business jet that has all the best performances needed for an international flight, such as a cutting-edge flight deck setting and a quiet cabin.
Specifications and amenities:
Passengers: 13;
Cabin height: 6 ft 25 in;
Cabin width: 8 ft 17 in;
Cabin length: 48 ft 35 in;
Flight range: 6,150nm;
Maximum altitude: 49,000 feet;
Maximum speed: 950km/h;
Crew: 2 pilots, one cabin crew;
15 bags allowed;
WiFi;
Sleeping room;
Smoking allowed.
3. The Gulfstream G5000
The G5000 jet is one of the Qatar Executive fleet's quickest and most technologically sophisticated types of planes. The cutting-edge jet establishes a new standard for the industry by providing one of the quietest cabins and offering the right cabin altitude pressure for increased passenger satisfaction.
Specifications:
Passengers: 13;
Cabin length: 42 ft 50 in;
Cabin height: 6 ft 25 in;
Cabin width: 8 ft 17 in;
Maximum speed: 950km/h;
Flight range: 5,000nm;
Maximum altitude: 49,000 feet'
Crew: 2 pilots, one cabin crew;
15 bags allowed;
WiFi;
Sleep room;
Smoking allowed.
Company Safety Policy and Standards
Qatar Executive has received many awards, providing assurance that the aircraft and the crew adhere to strict safety standards and offer personalized, high-end services.
Every one of their aircraft is maintained to levels that go above and beyond the demands of the manufacturer, thanks to their internal, Part 145-approved maintenance department.
Moreover, Qatar Executive is a member of the National Business Aviation Association and Air Charter Association, and is Wyvern & ISBAO certified.
Pilots
Qatar Executive's flight crew goes through the same recruitment training as Qatar Airways' crew. Each of their pilots has extensive experience flying business aircraft around the globe, and the flight attendants get ongoing training to guarantee the best possible onboard service and reliability.
Qatar Executive FBO
In 2011, Qatar Executive launched their first FBO (fixed base operator) and upkeep service for private jets arriving in Doha.
There's a helpful team that meets every client's needs with the highest care and the FBO lounge provides a variety of amenities, such as WiFi, beverages, newspapers, and a relaxing environment to unwind.
The FBO personnel can organize services such as refueling, weather forecasts, food, hotel accommodations, and transportation.
You can see the FBO services and prices on the following link.
Conclusion
Since its founding in 2009, Qatar Executive has grown quickly and taken the lead in providing air charter services to individuals, organizations, and governments. They offer charter flights to virtually any place on the globe with its fleet of six brand-new, immaculately outfitted Bombardier Challenger 605 and Global planes, and offer high-end service to their clients. By offering both commercial and private aircraft, no wonder Qatar Executive is one of the top airlines in the world.