If you've been purchasing flying tickets online, there is a great possibility that you've encountered this abbreviation, FBO. This probably provoked a lot of questions in your mind as its meaning is not something you can work out intuitively.
A fixed-base operator (FBO) is a facility that is well-known to those who fly with private jets instead of using the commercial airline system. Simply put, it's a terminal, but adapted to the style of passengers that travel by private jets.
What Kind of a Terminal Is an FBO?
I agree that simply saying it's like a terminal is not enough. You don't see these small buildings if you use the regular airport entrance. These are part of the airport building but usually come as an annex to the main building, or as a separate part of the facility.
The size and appearance of the fixed-base operator differ from airport to airport, depending on the size of the building in general, or the number of FBOs present in it. Yes, some airports have two large FBOs, one small, or two small ones and a big one. It all depends.
Also, it's quite normal to have an FBO constructed outside of the commercial airport, as a separate building. But in most cases, FBOs are leased from the airport and run by a private or public company.
For example, Universal Weather and Aviation has over 1,700 workers deployed in more than 50 FBOs in around 20 countries. The company doesn't own the facilities where it performs the ground support services, but rather has them on lease.
However, perhaps the biggest ground support company with more than 200 locations in the world is Signature. They are known to have top class services in high-end facilities.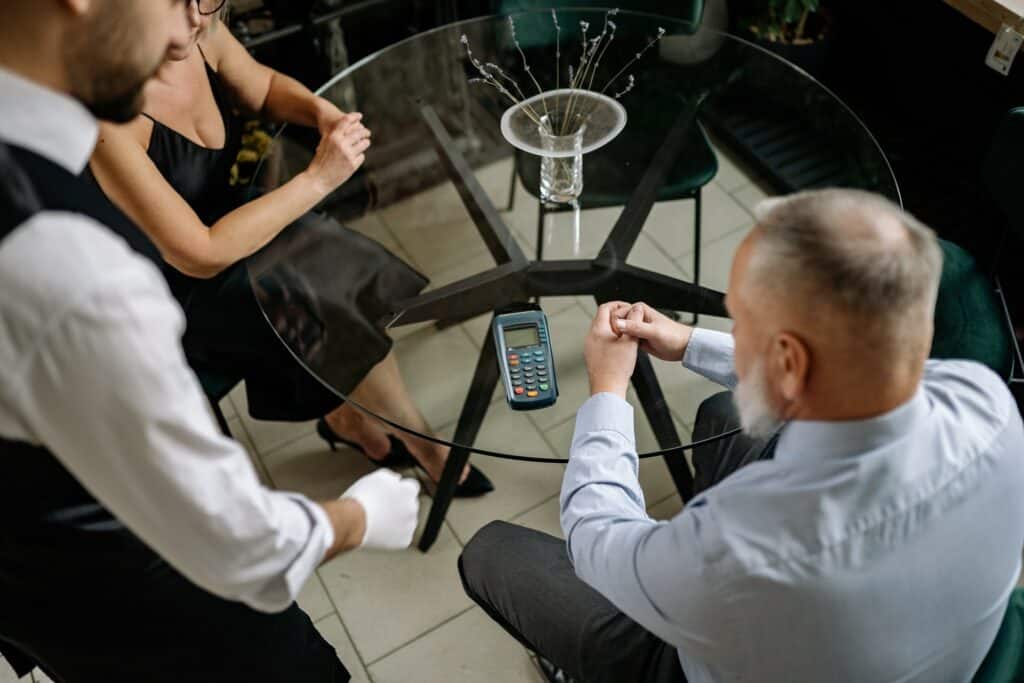 What Does an FBO Look Like?
As I mentioned previously in the text, not all FBOs are the same, and that varies from the company managing it, and the size and importance of the city or airport where it's located. But I can tell you what a luxury FBO by Signature in Miami looks like, for example.
The first thing that you think off when seeing a high-end FBO is that it looks like a hotel lounge. There is a nice hall with some fancy furniture, usually a LED TV and a couple of books or, more often, magazines.
However, that's only the first sight you see. Since the FOB is a "base" for both the staff and the passengers, you can easily run into or intentionally meet the flight attendants and the pilot(s). They are usually in their designated spots.
If you want to freshen up a bit, there are fridges stacked with cold drinks, but you can also get anything else you want. You are basically free to serve yourself, and if the staff is ready for the flight, they might sit down with you and have a little chit-chat.
Obviously, if you want some peace and quiet, you have a room dedicated just for that. It's even called the quiet room where you can relax, listen to some music, read a book, or even take a nap if the day's been too long.
Not all FBOs by Signature have showers, but the one in Miami does. This is also the case with other facilities in the bigger cities of the world.
Some, not all, also have a conference room. So, if you don't really have time to lose in the crowded cities, you can have your meeting done on the spot, and immediately leave your destination once you're done with the talks.
Right next to the runway, there is a restaurant where you can sit and watch the aircraft take-off and land. This is a fun experience, especially for avgeeks.
What to Expect There?
Passengers usually spend up to 10 minutes in an FBO, so they don't really notice what the facility offers at all. As part of the FBO, there is an immigration desk and passport control. However, these checkups are done in very relaxed environments, and quite quickly, unlike the ones at commercial airports.
Once people go through the control, they can immediately go to the runway and enter their jet. However, if you're here to spend more time, you will meet the captain, the crew, and you will be offered refreshments or other services.
If you need to spend a day or two, you will be able to book one of the finer rooms, with the possibility to have room service while residing. Of course, this depends on the airport you're at and the company running the FBO.
Sometimes, but not always, there are boutiques where you can purchase a new piece of wardrobe. This is mostly used by businesspersons who had a tough time catching the bus and are about to have a very important meeting at their destination.
How It All Started
The history behind the term FBO is very interesting and will make things more clear. We ask ourselves what a private jet fixed-base operator (FBO)is because the name itself suggests very little. I personally would never suspect that it's a facility.
However, to understand the nature of these facilities, you gotta know that the aviation industry in post-WW1 USA was pretty much unregulated. There were pilots that were flying old fighting aircraft that would fly from town to town for work.
These pilots, which are also known as barnstormers, would visit different towns and land, wherever they'd feel it's safe. Very often, that would be farming lands outside of the cities, since the official airports were too expensive for these people.
The barnstormers didn't act as flying companies, but rather as entertainers that would offer flights to different destinations, but also perform airshows.
However, in 1926, the US government introduced a law on aviation (the Air Commerce Act) that demanded pilots be licensed, and their aircraft to go through required maintenance, regarding the safety and condition of the jet.
Pilots that would abide by the law would establish permanent places of business or fixed-base operators. Today's FBOs are quite different from what they were in the early 20th century, but that's where they originate from. All that was done to divide professional pilots and barnstormers.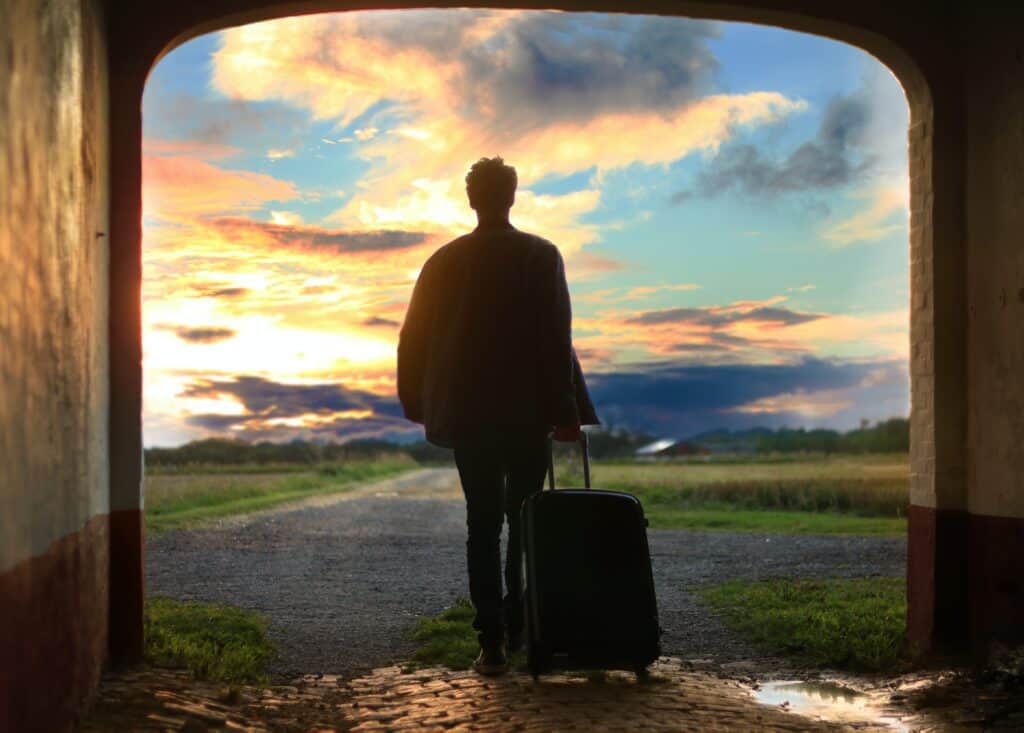 The Best FBO Companies
Just to clear things up in case you missed something in the article so far. Each FBO is run by a private company that usually has a network of these kinds of facilities throughout the globe. The FBOs are usually owned by the airport operator and given on lease to these companies.
Let's take a look at one of the more famous companies that people trust and whose services they gladly use.
Signature

Signature is by far the most competent player on the market when it comes to fixed-base operators. They have been gaining passengers' trust since 1992, when two companies, Page AvJet and Butler Aviation merged to form the new company – Signature.
Signature has a ridiculously wide network of FBOs in the world, counting 200 and more facilities. They have terminals on almost every continent, including Europe, Asia, Africa, both Americas, and even on the Carribeans. However, they don't have an FBO in Australia.
Making a reservation with Signature is very easy and demands very little effort on your part. First, you have to create an account, which won't take you more than 5 minutes. After that, all you need to do is select your destination and enter your take-off time.
Signature offers other appealing services such as a member card, which gives you all sorts of advantages by excluding annual fees and protecting you against fraud.
Universal Weather and Aviation
Universal Weather and Aviation is a well-known and distinguished trip support services company. It's a firm with a high reputation, founded in the early '70s. It started small, but quickly expanded, becoming one of the main competitors on the market.
Today, Universal operates over 50 FBOs dispersed in around 20 countries. Their branches are present on every continent, and they make reserving a flight very easy. Just like with Signature, you have to register first, and then it's all easy-peasy.
Universal has many brands under the parent company, but what I think is an essential brand is the Air Culinaire Worldwide firm. As we all know, catering is one of the most important parts of your trip, so Universal has you covered there as well.
By the way, the company started off as a weather forecaster in the '50s, hence the name. The company also offers other services such as transportation and short accommodation in some of their facilities.
StanCraft Jet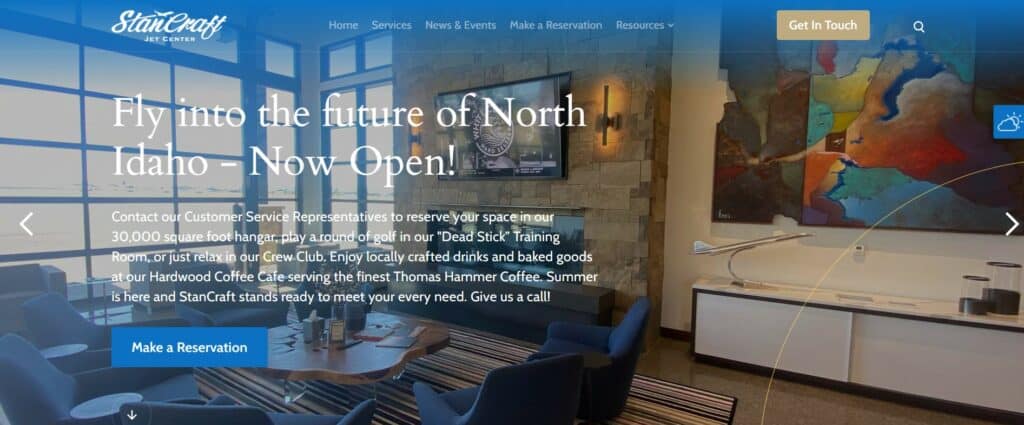 StanCraft Jet is an exceptional company offering unique and complete services. With a wide network of FBOs on several continents, the company offers services that are not directly related to flying.
The company has a 24/7 call centre that's at your disposal. At the facility, you have all kinds of beverages and food, of course, but you could also rent a car or have a helicopter ride, among other activities.
This company is unique for all the rooms and lounges that it offers. It's normal to have the captain's and the passenger's lounges, but at StanCraft Jet, there is a room to take a nap, chill, or read.
To make a reservation, you'd have to create an account first. After that, you will be able to reserve a service with just a few simple steps on the company's intuitive website. Visit the company online and check out all the services they offer.
Summary
I hope that this article has made things a lot clearer for you and that you finally understand what a private jet fixed-base operator (FBO) is. Just in case this was too much information on your plate, let's go over everything in a quick summary.
What is a private jet fixed-base operator (FBO)?
An FBO, or a fixed-base operator, is a facility, usually part of an airport building, but that can also be a separate building. It's purpose is to manage private flights and jets. This is contrary to the commercial flights we're all used to.
Apart from managing your flight, an FBO can offer you services such as catering, accommodation, even entertainment in some cases. These facilities are managed by a private or public company that has taken the premises on lease from an airport operator.
Not always, but in 99% of the cases, these facilities are constructed in a high-end style and usually reflect luxury. This makes sense if you know that private jets are mostly used by people that make quite a lot over the average salary.
Passengers don't spend a lot of time here, usually. Although there are a lot of amenities that they can use, there isn't enough time between checking in and taking off. Yes, an FBO is like a small terminal where you also go through check in and passport control. The only difference is that you don't wait for hours in line, as you would on a commercial flight.
History
The history of fix-base operators is quite interesting, as these types of facilities became popular quite early in the US. In the '20s, right after WW1 had ended, pilots owning old aircraft flew from town to town, basically forming a flying circus.
They didn't act as a flight agency, but rather as performers who would come into town to offer the folks a ride or to perform air tricks. Since the actual airports were too scarce and far from each other for them to always use for landing, they used wide farms they would spot outside of town.
However, the US government passed a bill saying that all pilots must have licenses if they want to fly over the country's territory. At the same time, an even more important order was passed, stipulating that all pilots owning jets must have a fixed place from where to operate. Hence the fixed-base operator (FBO).
So, if you ever get the chance to fly with a private jet, this is what you should expect when arriving at the terminal.