GrandView Aviation is a Baltimore-based private jet charter firm that operates in the United States. You can fly across the country with their Phenom 300 jet aircraft, and rent their Sikorsky S-76D and Bell 407GXI helicopters in Baltimore and Washington, D.C.
Because the company is Wyvern Wingman certified, their pilots follow the latest and best safety practices, while the crew is committed to providing unparalleled service. The charter department is ready for personalized itineraries and flights 24 hours a day, seven days a week.
Let's see what they're all about.
About the Company
GrandView Aviation is a privately owned company founded in 2004, with Jerry Edwards as the CEO. The company owns its fleet of Embraer Phenom 300s and has around 130 employees.
The entry-level program at GrandView Aviation is a deposit of $150,000 with no availability assured.
Aside from private aircraft charters, the firm is a pioneer in organ transplant transportation, having transported more than 250 life-saving surgery teams in 2021 and more than 2,200 since its beginning.
The latest news we have about GrandView Aviation is that Global Medical Response (GMR) announced the acquisition of the company in 2022. Global Medical Response provides high-quality medical care, mainly in emergency and patient relocation services in the United States and worldwide, which is why this move makes a lot of sense.
Thanks to its recent growth, the company has hubs in Atlanta, Austin, Baltimore, Boston, Chicago, Denver, Los Angeles, and Scottsdale.
Empty Leg Flight
In addition to regular charters, GrandView Aviation can help you book empty leg flights. An empty leg is a flight that's already scheduled to fly to a specific destination without any passengers. Empty leg flights are generally available when a plane has to be relocated or returned for another route.
If you can make last-minute arrangements for some trips, an empty leg flight is always an ideal option since they're much cheaper than the standard fare.
Company Card Programs
GrandView Aviation provides two types of membership packages for frequent flyers: Altitude Miles and Altitude Plus Miles.
To become a member of the GrandView Aviations' jet card program Altitude Plus, you are required to make a deposit of $150,000. You instantly get a rate lock for 24 months when making the deposit, and you can take advantage of fixed flat prices for more than 65 destinations, including a discount of 10% on every flight. When you travel more often, you'll earn more perks and privileges, such as:
Onboard catering
Flight credits
Flexible cancellations – GrandView will reimburse the cost of the ticket to your account
$200 catering credit for every flying day that you fly
Empty leg flight deals
Unlike Altitude Plus, it's free to become an Altitude Miles member, but you won't get flight discounts or fixed prices. Frequent travelers can earn perks and privileges, such as:
Onboard catering
Flight credits
Flexible cancellations – GrandView will reimburse the cost of the ticket to your account
$200 catering credit for every day that you fly
Empty leg flight deals
Pricing
The hourly rate is guaranteed for members, and costs are calculated depending on total flight hours. The price includes repositioning from Atlanta, Austin, Baltimore, Boston, Chicago, Denver, Los Angeles, and Scottsdale. There are set transport charges for more than 65 major destinations.
The hourly cost of flying with their fleet of Phenom 300 begins at around $3,100, including FET (Federal Excise Tax) but without any repositioning fees.
The Fleet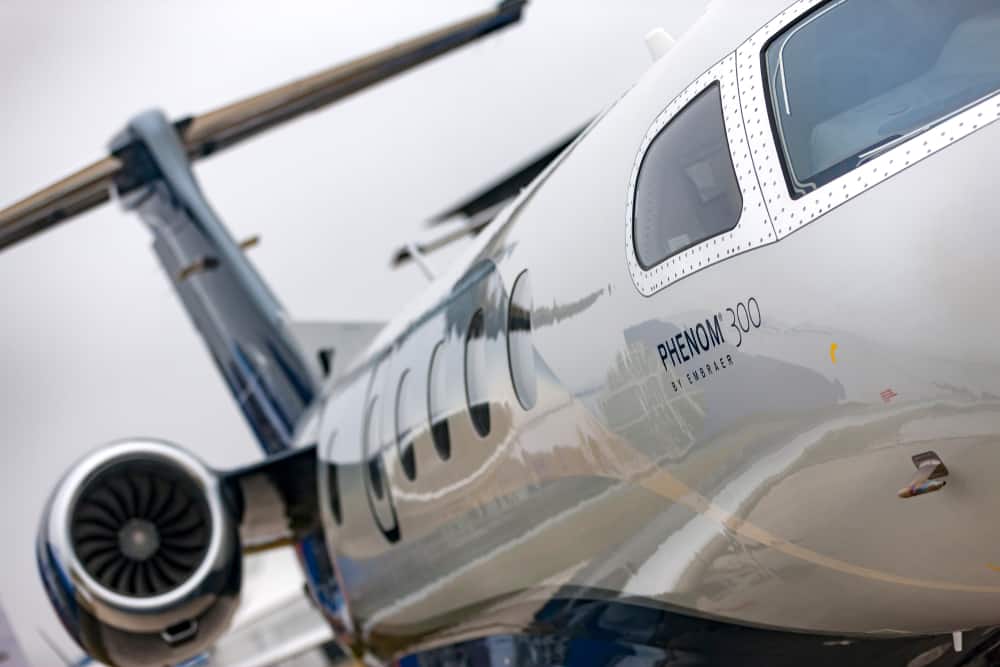 GrandView Aviation maintains its fleet of Phenom 300 private planes and some helicopters in its hubs in Boston, Baltimore/DC, Los Angeles, Chicago, Atlanta, Austin, Phoenix, and Denver.
1. Light Private Jets
When compared to helicopters, light jets are bigger and have more range. They can carry up to eight passengers in assured comfort due to their larger cabin and luggage storage.
Light aircraft can also land and lift from tiny runways and local airports, allowing you to visit hard-to-reach areas and airports with shorter runways.
Our Recommendation: Embraer Phenom 300
The Phenom 300 can accommodate up to 8 travelers, and the spacious cabin features plenty of luggage space. There's enough room for golf equipment, bags, and other items you might need for your trip. The interior offers comfortable legroom and features high-end furniture, such as leather recliners, wooden tables, and plush carpeting, including a lavatory. In addition to the complimentary snacks and wine, they can provide in-flight catering upon request.
From 2013 to 2015, the Phenom 300 was the most popular business jet. The range of this aircraft beats most other light jets, offering you a performance of a midsize jet at lower costs.
Specifications and amenities of the Phenom 300:
Passengers: 8;
Cabin height: 4 ft 11 in;
Cabin width: 5 ft 1 in;
Cabin length: 17 ft 2 in;
Exterior height: 16 ft 5 in;
External baggage: 66 cu ft;
Internal baggage: 19 cu ft;
Max speed: 453 kts;
Max range: 2077 nm;
Rate of climb: 3335 fpm;
Crew: 2;
Wireless internet;
Lavatory;
Power outlets, and satellite phone service.
The Phenom 300 charter planes are stationed in Baltimore/DC, Chicago, Austin, Atlanta, and Scottsdale, allowing you to fly from the Mid-Atlantic, Northeast, and Central United States.
2. Helicopters
Helicopter charters allow you to take off and land at any precise location, including helipads, resorts, and even private houses. They can land almost anywhere in an emergency and pose fewer dangers to passengers. However, they are more easily impacted by weather conditions, and your flight may be canceled if the weather circumstances aren't ideal.
GrandView Aviation offers VIP helicopters with in-flight entertainment systems and room for up to 12 passengers. All helicopter charters are operated by two skilled pilots for clients' optimal safety and security.
Our Recommendation: Bell 407GXI
The Bell 407GXI is a single-engine multipurpose helicopter with four blades that was first launched in 1995. The composite material used for the blades and hub boosts performance and provides a more comfortable flight. It's frequently used in law enforcement, electronic news gathering, and film creation, as well as for commerce and offshore shipping. The cabin can be configured to accommodate a variety of tasks and payloads, including club-passenger seating for up to six people.
Specifications:
Passengers: 5;
Exterior height: 11 ft 8 in;
External baggage: 20 cu ft;
Length: 41 ft 8 in;
Internal baggage: 3 cu ft;
Max Speed: 140 kts;
Seats are plush and overstuffed;
Leather upholstery.
Besides our recommended helicopter Bell 407, GrandView Aviation offers one more in its catalog – the Sikorsky S-76D.
Company Safety Policy and Standards
The International Standard for Business Aircraft Operations (IS-BAO) was created to assist flight departments worldwide in achieving high standards of safety and professionalism. As a GrandView Aviation client, you can be certain that an acceptable Safety Management System (SMS) has been implemented for all helicopter charter flights, thanks to this safety rating.
Moreover, The National Business Aviation Association honored GrandView Aviation with a 10-year accident- and incident-free safety certificate, and the company's pilots are Wyvern Wingman safety-rated and ARGUS Gold-rated operators.
GrandView holds a liability insurance policy of $150 million, and all flights are operated by two pilots.
The Staff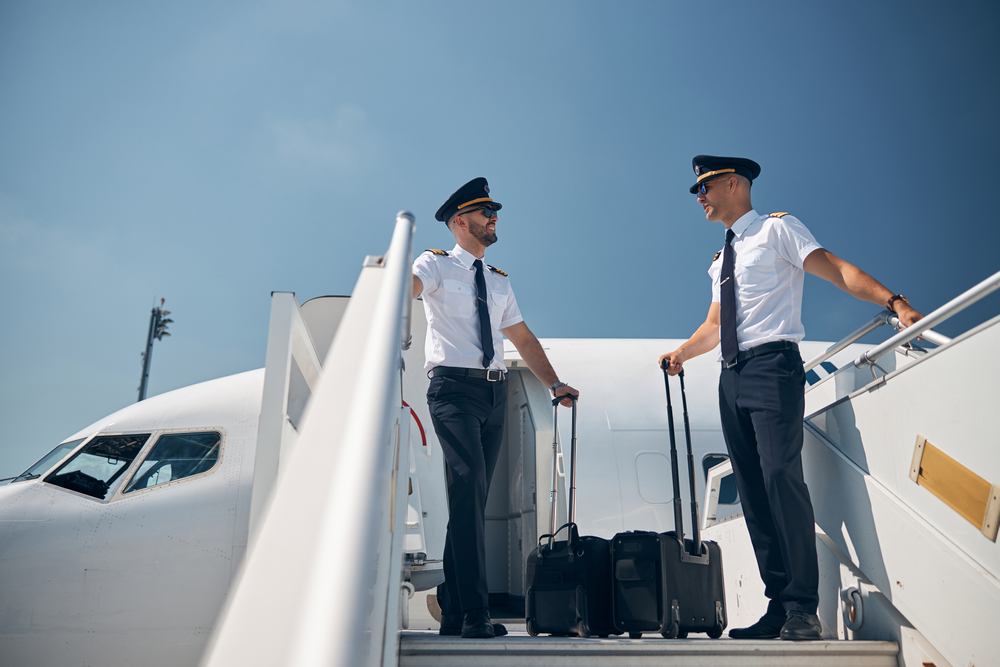 GrandView has grown from a company of 65 people to more than 120 personnel, featuring pilots, flight dispatchers, and technicians. In 2022, the firm generated more than $50 million in sales and has been named on the Inc 5000 list of America's Fastest-Growing Companies. The company has the highest number of private aviation employees in Maryland.
Conclusion
GrandView is a prominent North American private charter and organ transplant transport aviation firm with 130 employees and a Phenom 300 fleet based in Baltimore, Maryland.
You can join their Altitude Plus and Altitude Miles jet card programs to become a member and get some of the offered perks. As a jet card owner, you earn miles as you fly and reward miles can be used for airline credits, catering, and other services. Members of Altitude Plus also get a discount on flights. On top of that, they offer a flexible cancellation policy, so you can make flexible plans without worries.