Situated in the English Channel, 14 miles (23 km) from the Cotentin Peninsula in Normandy, France, Bailiwick of Jersey is the largest of the Channel Islands and a self-governing Crown Dependency of the British Monarchy. It's popular with outdoor enthusiasts who visit Jersey National Park or go jet skiing, while history lovers enjoy the fascinating Jersey War Tunnels and numerous magnificent castles and museums. The Jersey Zoo is an all-time family favourite, and the island also offers versatile art and gastronomy venues.
Jersey's lovely shores can be reached by air or sea. However, if you are arriving from a bit further away than the European mainland or nearby islands, private jet charters could be just the thing for you, as they offer the flexibility of travel and the comfort you need, especially if you have one of the following cities as your starting point:
Berlin
Here's all you need to know to plan your private jet charter to Jersey from one of the above-listed cities.
1. Private Charter: Istanbul to Jersey
Istanbul is a metropolis buzzing with life and one of our planet's more hectic tourist and business centres. As enchanting as it is, it's no surprise that people might need to get away for a while after having been in Istanbul long enough. Private jet charters offer both speed and privacy.
If you choose to use the services of PrivateFly to pursue your leisure, the price for a light jet to Jersey starts from €20,610, and the estimated travel time is 4 hours and 40 minutes.
Istanbul to Jersey: Pricing Options
PrivateFly offers various travelling options. However, unless you are travelling with a big crew, small turboprops or light jets offer the best value for money for those travelling alone or in a smaller group.
The prices below are PrivateFly estimates for flights from the new Istanbul International Airport (IST/LTFM). Note that flights from other airports and other charter companies might have lower or higher prices.
| | | |
| --- | --- | --- |
| Aircraft Type | No of passengers | Price |
| Turboprop | 3-19 | TRY 347,200 / JEP 14,917 |
| Light Jet | 4-8 | TRY 407,093 / JEP 17,491 |
| Midsize Jet | 5-9 | TRY 524,027 / JEP 22,511 |
| Heavy Jet | 10-58 | TRY 821,963 / JEP 35,310 |
Istanbul to Jersey: Airport Options
Two airports offer private jet charters from Istanbul to Jersey:
Istanbul International Airport (LTFM/IST), and
Sabiha Gokcen International Airport (LTFJ/SAW).
Istanbul International Airport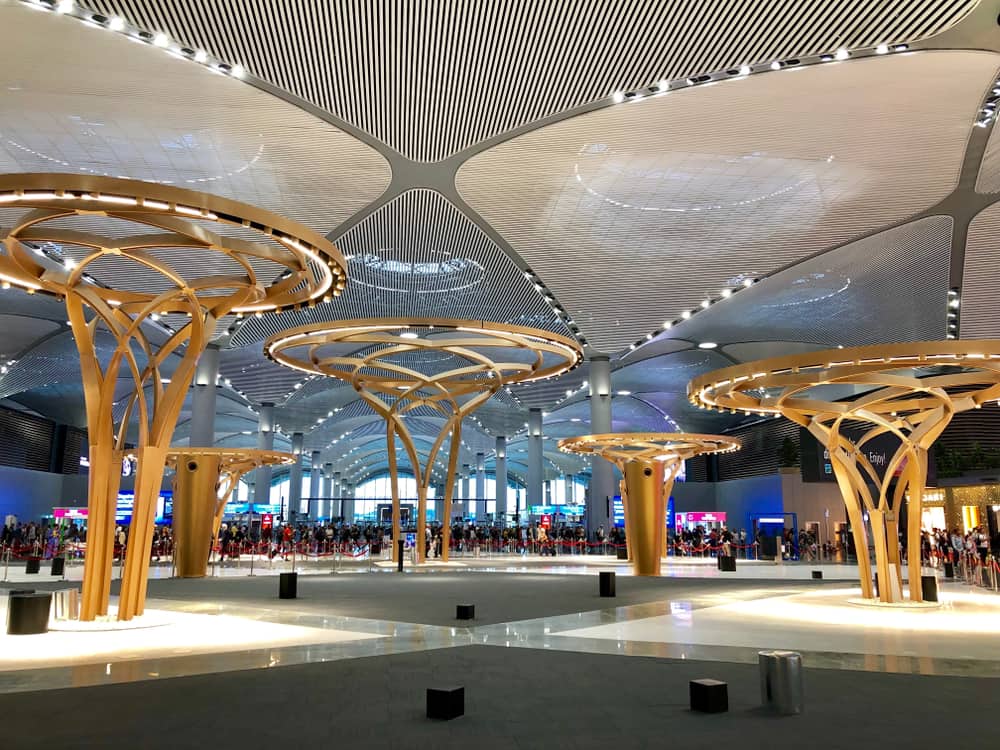 The construction of the new Istanbul International Airport started in 2015, and it has been up and running since 2018, taking over all civilian air traffic from Ataturk International Airport from March 2019 onwards. With all phases completed by 2027, it will be the largest European airport, with six runways and 200 million passengers per year capacity.
Located in Arnavutkoy, 35 kilometres (22 miles) north of the city centre (Taksim Square), Istanbul International Airport is a beacon of modernity offering:
A 451-room hotel for overnight and hourly accommodation
Twenty five ​iGA Sleep Pod sleeping cabins
International and local restaurants, cafeterias, bars, and various lounges
A vast Duty-Free area
A huge car park and car maintenance services
Baggage services and lost and found
Conference halls
An airport library
E-Passport System
IGA Pass Services
Fast Pass Zones
Health Services
Postal Services and Cargo
Prayer rooms
Kids areas
Beauty Services and SPA
Age-friendly Services and Privileged Services for 65+
Photography service
News stands, grocery, florist, etc.
Travel agents, airline ticket offices, bank offices, ATM's etc.
Taxis and shuttle bus services to the city centre, rent-a-car services, and intercity buses.
The following FBO is available at your convenience:
Sabiha Gokcen International Airport
Sabiha Gokcen International Airport opened in 2001 to take over part of Ataturk International Airport's overwhelming traffic. Named after Sabiha Gökçen – the first female combat pilot in the world, the first female pilot in Turkey, and a stepdaughter of Ataturk – the airport has continuously grown and now has a capacity of over 35 million passengers per year.
While Istanbul International Airport is situated on the European side of Istanbul, Sabiha Gökçen Airport is located on the Anatolian side, at Kurtkoy, in Pendik, about 50 kilometres (31 miles) southeast of the city centre (Taksim Square).
The airport terminals offer a variety of amenities, such as:
A hotel, CIP and VIP lounges
Duty-Free shops
Bars, cafeterias, restaurants, and pubs
Emergency medical services
A post office and bank services
Car parks and rent-a-car services
Taxis and shuttle buses to different parts of the city
The following two FBOs are available at Sabiha Gokcen:
2. Private Charter: Tokyo to Jersey
The capital of the land of the rising sun and cherry blossoms offers a wonderful blend of tradition and modernity. Whether you want to visit one of the many temples, gardens, museums, and theatres, see the Tokyo Skytree tower, or enjoy Japanese or international cuisine – Tokyo has it all.
However, being one of the liveliest business centres in Asia, the pace can easily become overwhelming. Hence, if one needs a ride in the slow lane, placid Jersey might be just the place to go to. A trip to Jersey with a turboprop aeroplane can cost as little as €65,830.
Tokyo to Jersey: Pricing Options
Having said that, turboprops are not the most expedient choice for long distances as they don't have very large fuel tanks. Although a bit pricier, the light jet would be your best option.
| | | |
| --- | --- | --- |
| Aircraft Type | No of passengers | Price |
| Turboprop | 3-19 | JPY 9,060,117 / JEP 56,058 |
| Light Jet | 4-8 | JPY 10,148,682 / JEP 62,794 |
| Midsize Jet | 5-9 | JPY 12,750,555 / JEP 78,893 |
| Heavy Jet | 10-58 | JPY 20,528,825 / JEP 127,006 |
Tokyo to Jersey: Airport Options
There are two international airports serving the Greater Tokyo Area:
Tokyo Haneda International Airport (RJTT/HND), and
Tokyo Narita International Airport (RJAA/NRT)
Visit Go Tokyo to see all the transportation options between Tokyo neighbourhoods and these airports.
Tokyo Haneda International Airport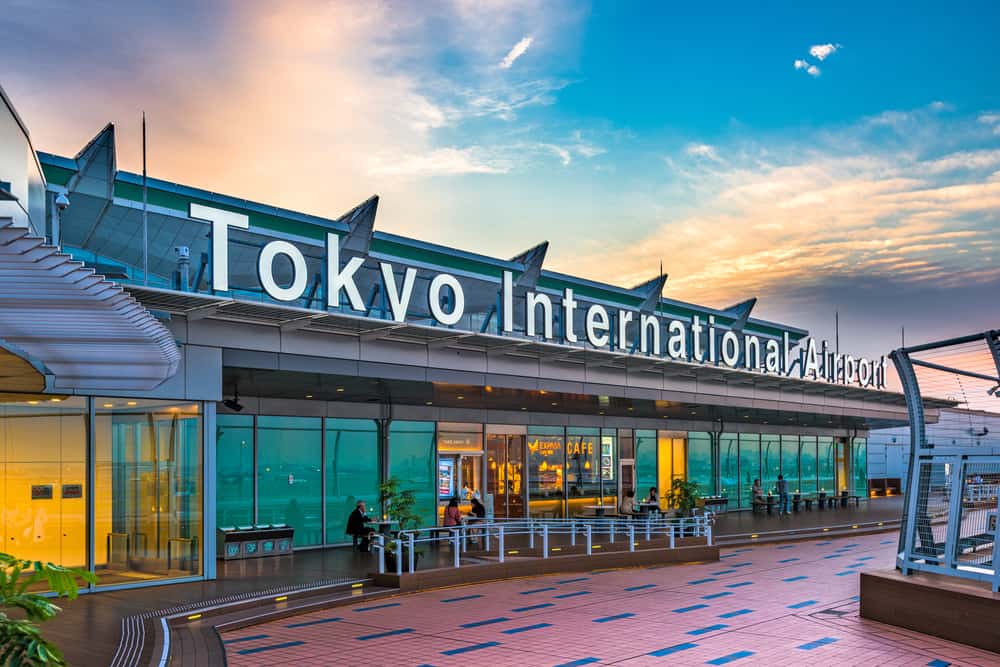 This is Tokyo's oldest airport, located in Ōta, 15 kilometres (9.3 miles) south of Tokyo Station, less than an hour away from most of Tokyo's bigger neighbourhoods. In 2021, Skytrax rated Haneda as the second-best airport in-between Qatar's Hamad International Airport and Singapore's Changi Airport.
This airport is a destination to be visited in itself, with the luxurious variety of services it offers:
Luggage storage and luggage delivery to/from your accommodation
Currency exchange and ATMs, post office
Pocket Wi-Fi rental and prepaid SIM cards
A pharmacy and a clinic in all terminals
Information call centres at various locations
24-hour public sign language phones
Numerous car rental agencies
Cafes, bars, and restaurants
A shopping paradise with dozens of duty-free shops, Tokyo Pop Town, and the Hakuhinkan Toy Park (if travelling with kids)
Lounges and hotels
Being such a busy airport, there are many FBOs to choose from:
Tokyo Narita International Airport
Tokyo Narita International Airport is situated about 60 kilometres (37 miles) east of central Tokyo. You should know that this airport is closed between 12:00 a.m. and 6:00 a.m. to minimise noise pollution for the residents around.
Two FBOs are at your disposal for private charter requests:
3. Private Charter: Barcelona to Jersey
Barcelona, with its many museums, galleries, sights, parks, and restaurants, is a favourite destination for art and food lovers alike. Once you have gathered enough heat in colourful Barcelona and you are ready for a calmer travelling experience, you can take a private jet charter starting from €7,550 for a turboprop.
Barcelona to Jersey: Pricing Options
Taking a turboprop jet from Barcelona is the most economical option.
| | | |
| --- | --- | --- |
| Aircraft Type | No of passengers | Price |
| Turboprop | 3-19 | EUR 7,550 / JEP 6,628 |
| Light Jet | 4-8 | EUR 9,730 / JEP 8,542 |
| Midsize Jet | 5-9 | EUR 11,920 / JEP 10,464 |
| Heavy Jet | 10-58 | EUR 18,520 / JEP 16,259 |
Barcelona to Jersey: Airport Options
Barcelona has only one airport, but it's one that offers plenty of comfort to private flyers.
Barcelona-El Prat Josep Tarradellas Airport (BCN-LEBL)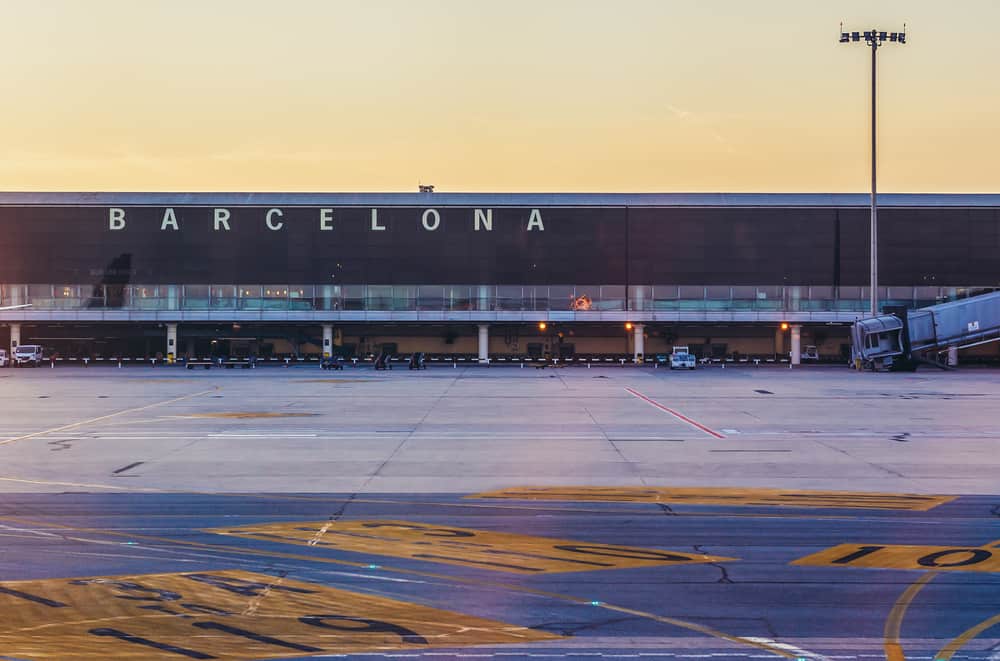 The airport is located on the city's southern coast, 12 kilometres (7.5 miles) southwest of Barcelona's city centre – a distance covered in about 30 minutes by cab and a bit longer with the Aerobus shuttle. If one is in a hurry, a helicopter charter is available to cut that time to a mere few minutes.
In addition to the usual airport services, El Prat has an exclusive terminal for private flyers, equipped with relaxing lounges, concierge services, and other VIP amenities.
The following five onsite FBOs can cater to your needs:
4. Private Charter: New York to Jersey
The New York metropolitan area is home to the busiest airport system in the USA and the second busiest globally, after London. The Big Apple is a renowned business and culture hub, and the mere pace of life there calls for sporadic unwinding.
New York to Jersey: Pricing Options
Although turboprops and light jets are the reasonable choice money-wise, they require stopping to refuel, thus making the journey longer. Therefore, if one is comfortable investing more to save on time, the Super Midsize Jet is the best option for this trip.
| | | |
| --- | --- | --- |
| Aircraft Type | No of passengers | Price |
| Turboprop | 3-19 | USD 32,052 / JEP 25,901 |
| Light Jet | 4-8 | USD 39,316 / JEP 31,771 |
| Midsize Jet | 5-9 | USD 50,973 / JEP 41,192 |
| Super Midsize Jet | up to 8 | USD 63,804 / JEP 51,561 |
New York to Jersey: Airport Options
New York City has three airports suitable for private jetters:
John F. Kennedy International Airport (KJFK/JFK)
La Guardia International Airport (KLGA/LGA), and
Teterboro International Airport (KTEB/TEB)
John F. Kennedy International Airport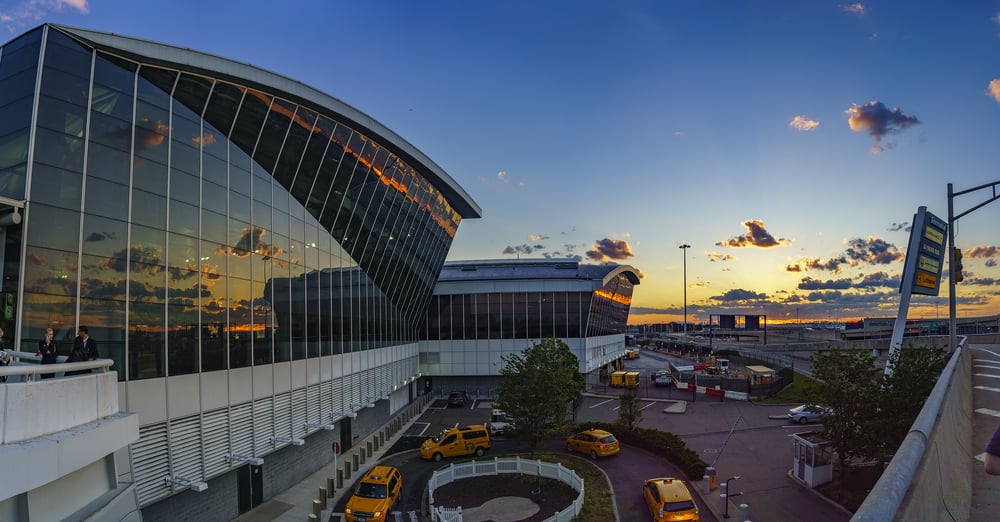 The famous JFK airport is situated 16 kilometres (10 miles) from Manhattan. Despite the short distance, a cab ride can take longer than an hour due to the hectic city traffic. Luckily, you can reach it in only 5 minutes by taking a helicopter.
JFK's Terminal 4 only caters to private jetters. It offers numerous VIP facilities, all the usual airport services, as well as fine dining and exclusive shopping options.
The following FBOs are there to ensure your private charter flight to Jersey is as serene as possible.
Teterboro Airport
Although situated in New Jersey, Teterboro is more easily accessible than JFK, either by cab or by helicopter. It's also the preferred choice of private flyers, as private charters cost less due to the lower fees and taxes.
The airport is equipped with deluxe lounges, lux shopping and dining venues, and, possibly, all the VIP services one can think of.
The following FBOs can deal with all your requirements:
La Guardia International Airport
La Guardia civil airport, named after former New York City mayor Fiorello La Guardia, is located in East Elmhurst, Queens, New York City. A cab ride from Manhattan takes 30-60 minutes, depending on traffic. It's the more expensive but also more time-friendly option than the shuttle bus.
Being a civil airport with limited international flights, La Guardia has the basic airport facilities and services and two FBOs at your disposal:
5. Private Charter: Berlin to Jersey
Germany's capital of art and culture is a preferred touristic venue, especially among the younger crowd. This cosmopolitan city abounds with historical sights, lovely parks and channels, museums and galleries, and all sorts of bars and clubs for the night owls.
Berlin to Jersey: Pricing Options
The turboprop jet is the cheapest option at €8,530, but given that this is a mid-range flight, the light jet, which can travel further and faster than the turboprop, could be the preferable choice for this journey.
| | | |
| --- | --- | --- |
| Aircraft Type | No of passengers | Price |
| Turboprop | 3-19 | EUR 8,530 / JEP 7,489 |
| Light Jet | 4-8 | EUR 10,060 / JEP 8,832 |
| Midsize Jet | 5-9 | EUR 12,910 / JEP 11,335 |
| Heavy Jet | 10-58 | EUR 20,320 / JEP 17,841 |
Berlin to Jersey: Airport Options
There used to be two airports in Berlin, but Schönefeld Airport closed in 2020, leaving the new Berlin Brandenburg Airport as the only option for international flights.
Berlin Brandenburg Airport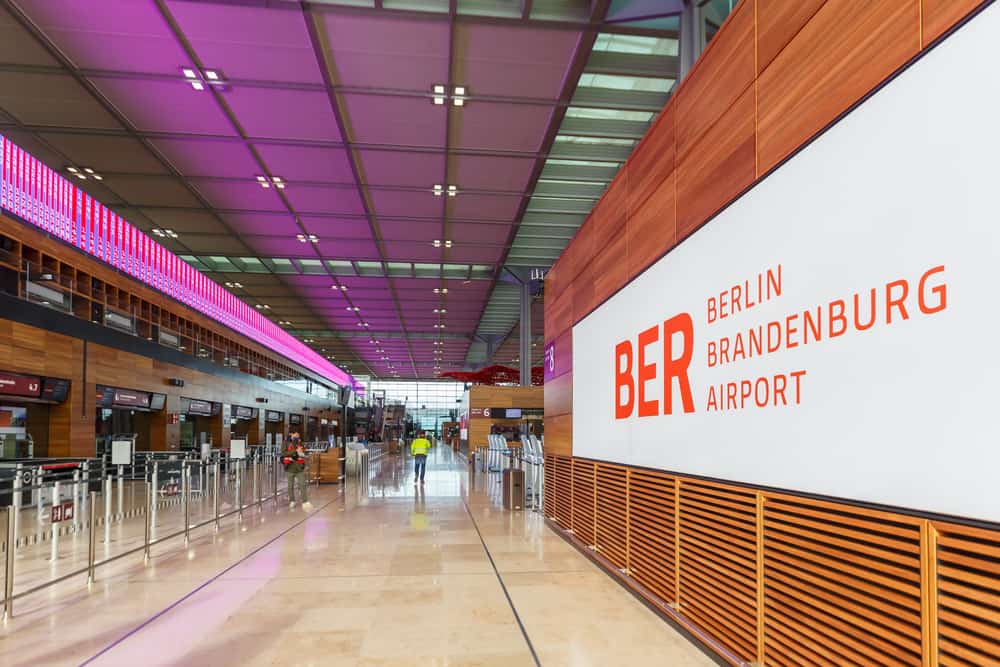 Berlin Brandenburg Airport (EDDB/BER) is located in Schönefeld, Brandenburg, 22.7 kilometres (14 miles) south of Berlin's city centre. Germany is praised for its efficient public transport system, and Berlin's S9 and S45 trains can get you to the airport from a central location in under 30 minutes. If you want to travel more comfortably, a cab from your exact location will take you there in around 45 minutes.
In addition to the usual airport facilities, Brandenburg has several VIP lounges and a private check-in, as well as vehicle access to make your journey go smoothly.
Two FBOs can assist you with your private jet charter to Jersey:
6. Private Charter: London to Jersey
The UK capital is one of the world's business and tourism hotspots. Given all that amazing hustle and bustle, one should not be taken by surprise to discover that London is the busiest starting point for private charters to Jersey.
London to Jersey: Pricing Options
If you prefer comfort over price, a midsize jet is your best option here.
| | | |
| --- | --- | --- |
| Aircraft Type | No of passengers | Price |
| Turboprop | 3-19 | GBP/JEP 4,987 |
| Light Jet | 4-8 | GBP/JEP 9,388 |
| Midsize Jet | 5-9 | GBP/JEP 10,246 |
| Heavy Jet | 10-58 | GBP/JEP 12,785 |
London to Jersey: Airport Options
London offers a number of airports for private flyers. You can choose between the following six airports for your private jet charter to Jersey:
London Heathrow Airport (EGLL/LHR)
London Stansted Airport (EGSS/STN)
London Gatwick Airport (EGKK/LGW)
London City Airport (EGLC/LCY)
London Biggin Hill Airport (EGKB/BQH)
London Heathrow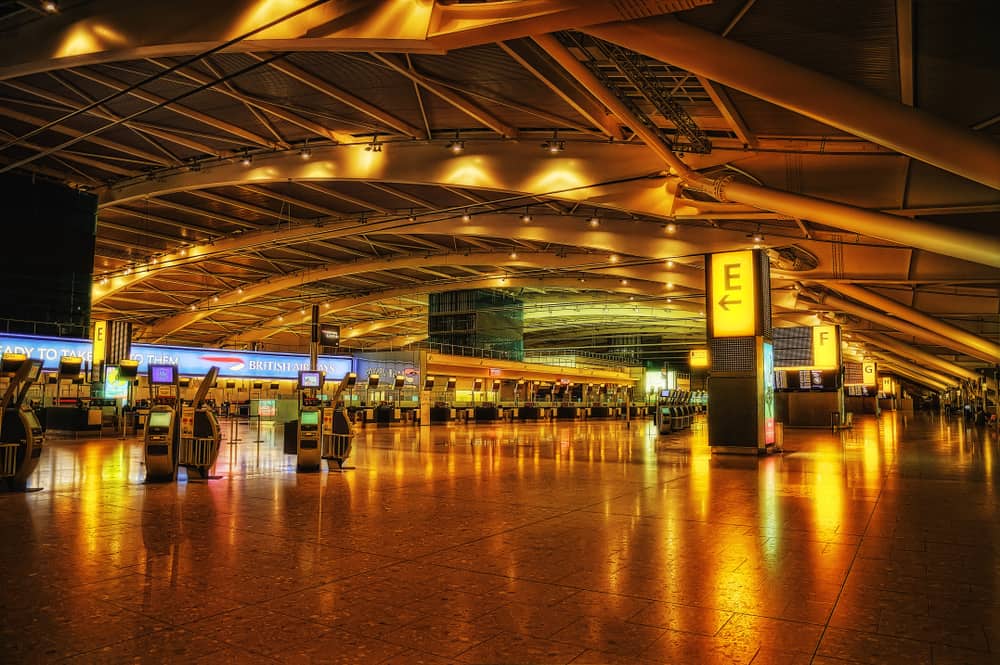 Heathrow, with its four terminals, is the biggest and busiest airport in the UK. If you don't mind public transport, the direct train from Paddington station in central London can take you to Heathrow in about 15 minutes, much faster than a cab.
Private jet charters are available at Terminal 4, equipped with a lounge, private parking, and other VIP services. Two FBOs can facilitate your private charter to Jersey:
London Stansted
Although being the farthest away from London (62.4 kilometres/38.8 miles northeast of the city centre), Stansted is preferred among private flyers.
You can reach Stansted by bus and coach, train, car, or taxicab. The train from Liverpool St takes 40 minutes, while a car ride takes much longer, hence many private flyers opt for the convenience of a helicopter transfer, which gets you there in around 20 minutes.
Stansted Airport is the base of a great number of FBOs. Whichever you choose, rest assured that you are in for high-quality facilities and services, there to ensure you enjoy your departure:
London Gatwick
London Gatwick Airport is located 45 kilometres (28 miles) south of the centre of London. Passengers from London can reach Gatwick by rail, bus, or taxi. The best option timewise is to take the direct train from Victoria Station and reach Gatwick in around 30 minutes.
Both Gatwick's terminals offer private facilities, such as executive lounges, boutiques, and concierge services. Additionally, two onsite FBOs offer a variety of VIP services for your leisure:
London City
London City is a tiny airport located alongside the Royal Docks in the London Borough of Newham. Since it doesn't have much to offer in terms of facilities, you might want to head to the comfortable lounge of the nearby FBO:
Biggin Hill
This small airport is best reached by a six-minute helicopter ride from London city centre and is set up to accommodate business travellers. For ease of travel, either one of the following onsite FBOs can fulfil your jet charter requirements:
Which Jets Can Fly You To Jersey?
Having a variety of private charter jets to choose from, you should consider the journey time and your requirements to find which one works best for you.
Turboprops and light jets are super efficient for short journeys but, as such, don't offer many facilities onboard. Midsize and heavy jets will better cater to your long-haul needs as they offer more space and comfort.
Turboprops
Turboprops are the smallest among private jets and, being propeller-based, they are the most economical choice for short trips. They have an average speed of 300 knots and a range of around 2,414 kilometres (1,500 miles).
The Piper PA31 Navajo is a turboprop that can seat up to seven passengers, ideal for short runways and inner city or island hops.
Light Jets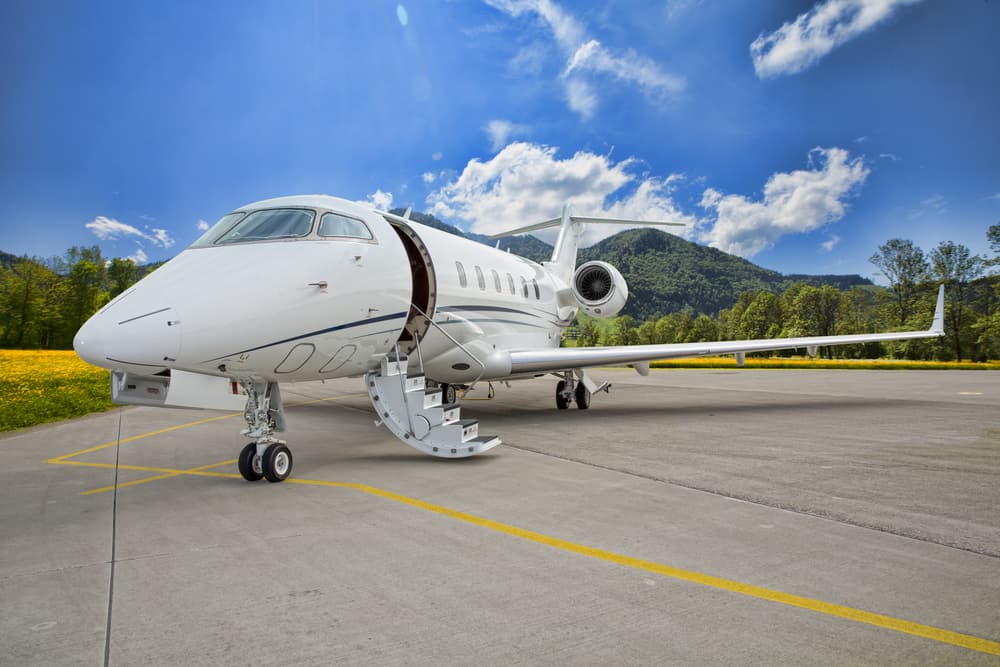 Light jets have higher speeds than turboprops, travelling at a speed of up to 44 knots, with a range of around 2,735 kilometres (1,700 miles). They are your ideal choice when time is of the essence and you are travelling with a smaller group.
Аll Cessna models are popular due to being fast and cost-effective. However, you would like to check out Citation Bravo, as it stands out as a model that offers commodity and speed at the same time.
Midsize – Super-Midsize Jets
Midsize jets offer spaciousness and onboard facilities such as restrooms and lie-flat seats if you are in for a semi-long-haul. They fly at an average speed of 460-knots, with a 3,549 kilometres (2,200 miles) range.
Praetor 600 is one of the larger jets within this class capable of long-haul distances. It seats up to nine passengers, has a considerate luggage capacity, and the needed space for full on-flight catering while onboard.
Heavy Jets
As the name suggests, heavy jets are big, heavy aircraft adequate for long-haul journeys. With an average range of 9,656 kilometres (6,000 miles) and in spite of their weight, these babies can go as fast as 521 knots.
If you are in for comfort while being amidst the clouds, heavy jet aircraft offer a full range of onboard options, such as separate bedrooms and shower rooms (exclusive to specific models).
The Falcon 7X is one of the most popular long-range jets in this class. It is renowned for being the first business jet to incorporate "fly-by-wire" technology instead of traditional manual flight controls. It is a spacious aircraft, guaranteeing a comfortable flight.
To sum it up, whichever jet you may choose to charter for your adventure to Jersey, we wish you the most enjoyable journey to and experience on Jersey Island.