The use of private aircraft is nothing new to those who have billions of dollars. Although having at least one private jet is a necessary investment for many of the wealthiest people, not all planes are alike. Some are undoubtedly more remarkable than others; so naturally, these jets come with varying features and price tags.
Let's see what jets the richest people in the world use for their private charters and what they offer.
1. Gulfstream G650ER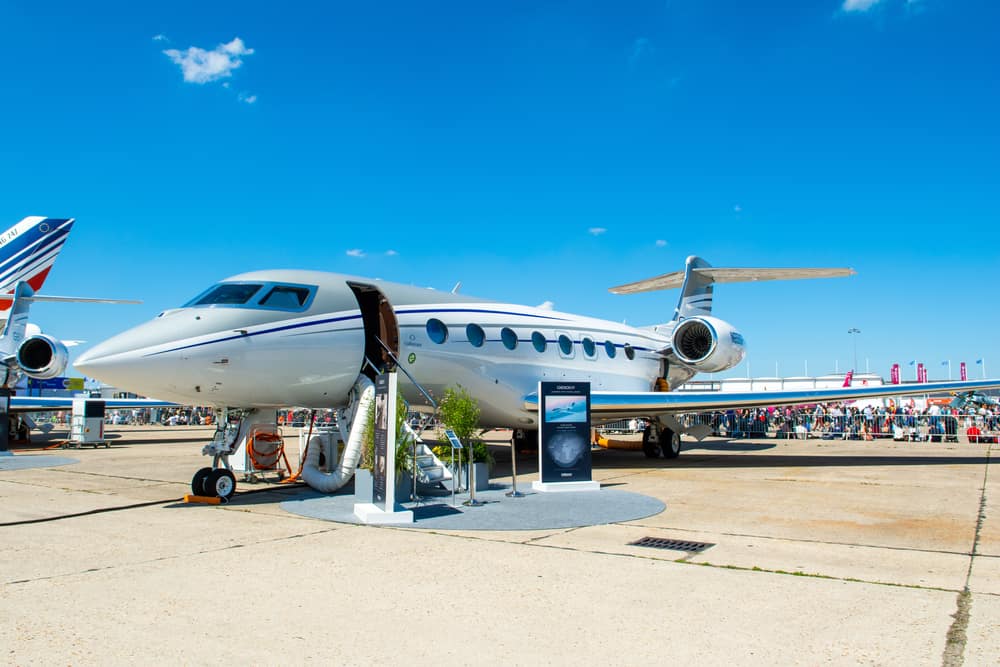 Used by Elon Musk – CEO of Tesla and SpaceX, and Jeff Bezos – Executive Chairman of Amazon
One of the world's richest individuals, Bezos, has amassed a fortune of over $120 billion via his business ventures. He founded Amazon in 94′ in a Seattle garage, and was the company's CEO until 2021, when he resigned as CEO and became executive chairman, with a 10% shareholding. Bezos is also the owner of The Washington Post and Blue Origin, a rocket manufacturing business. At a price of almost $75 million, Bezo's private jet is a significant investment. The two Gulfstream G-650ERs he owns together cost him $150 million.
Elon Musk is a businessman from the United States who is worth billions of dollars. He has stated that he doesn't own a mansion or a boat, but he finds having a private jet quite useful. Before Elon Musk purchased his current private jet, he owned a Falcon 900 that had the ability to accommodate 12 people; however, in 2006, he decided to sell it. Since 2016, the CEO of Tesla and SpaceX owns a Gulfstream G650ER, which is the same plane that his opponent in the market for space tourism, Jeff Bezos, uses. The cabin of Musk's private jet contains not one but two television displays. Both the galley and the VIP cabin have their private lavatories on board the plane.
Gulfstream G650ER
The luxurious Gulfstream G650ER is ideal for direct flights between the Middle East and North America or Asia and Africa. Because it can fly further and more quickly than almost any other jet of its size, it is the ideal mode of transportation for billionaires who need to go from one to the other side of the planet.
Aboard the Gulfstream G650ER passengers will find:
A kitchen that has a touchscreen and is equipped with a microwave, an oven, and two storage compartments.
A living room with seats upholstered in light-coloured leather, contrasted with wooden furniture. The seats are equipped with a footrest and have the ability to partially recline, and can be transformed into beds or angled to face one another to create a conversation area.
Tables that fold up and are stored along the side of the aircraft. They can be joined together to form a dining table for passengers.
Natural lightning, the aircraft features the 16 biggest oval windows in all of aviation.
Because of its exceptional engine, the Gulfstream G650ER belongs to the category of ultra-long-range business jets and is one of the fastest aircraft currently available on the market.
The aircraft's operating capabilities, interior technological features, fuel efficiency, and passenger safety all contribute to its status as a highly desirable jet.
The multinational endeavour known as "One More Orbit" was a successful attempt to beat the Guinness record for the fastest circumnavigation of the earth that included stops at both poles. For the expedition, they used a jet that belonged to Qatar Executive to attempt to break the record for the fastest travel from pole to pole around the world. They flew on a G50ER for a total of 46 hours and 40 minutes in 2019, shattering the previous record of 52 hours and 32 minutes.
Specifications and amenities:
Passengers: 13
Exterior height: 25 ft 8 in
Full length: 99 ft 9 in
Wing span: 99 ft 7 in
Cabin width: 8 ft 6 in
Cabin height: 6 ft 5 in
Cabin length: 46 ft 10 in
Maximum altitude: 51,000 ft
Maximum speed: 1,132 km/h (616 kts)
Flight range: 7,685 nm
Internal baggage space: 195 cu ft (20 bags)
WiFi
Sleeping room
Crew: 2 pilots, 1 flight attendant
Engines: 2
Gulfstream G650ER is a luxury long-haul private jet, suitable for billionaires who need to work and travel.
2. Bombardier Global Express Features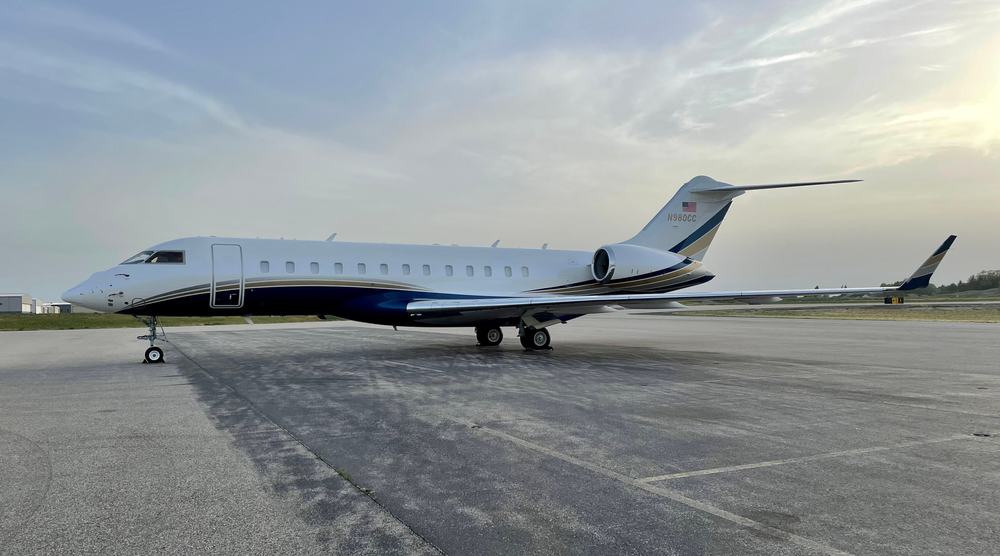 Used by Bill Gates, the Co-founder of Microsoft
At the young age of 31, Gates became a self-made billionaire when he co-founded Microsoft, the world's biggest software maker. His remaining assets are handled by Cascade Investment, a private investment firm with holdings in several publicly traded firms, like Canadian National Railway, The Redmond, Deere, and Ecolab.
Bill Gates is the owner of a private long-haul aircraft of the most cutting-edge design and technology, the Bombardier Global Express. But he doesn't just have one, or even two, he has a collection of four private jets. He owns two Gulfstream G650ERs and two Bombardier Challenger 350s. Roughly, the fleet costs around $194 million.
Let's take a closer look at Bombardier Global Express and its specifications.
Bombardier Global Express Features
The Bombardier Global Express XRS is the perfect business jet since it possesses all of the top performances that are required for international travel, such as a state-of-the-art flight deck setting. This business jet, which is widely considered one of the most fuel-effective aircraft in the world, has the potential to transport as many as sixteen people, but the capacity of the aircraft is contingent on its configuration. The private jet that Gates owns can accommodate 18 passengers.
Specifications and amenities of the Bombardier Global Express:
Passengers: 18
Cabin height: 6 ft 25 in
Cabin length: 48 ft 35 in
Cabin width: 8 ft 17 in
Maximum altitude: 49,000 feet
Flight range: 6,150nm
Crew: 2 pilots, one cabin crew
Maximum speed: 950km/h
Sleeping room for up to 10 people
Baggage space: 195 cu ft
WiFi
3. Boeing 767-200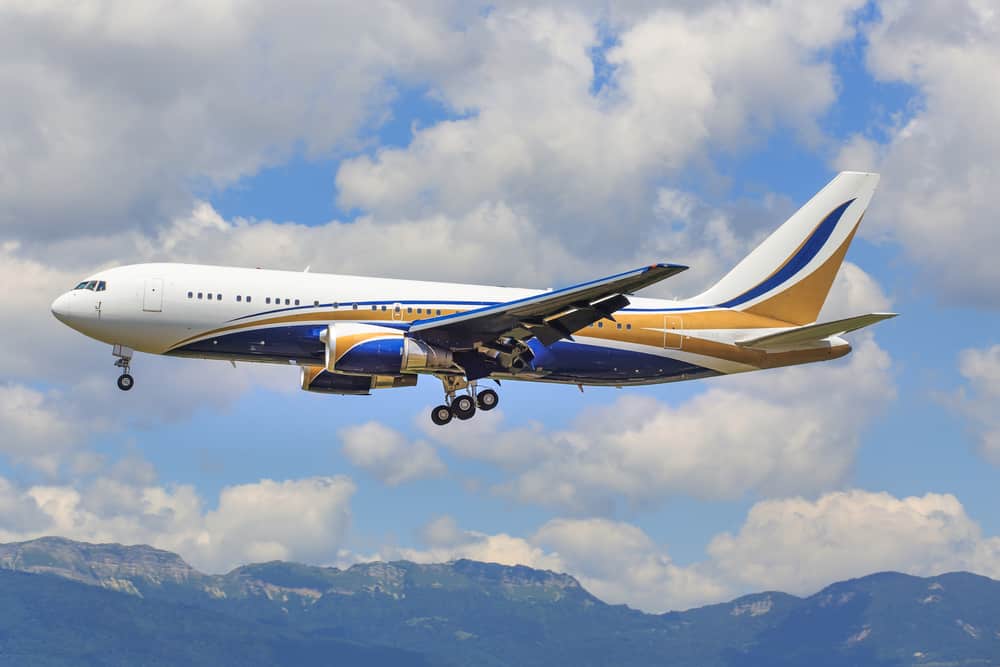 Used by Sergey Brin and Larry Page, the Founders of Google
Both Sergey Brin and Larry Page are co-founders of Google and together own a private jet which they frequently utilise for business travel. They purchased Boeing 767-200 in 2005 and have used it ever since. The jet cost them $15 million and they spent approximately $10 million more to refurnish the interior.
In addition, Sergey Brin and Larry Page are owners of a private airport that is valued at around €43 million.
Along with Eric Schmidt, a former CEO of Google, Sergey Brin and Larry Page possess a total of eight private jets, the majority of which are put to use for Google-related endeavours. The fleet consists of three different types of aircraft: two Gulfstream Vs, a Dassault/Dornier Alpha combat jet, and a Boeing 757.
Let's learn more about Boeing 767-200 and why it's worth being a part of a billionaire's collection.
Boeing 767-200
The Boeing 767-200 is a good option for intercontinental travel since it has a flying range of around 10 hours, seats more than 200 people, and has a large cargo department.
When travelling on a B767-200, billionaires and their guests indulge in gourmet cuisine, a plethora of in-flight entertainment options, and the services of a flight attendant.
Specifications:
Passengers: 220
Cabin length: 111 ft 2 in
Cabin height: 9 ft 3 in
Max flight range: 5,500 nm
Cabin width: 15 ft 6 in
Baggage capacity: 2,875 cu ft
Max cruise speed: 485 mph
4. Boeing Business Jet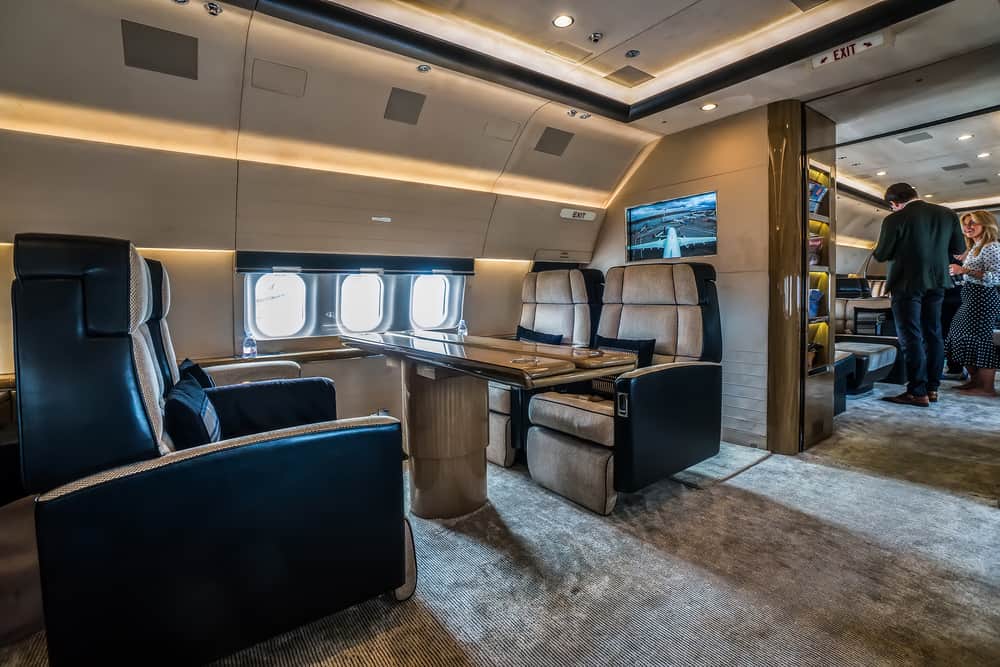 Mukesh Ambani, the Richest Man in India
Mukesh Ambani has a net worth of sixty billion euros. This businessman is the proud owner of a Boeing Business Jet that he purchased for $73 million. What's unique about this private jet is that it features a huge cabin. The interior is furnished with multiple dining rooms, bedrooms, and conference rooms. This jet also has a very large cockpit, and is no less luxurious than a billionaire's mansion.
Boeing Business Jet
This jet features a wonderful seating configuration that can accommodate anywhere from 25 to 50 passengers. Included in the package are a primary bedroom, a bathroom equipped with a shower, a conference room and an eating area, as well as a living room. And yes, Ambani's private jet has it all, plus it's refurnished to fit his luxurious style.
Specifications:
Passengers: 50
Wing span: 117 ft 5 in
Exterior height: 41 ft 2 in
Full length: 129 ft 6 in
Flight range: 7,000 nm
Cruise speed: 530 kts
Endurance: 11:50 h
Cabin width: 10 fr 6 in
Cabin height: 7 ft
Luggage space: 814 cu ft
Crew: 2 pilots, 1 flight attendant
5. Gulfstream G650
Used by Oprah Winfrey
Harpo Productions is led by Oprah Winfrey, who's been serving as both the Chairwoman and CEO of the company since 1986. She's also been a Chairwoman, Chief Executive Officer, and Chief Content Officer of the Oprah Winfrey Network since 2011. Oprah Winfrey's success as a media mogul and all her hard work has payed off, leading to her earning billions.
With a great sum of money comes the ability to splash out and buy yourself a private jet. The American talk show host purchased Gulfstream G650, a private jet with a cruise speed of 541 mph and a flight range of 8,000 nautical miles.
Gulfstream G650
The inaugural flight of the world's fastest passenger jet, the Gulfstream G650, occured in 2009. This private jet is the most technologically advanced presently in production, and it made its debut as an aircraft with such capabilities. There is seating for up to 19 passengers and four living areas for the passengers' convenience. Quite spacious and billionaire worthy.
One thing this jet is famous for is its world record for the quickest trip around the world set in 2013. Additionally, in 2014, the illustrious Robert J. Collier trophy was bestowed upon the Gulfstream G650 in recognition of its exceptional contributions to aviation technology in the areas of performance, cabin efficiency, and safety.
Specifications:
Maximum flight range: 7,500 nm
Max cruise speed: 516 ktas
Cabin width: 8 ft 2 in
Cabin length: 46 ft 10 in
Cabin height: 6 ft 3 in
Full aircraft length: 99 ft 9 in
Wingspan: 99 ft 7 in
Internal baggage space: 195 cu ft
Living areas: 4
Passengers:17
Sleeping room for 7 passengers
Crew: 3
6. Bombardier Global Express
Used by Bernard Arnault, CEO of the LVMH group
Bernard Arnault is a French investor and tycoon worth $213 billion. Moreover, he is the Chief Executive Officer of the LVMH Moët Hennessy – Louis Vuitton group and a proud owner of a private Bombardier Global Express jet, worth around $50 million. This business aircraft is one of the most famous private jets in the world due to its ability to successfully combine performance and luxury with efficiency. Bombardier Global Express jet has a range of 13,000 kilometres, which enables it to support international flight operations, suitable for a billionaire businessman on the go.
Let's take a look at what Bombardier Global Express is known for.
Bombardier Global Express
The Bombardier Global Express is the perfect business jet since it possesses all of the top performances that are required from a billionaire tycoon, such as an innovative flight deck, cutting-edge technology, an interior set by the highest standards, and a quiet cabin for all those business meetings.
Specifications and amenities:
Passengers: 19
Exterior height: 25 ft 5 in
Full length: 99 ft 4 in
Wing Span: 94 ft
Cabin width: 8 ft 2 in
Cabin height: 6 ft 3 in
Cabin length: 48 ft 4 in
Maximum altitude: 49,000 feet
Flight range: 6,150nm
Maximum cruise speed: 950km/h
Maximum flight range: 6226 nm
Crew: 2 pilots, one cabin crew
15 bags allowed
WiFi
Sleeping room
Smoking allowed
7. Boeing 767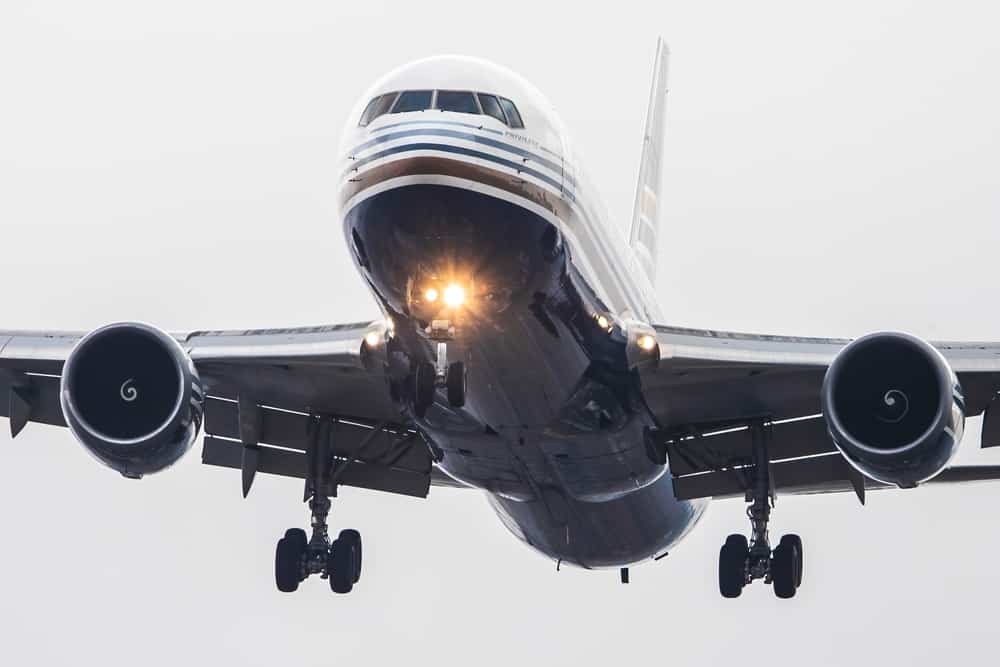 Used by Roman Abramovich
Roman Arkadyevich Abramovich, a Russian politician and magnate, has a net worth of $9.1 billion. The previous owner of Chelsea Football Club spent $170 million on a luxury Boeing 767, which has been given the nickname "The Bandit." His private jet is fitted with an anti-missile system, comparable to the technology found on Air Force One. Exceptionally lavish, it features a dining room, a living room, a library, a pantry, and rest places for the crew and the staff. Abramovich's jet can comfortably accommodate more than thirty people. In addition, there is a master bathroom, two guest bathrooms, and a banquet hall plated in gold.
Boeing 767
With a flying range of around 10 hours and space for more than 200 passengers, the Boeing 767 is an ideal choice for flying aboard. Flying on the B767 travellers will enjoy VIP meals fresh from the kitchen, onboard entertainment, and a dedicated crew to attend to their needs.
Specifications:
Passengers: 220
Max flight range: 5,500 nm
Cabin length: 111 ft 2 in
Cabin width: 15 ft 6 in
Cabin height: 9 ft 3 in
Baggage capacity: 2,875 cu ft
Max cruise speed: 485 mph
8. Boeing 757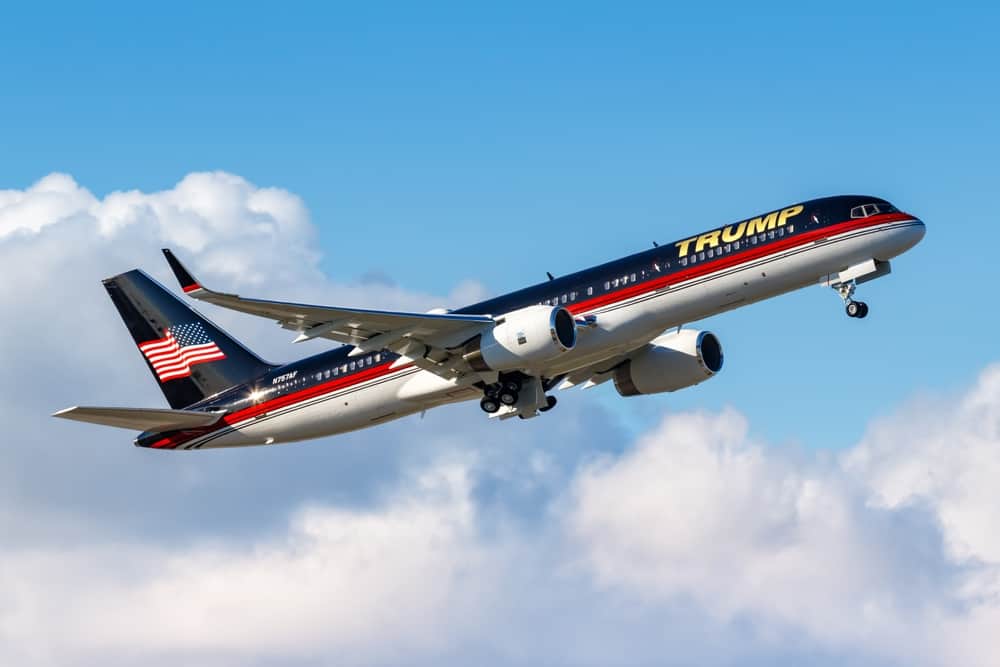 Used by Donald Trump
Even though the former President of the United States is frequently involved in contentious matters, he still spent a total of one hundred million dollars on upgrading his aircraft.
The ex-president's private jet is named Trump Force One, and it's one of the most famous planes in the world. The jet was purchased by Trump in 2011 through the company DJT Operations I LLC and can carry 43 passengers. The "crown jewel in the Trump Fleet" is a custom-built aircraft that is powered by Rolls-Royce engines and has the ability to fly nonstop for up to eight hours within a range of 3,000 miles.
The interior has a movie theatre and is highlighted and gold-plated with 24 karats. The chairs are made of Italian leather that has the Trump family insignia sewn onto them. There is a kitchen, a living room, a bedroom, a guest room, a bathroom, and a shower. During his 2012 presidential run, and after his victorious 2016 presidential campaign, Donald Trump frequently utilised the 757 as his campaign aircraft. After leaving office, Donald Trump chose Citation X as his primary plane.
Boeing 757
Brought to the private jet market by Boeing Commercial Airplanes, the Boeing 757 is a twin-engine narrow-body jet aircraft. Produced by the same company from 1981 until 2004, it is their biggest single-aisle passenger jet. The twinjet features a conventional tail and a supercritical wing design to minimise aerodynamic drag and allow takeoffs from shorter runways and greater altitudes.
Specifications:
Passengers: 200-295
Exterior height: 44 ft 6 in
Wing span: 124 ft 10 in
Full length: 155 ft 3 in
Cabin length: 118 ft 4 in
Cabin width: 11 ft 7 in
Max flight range: 3900 nm
Normal cruise speed: 458 kts
Crew: 2
Engines: 2
9. The Airbus A340-300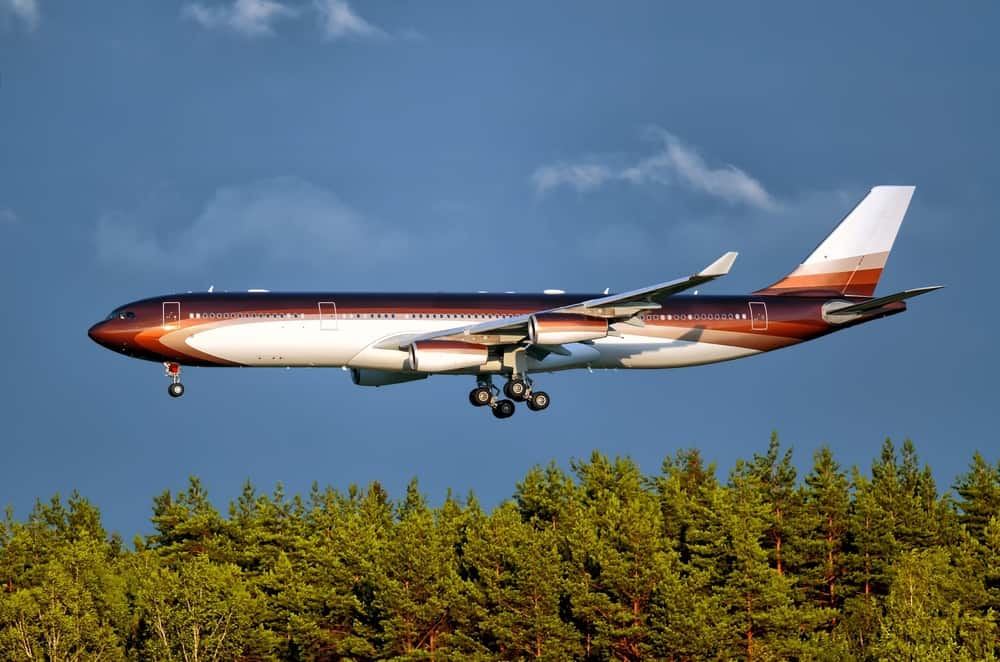 Used by Airbus A340-300
Alisher Usmanov is a metals magnate and one of the earliest investors in Facebook. His net worth is $15.7 billion. Bourkhan is apparently the name of the showy private jet that the Uzbek-Russian businessman owns, named after his father.
The aircraft is worth a whopping $400 million and is the largest private aircraft in Russia, surpassing even the ride used by President Vladimir Putin. It's no surprise that the Bourkhan comes with a dining area, numerous guestrooms, bedrooms, and a variety of other lavish amenities. It can go 915 kilometres per hour and has a range of nearly 13,000 kilometres.
The Airbus A340-300
The A340-300 from Airbus is a long-range aircraft with a service range of 7,400 nautical miles, designed specifically for the long-haul market, where it provides direct point-to-point services.
Some of the A340-300 characteristics are:
Powered by four engines
Quiet interior
Ideal for a long flight
Increased legroom
Wide-body cabin
Personalised cabin design
Onboard entertainment
Environmental efficiency
Low fuel-burn and reduced engine emissions
Specifications:
Overall length: 208 ft 11 in
Fuselage width: 18 ft 6 in
Flight range: 7 300 nm
Wing span: 197 ft 10 in
Height: 55 ft 9 in
Seating (commercial standard): 250-290
Seating in in a high-density layout: 440
10. Airbus's A380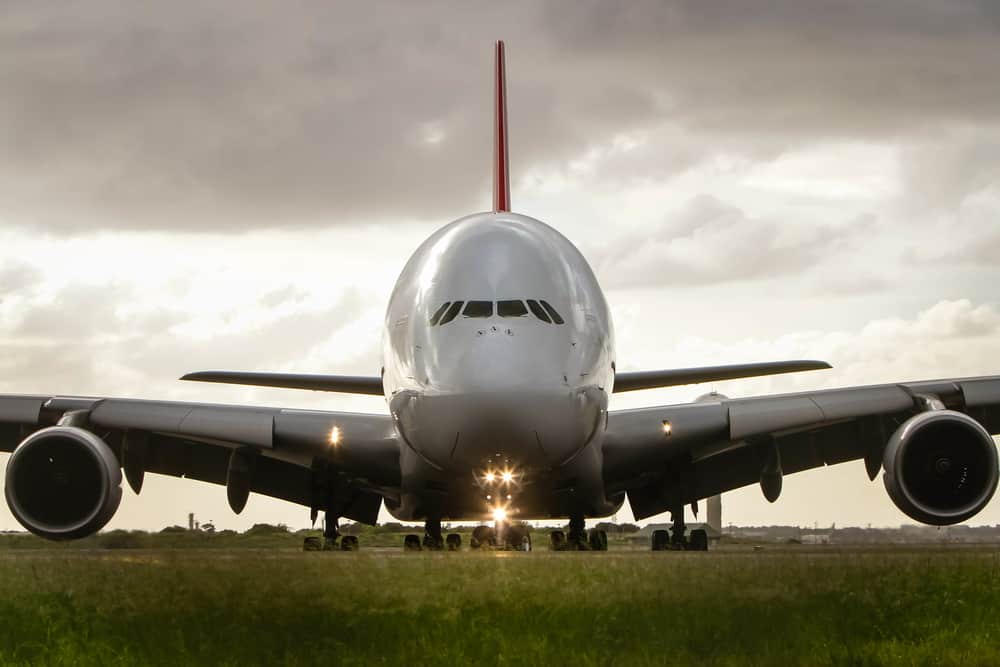 Used by Saudi prince Al-Waleed bin Talal
Businessman, philanthropist, and investor Al Waleed bin Talal Al Saud is a member of the Saudi royal family, with a net worth of $16.6 billion dollars.
Prince Al-Waleed bin Talal's supersized aircraft is another "flying mansion" for a royal, and it comes with all the trimmings: from its private theatre and jacuzzi to its well-equipped gym and conference space. The enormous jumbo jet's interior is fully customized. The prince's flying mansion is 6,000 square feet in size and costs a fortune. It's surely befitting of a king, or in this instance, a Saudi prince.
Airbus A380
Airbus's A380 is the largest passenger airliner ever built. Only around twenty landings across the globe are long enough to handle it, and several can't even technically support it.
Here are some interesting tidbits about the plane:
Compared to a Boeing 747, it features a more pointed nose and wings that are 54% larger.
More than 3,600 litres of paint are needed to completely cover the plane's exterior.
The Airbus A380 has a maximum flight time of 140,000 hours, which equates to about 2,000 complete circumnavigations of the world.
The A380 is longer than two blue whales and wider than a football field.
A total of 590 tonnes is the A380's weight.
The A380 has a maximum range of up to 15,200 kilometres (8,200 nautical miles), allowing it to travel some of the longest commercial aviation routes in the world.
The total length of all the wires in an Airbus A380, if stretched from one end to the other, would be 520 kilometres (320 miles).
Emirates, British Airways, Singapore Carriers, Qatar Airways, and Qantas are just some of the seven airlines that put the A380 into regular service.
Conclusion
These billionaires have full schedules and must travel hundreds of miles each year to attend the many professional gatherings and conventions they are required to attend globally. In order to do so, they use their private jets for their travel agenda, and we must say kudos to them. It is not unusual for extremely rich people, such as celebrities and businessmen, to possess their own private planes for their personal use. Since jets are extremely pricey, with private jets costing millions of dollars, only the wealthiest people in the world can afford to own their own private plane.