Dassault Industries is a French enterprise with substantial aerospace-related companies specializing in civil and military aircraft construction, computer-based engineering, production, management solutions, and flight training simulators. Dassault Aviation, the company's primary subsidiary, was established by Marcel Dassault after World War II.
Other branches of Dassault Industries include:
Dassault Falcon Jet, based in the United States, which sells, markets, and is in charge of support of Falcon business jets worldwide;
Sogitec, which develops aerospace simulators and provides technical solutions;
Dassault Systemes, whose products include software systems, production, engineering (CAD/CAM/CAE), and product development management (PDM). Some of its customers in the aerospace industry include Airbus, Lockheed Martin, and Boeing.
In 1990, the company changed its name from The Société des Avions Marcel Bloch to its current form. The city of Vaucresson in France serves as the company's headquarters.
Let's see how an international firm specializing in strategic technologies was built from the ground up, starting with constructing a wooden propeller that Dassault used during the First World War.
Dassault History
We can trace Dassault as early as 1916 when Marcel Bloch concluded that the performance offered by pre-existing propellers was unsatisfactory, so he set out to create his own. He came up with the idea for a propeller and named it "Eclair." This move made Marcel a famous figure in aviation, and Eclair was instantly acknowledged as one of the best propellers available on the market.
Throughout his career, Marcel Dassault was recognized as one of the most influential contributors to the development of the biggest breakthroughs in the air transport industry. His first significant achievement came in 1931 when he designed the MB 120, a transport plane with three engines and enough room for ten passengers. As a result of this success, Marcel made the decision to move his company to Boulogne, which is located near Paris. There, he established his design unit and production facilities in an empty garage. This makeshift factory was responsible for producing many prototypes, including civilian aircraft (MB 220) and combat planes. The manufacturing of Marcel Bloch's M 200 and MB 210 bombers officially started in 1935.
The years before the start of the Second World War were rife with political upheaval and attempts at nationalization. The government took Marcel's family property away during the war and him to a concentration camp as a political captive in 1944. Still, he refused to collaborate with the Nazi authority even when faced with execution by hanging, leading to his deportation to the camp. During all these years, he never stopped keeping up with the latest innovations in the aviation industry. The United States Third Army freed the concentration camp known as Buchenwald on April 11th, 1945. The other detainees, including Marcel Bloch, were finally freed.
Marcel Bloch originally went by the name Marcel Bloch, but in 1946 he changed it to Bloch-Dassault, and then in 1949, he changed it to Dassault, in honor of his brother.
A few decades later, the French government amassed a 45.76 percent stake in Dassault between 1977 and 1981, and in 1998, it sold that stake to the French aerospace company Aerospatiale, which was the precursor to EADS. The Dassault family operates Dassault Industries as a controlling shareholder in their business. It holds a stake in Dassault Aviation, representing 49 percent of the company.
About the Company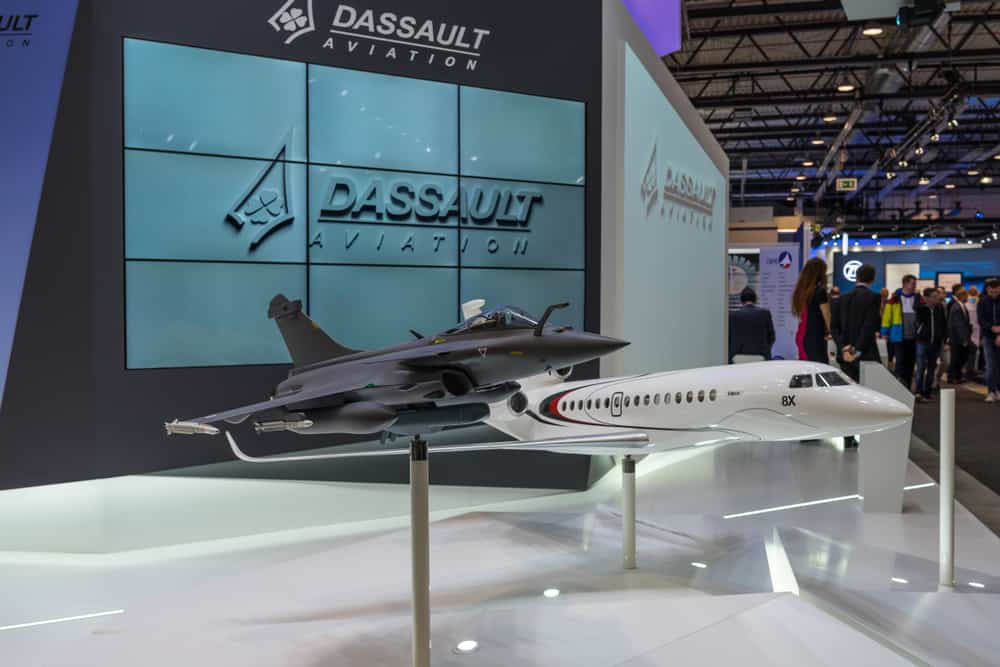 There are almost 2,200 Falcon planes currently in service, roughly a thousand operational fighter aircraft, and 12,152 employees total, with 9,428 of them located in France.
Products
The introduction of many of Dassault's very successful aircraft, such as:
The Ouragan jet fighter (which made its maiden flight in 1949).
The series of supersonic Mystère fighters (beginning in 1952) completely transformed France's national defense system.
The Mirage family of delta-wing fighters (from 1955) included the first European aircraft to surpass double the speed of sound.
The Falcon family of business jets, developed in 1963.
The twin-engine, subsonic aircraft called the Alpha Jet, made in collaboration with Dornier of Germany in 1970. This aircraft was first used as a trainer and evolved into a light ground-attack variant.
The Rafale, an innovative multirole jet fighter for the French armed forces.
The twin-turboprop Atlantique ATL2 maritime patrol aircraft, used by the French Navy.
Aircraft Types
Today, Dassault manufactures civil aircraft and business jets, military airplanes, and aerospace vehicles. The complete list of their products is as follows:
Defense Aircraft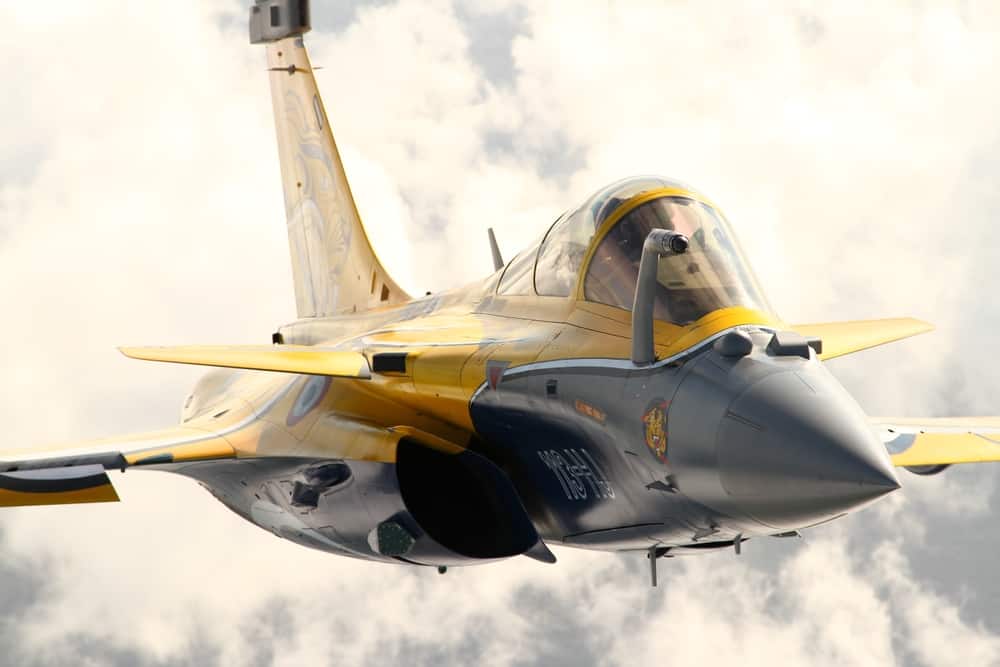 There is little doubt that military aircraft is today's greatest strategic weapon in terms of its battle efficacy and essential technology. Let's see what Dessault has in their defense aircraft portfolio.
1. Rafale
The Rafale system allows the aircraft to perform a variety of missions simultaneously and is the first choice by many nations. It satisfies the criteria to achieve the broadest assortment of duties by utilizing the fewest possible aircraft.
Rafale aircraft takes part in missions involving air defense, air sovereignty, deep strike missions, external missions, air support for ground forces, nuclear deterrence, reconnaissance missions, and pilot training sorties.
Rafale types:
A single-seat Rafale C used by the Air Force,
A two-seat Rafale B used by the Air Force,
A single-seat Rafale M used by the Navy.
Additionally, their mission capabilities are quite comparable. You can see Rafale's history and specifications following the links.
2. Neuron
In 2003, the government of France started a project for a technology demonstration of an Unmanned Combat Air Vehicle (UCAV) developed within the context of a European cooperation plan. The nEUROn demonstrator's primary objective was to help European design firms increase their level of expertise and ensure high-tech use.
This project has gone beyond the theoretical research that has been done up until this point since it will plan the construction of an unmanned aircraft and a flight demonstration of that aircraft. The initiatives of the French government have been supported by the governments of Italy, Spain, Sweden, Switzerland, and Greece, together with the respective industrial teams of Alenia, EADS-CASA, SAAB, RUAG, and Hellenic Aerospace Industry (HAI).
3. Maritime Falcon
The Falcons are utilized for more than carrying passengers. When fitted with the appropriate equipment, their endurance, adaptability, and resiliency make it possible for them to carry out a diverse range of operations, both those in the public sector and the armed forces.
Dassault has been modifying the Falcon 2000 and the Falcon 900 business aircraft to meet the evolving requirements for blue water missions and coastal and border monitoring.
The Falcon 2000 MRA is a multi-mission aircraft outfitted with specialized equipment and designed to meet the requirements of fleets all over the world. This variant of the Falcon is designed for operations like observation, espionage, anti-surface attack, air defense, and training. It displays exceptional performance throughout flying and enables excellent operational flexibility. The Falcon 2000 MRA has a relatively small footprint in terms of its logistical requirements. It's simple to deploy for use in overseas operations or on airfields located in distant or isolated areas.
Because it's outfitted with a full-fledged sophisticated mission kit, the Falcon 900 MPA is in a position to identify all types of dangers and provide the proper response. In the same vein as the Falcon 2000 MRA, Falcon 900 MPA offers exceptional operational flexibility and tremendous performance.
Civil Aircraft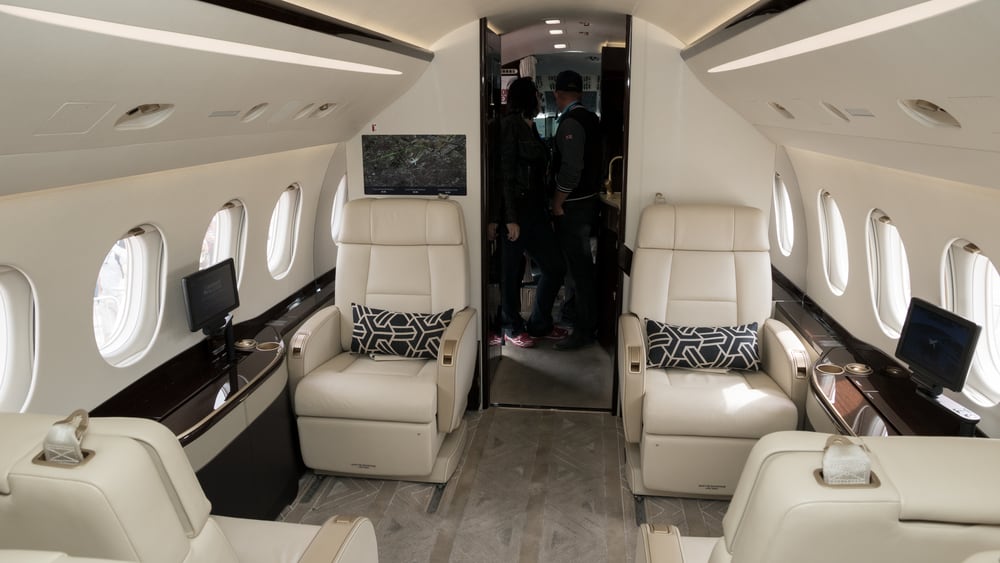 More than 2,100 Falcon aircraft are operated by 1,300 operators in approximately 100 countries. A fleet of seven different types of business aircraft, ranging from 3,350 nautical miles to 7,500 nautical miles, can accommodate various travel requirements.
Business aircraft:
Falcon 10X
Falcon 8X
Falcon 7X
Falcon 6X
Falcon 900LX
Falcon 2000LXS
Multi-mission Falcons
The Falcon 8X is part of the large-cabin aircraft category and offers a mix of sustainability, maneuverability, and extended flight range. All these elements are harmoniously combined to produce a flight experience that all consumers have come to appreciate. The cabin on the 8X is one of Dassault's most spacious so far, providing passengers with more customization options, such as a spacious foyer that leads to either spacious crew quarters or a huge kitchen, a shower in the rear, and staff supplies in the front.
Specifications:
Passengers: 12
Exterior height: 26 ft 1 in
Full length: 80 ft 3 in
Wing span: 86 ft 3 in
Cabin width: 7 ft 8 in
Cabin height: 6 ft 2 in
Cabin length: 42 ft 8 in
Internal baggage space: 140 cu ft
Max range: 6450 nm
Max speed: 600 kts
Engines: 3
Crew: 2
Aerospace Vehicles
Dassault Aviation has been specializing in the aeronautics industry for several decades. It has been a common sight in the sky, with the Subsequent Combat System (SCAF) and Falcons serving as a defining feature of the firm.
The earliest initiatives of aircraft carriers that made use of entirely or partially recyclable launchers were the inspiration for the need to travel beyond the stratosphere and ascend higher into the sky.
Dassault Aviation uses its experience with each of these vehicles to ensure they can fit smoothly into a conventional aeronautical setting. Their most recent space plane designs have considered this knowledge and will eventually make it possible to transport thousands of passengers quickly. Dassault Aviation is prepared for the spaceplane revolution, which has not even begun yet but is just getting started.
MLA (Airborne Micro Launcher)
IXV (Intermediate Experimental Vehicle)
Suborbital vehicles: VEHRA (Véhicule Hypersonique Réutilisable Aéroporté) Family
Dassault Aviation began researching a tiny launcher that could be carried by a combat aircraft after realizing the benefits of an aerial launch. The MLA would be a highly responsive rocket system that is very well-matched to national security requirements. There have been two different iterations discussed, both of which use an active Rafale as the carrier aircraft:
The single body horizontal version can release up to 75 kilograms into Earth's orbit;
The Trimaran version can launch microsatellites weighing up to 150 kilograms into an orbit that is almost 1000 kilometers away from Earth.
Services
Dassault provides full maintenance and management service for their Falcon line of jets and customer support.
Falcon Service
The Falcon jets are held by significant safety, dependability, and agility standards. Dassault Falcon Service offers market-leading assistance anywhere and whenever it's needed.
1. Maintenance Center
Ramp service go-team
Maintenance
Modifications
Operator support
2. Charter Services
3. En-route assistance
4. Falcon management
Customer Service
Dassault offers 24/7 customer service solutions globally and for every business jet.
Finance
Dassault provides transparent financial services and anyone has access to their data on their website, which includes:
Shareholding
Individual shareholders
Financial calendar
Analyst coverage
Publications
General meetings
Regulated information
All annual reports
Corporate responsibility
Investors contact
Most Famous Aircraft by the Company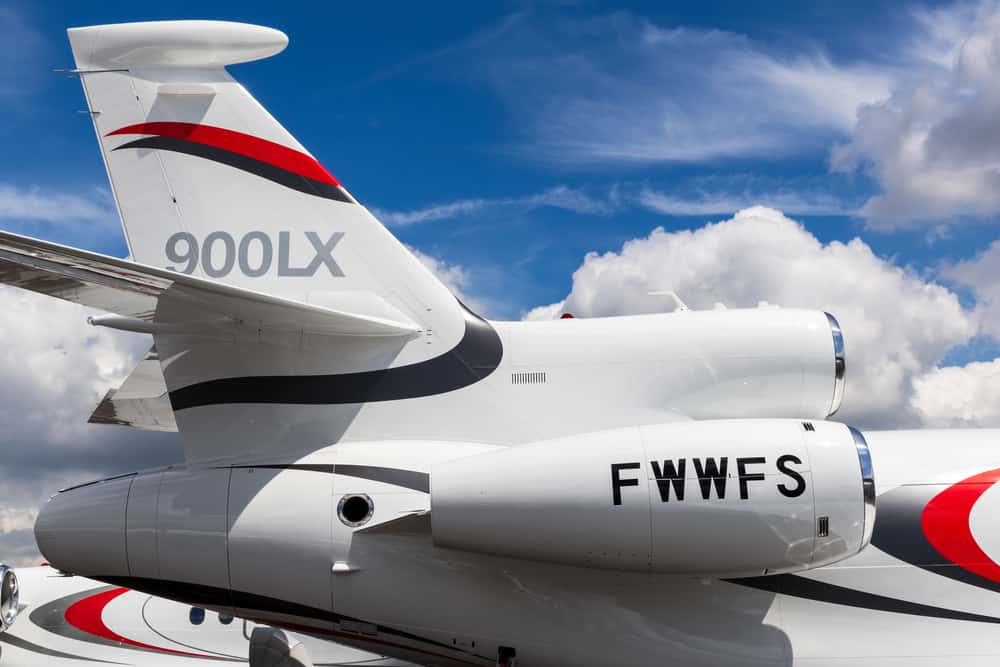 The Mirage III was the first aircraft in the Mirage line with a single engine and flexible wings. In 1956, this aircraft made its maiden voyage for the first time, and since then, it has undergone tremendous improvement. One version was modified to become a standard interceptor, another to become a fighter bomber, and a third to become a military aircraft.
From the 1960s onward, many of the world's minor air forces began transitioning to using these very affordable, straightforward, and reliable aircraft. The Mirage III was the Israeli air force's primary air superiority fighter in the 1960s and '70s. Other nations' air forces, such as those of Lebanon, Brazil, South Africa, Pakistan, Argentina, Spain, Switzerland, and Australia, use the Mirage III as their primary fighter aircraft.
Nowadays, the Falcon series is the most widely used aircraft manufactured by Dassault. Each edition in the series features a greater range and additional amenities, but we chose Falcon 900LX as an example of Falcon's glory.
Let's explore this aircraft type.
Regarding adaptability and fuel efficiency, the Falcon 900LX is the model everyone in its class of long-range jets looks up to (as evidenced by over 500 Falcon 900LXs manufactured). The interior of the 900LX has been updated and reinvented by Dassault with a slick new look. It showcases an exquisite cabin that responds to the requirements of just about any traveler. This cabin maintains the lowest possible decibel level thanks to recent advancements in acoustic technology. In addition, there is sufficient space for three distinct lounge spaces, so passengers may work, unwind over a delicious dinner, and then retire to their beds to rest while they fly.
Specifications:
Passengers: 12
Wing span: 70 ft 2 in
Exterior height: 24 ft 9 in
Full length: 66 ft 4 in
Cabin length: 33 ft 2 in
Cabin width: 7 ft 8 in
Cabin height: 6 ft 2 in
Cabin volume: 1,264 ft3
Flight range: 4,750 nm
Max cruise speed: 84 mach
Internal baggage space: 127 cu ft
Crew: 2
Engine: 3
You can see a side-by-side comparison of the Falcon line of jets following this link and a map showing exactly where a particular Falcon jet can take you.
Safety
Business aviation is widely acknowledged as a valuable instrument for the expansion and development of corporations, and the safety standards of business aircraft are on par with those of commercial airlines' aircraft.
Innovations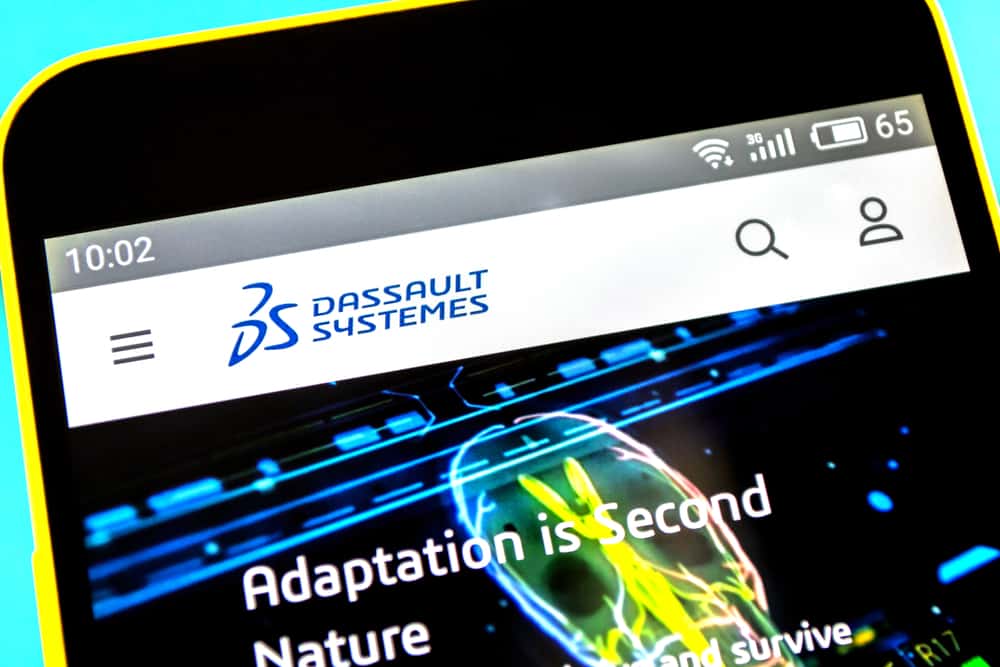 Since we can't separate one from the other, Dassault Systèmes, as part of the Dassault Group, has been expanding its operations into new technology fields, which include industrial information technology systems and communication.
Dassault Systèmes has been at the forefront of innovation in industrial product design and development since its founding. The business uses 3D technology to build complicated shapes and construct the first digital models. Dassault Systèmes is looking ahead to the industrial processes that will exist in the future by providing a 3D view of the whole lifespan of a product, including everything from the product's initial design to maintenance, manufacturing, and deployment.
Conclusion
Dassault Aviation exhibits its mastery of cutting-edge technology in the service of its clientele with every aircraft it manufactures. Moreover, it assists its global consumers in maintaining their time by enabling them to travel faster and with ease.