Because of its convenience, comfort, and speed, travelling by private aircraft is the pinnacle of luxury travel. Private jets, as the word implies, are aircraft that passengers can charter for personal or professional purposes. They can be found in various sizes and models, each with its own amenities and specs and, of course, different speeds.
If you're curious about the world's fastest private jets, we'll briefly review the top 11 choices and the companies behind them.
1. Fastest Private Jets by Gulfstream Aerospace
As a wholly owned subsidiary of General Dynamics, Gulfstream Aerospace operates independently. To this day, the corporation continues to produce some of the world's most advanced and fastest private planes. Since its founding in 1958, this American aircraft company has designed, developed, and maintained more than 2,000 unique types of aircraft, including business jets. Mark Burns, president of Gulfstream Aerospace, runs the show from the company's headquarters in Savannah, Georgia.
Gulfstream aircraft have been in production for almost fifty years, and throughout that time, the line has undergone a steady process of refinement and improvement. Gulfstream has been at the forefront of corporate and private jet aviation innovation ever since it unveiled the Gulfstream I in 1958. To better reflect the company's global character, in 2002, it began using Arabic numerals rather than its distinctive Roman numerals for naming the fleet. Pricing for each plane ranges from $10 million to $50 million.
Gulfstream now produces cutting-edge, innovative, and modern business aircraft, and the company also offers first-rate product service and support everywhere around the globe.
Gulfstream G550, Gulfstream G650, and Gulfstream G700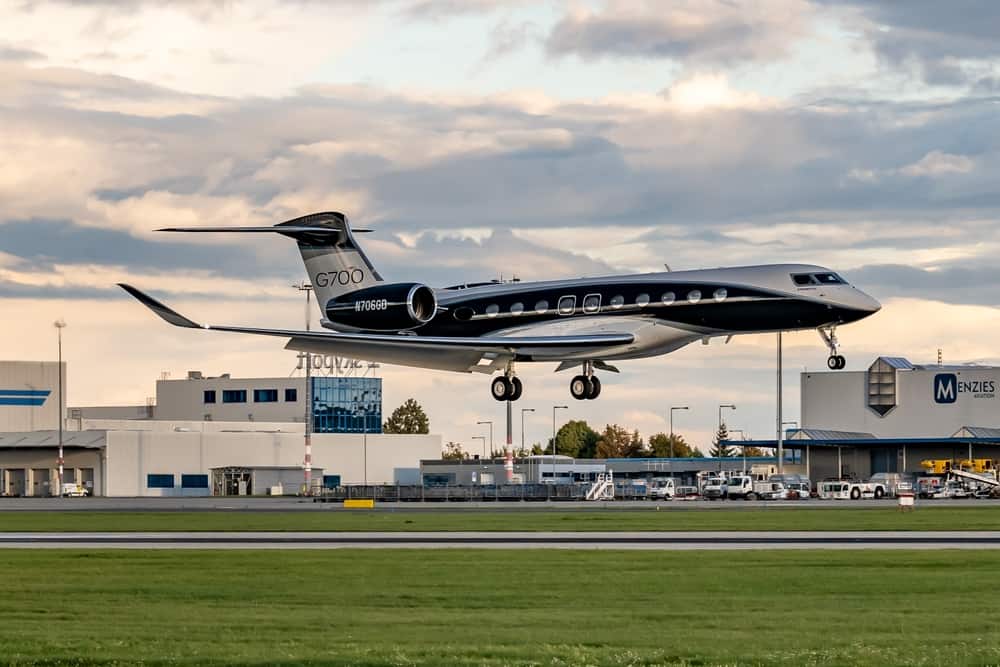 On the list of the world's fastest private jet, we can find the following three Gulfstream models:
1. The Gulfstream G550
The incorporation of the most recent generation of the Gulfstream PlaneView flight deck into the Gulfstream G550 marked the beginning of a fresh era of advancement for the aircraft's piloting experience. The highly advanced avionics technology that is found on the PlaneView flight deck will be installed in other Gulfstream models as well, such as the G450 and G350. This modern cockpit equipment offers pilots a variety of benefits, the most notable of which is an increase in safety as well as an increase in the amount of automation.
This long-haul aeroplane was manufactured in Savannah, Georgia, and it has two Rolls-Royce engines and customizable cabin space. Because of its exceptional quality, the Gulfstream G550 was awarded the prestigious Robert J. Collier Trophy, considered the pinnacle of achievement in the aviation industry, in the ultra-long-range category.
Gulfstream G550 combines durability and sophistication with an exceptional flight range of 6,750 nautical miles.
Specifications:
Passengers: 19
Cabin height: 6 ft 2 in
Cabin length: 43 ft 11 in
Cabin width: 7 ft 4 in
Internal baggage space: 170 cu ft
Max flight range: 6750 nm
Max cruise speed: 590 kts
2. The Gulfstream G650
The Gulfstream G650 is one of the most technologically advanced business jets that are presently in production, and it made its debut as an aircraft with such capabilities. The inaugural flight of the G650 took place in 2009, and at the time, it was the fastest passenger jet in the world.
There is seating for up to 19 passengers aboard this aircraft, which features four distinct living areas. In 2013, a westbound route around the world aboard a Gulfstream G650 aircraft took just 41 hours and 7 minutes to complete, setting a new record for the quickest trip around the world.
Additionally, in 2014, the eminent Robert J. Collier trophy was presented on the Gulfstream G650 in honour of its exceptional contributions to aviation technology in the areas of performance, stability, and cabin convenience.
Specifications:
Cabin width: 8 ft 2 in
Cabin height: 6 ft 3 in
Cabin length: 46 ft 10 in
Maximum flight range: 7,500 nm
Wingspan: 99 ft 7 in
Full aircraft length: 99 ft 9 in
Max cruise speed: 516 ktas
Internal baggage space: 195 cu ft
Passengers:17
Living areas: 4
Crew: 3
Sleeping room for 7 passengers
3. The Gulfstream G700
In the year 2020, the G700 flew on its very first journey. This jet is one of the longest and most extensive heavy aircraft, measuring more than 17 ft in length.
Because the interior of this brand-new aircraft is one of the largest in its category, it has a number of brand-new interior selling points and features:
As many as five distinct living areas
Twenty enormous oval windows
Ultra gally with more than 10 feet of additional space
Separate rest area for the crew or a salon
Sleek ambient lighting system
Stereo sound
Master bedroom with shower
Lounge
Conference room that can accommodate up to six people
Specifications:
Passengers: 8 to 13
Cabin length: 56 ft 11 in
Cabin width: 8 ft 2 in
Cabin height: 6 ft 3 in
Flight range: 7,500 nm
Max cruise speed: 516 kts
External luggage space: 195 cu ft
2. Fastest Private Jets by Cessna
The most popular brand of private planes produced anywhere in the world is Cessna. The Cessna aircraft brand can trace its lineage all the way back to the early pioneers of the aviation industry. This specific brand of products has, throughout its history, been able to uphold a reputation that distinguishes its business jets by its quality.
Cessna is widely renowned for the company's value and its ability to set and maintain high industry standards. The high-wing tiny aeroplanes that it manufactures and its trademark positioning of the wings above the body of the aircraft, differentiate them from its competitors.
Wichita, Kansas, known as the "aviation centre of the world," is home to Cessna's corporate headquarters. Cessna's line of business also contains providing maintenance and support operations all over the world.
Cessna Citation X+ and Cessna Citation Longitude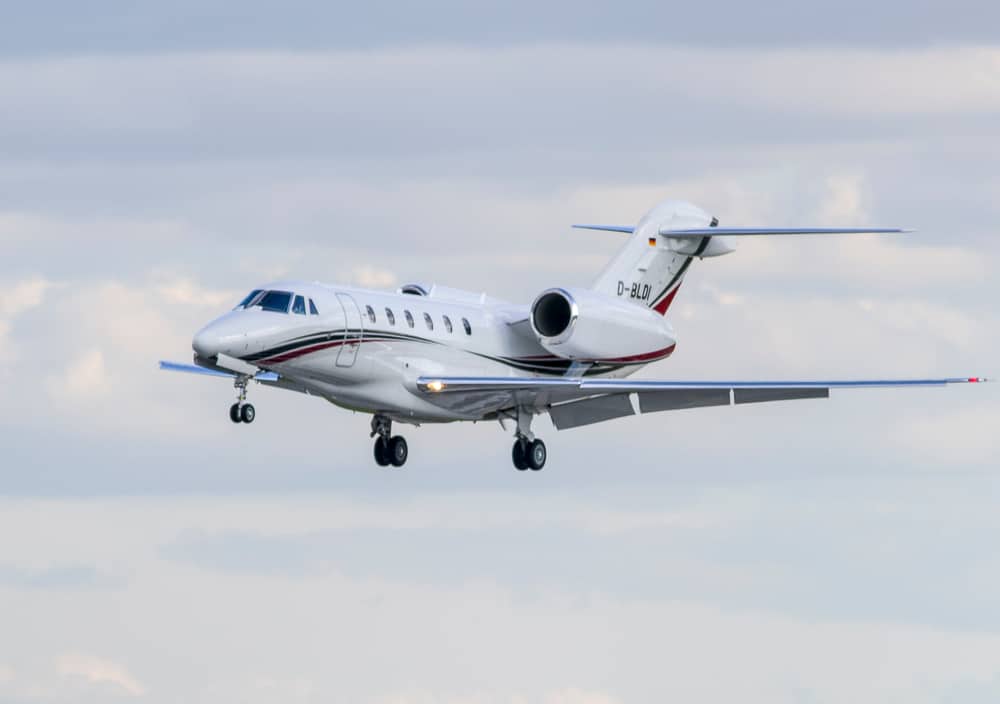 There are two Cessna jet models that are among the world's fastest:
4. Citation X
Cessna has been producing the Citation X aircraft since 1996. It appears that the Citation X, which offers a remarkable combination of spaciousness, range, and speed, is the most flexible aircraft among the list of fastest private jets. Because it has a passenger capacity of eight people, a flying range of 3,300 nautical miles, and a speed cruise of 604 miles per hour, it enables flyers to travel quickly and effectively.
As a medium-sized jet, with its ability to go coast to coast and its spacious cabin, Citation X is an excellent option for leasing and owning.
Specifications and amenities that Citation X offers are:
Maximum performance: 6 hours flight range
Normal cruise speed: 525 kts
Exterior height: 19 ft 3 in
Full length: 73 ft 7 in
Wing span: 69 ft 2 in
External baggage space: 82 cu ft
Cabin height: 5 ft 7 in
Cabin length: 23 ft 9 in
Cabin width: 5 ft 5 in
Crew: 2
Passengers: 8
Engines: 2
Rate of Climb: 3650 fpm
Wifi is available on board
5. Cessna Citation Longitude
Cessna began production of the Citation Longitude in 2017 and continues to do so to this day. The Citation Longitude is classified as a super-midsize jet. The cabin of the Cessnas Longitude can be configured in a number of different ways, but each and every configuration of it contributes to the jet's glory. Citation Longitude features notable sophistication as well as cutting-edge multimedia and tech innovation.
Specifications:
Passengers: 8-10
Cabin length: 37 ft 8 in
Cabin height: 6 ft 5 in
Cabin width: 6 ft
Baggage capacity: 112 cu ft
Aircraft length: 73 ft 2 in
Wingspan: 67 ft
Aircraft range: 4,600 nautical miles
Cruise speed: 606 mph
3. Fastest Private Jets by Bombardier
Bombardier Inc., more commonly referred to simply as Bombardier, is a Canadian firm that specialises in the design, production, and sale of business jets. In the past, it also produced commercial planes, trains, and several other types of vehicles for public transportation. These days, however, its primary concentration is on producing business aircraft and providing technical support.
The Global and the Challenger are the principal aircraft families manufactured by this corporation. Today, Bombardier is in charge of:
Design and manufacturing – turning an idea into realization.
Sale and marketing – advertising and customer support before and after purchase.
Maintenance of business jets and aircraft parts.
In addition, the company is responsible for the supply of products and services connected to the military industry.
They've been going strong for almost 80 years, and they attribute their longevity to both their rich history and their innovative products.
Bombardier Global 7500 and Bombardier Global 8000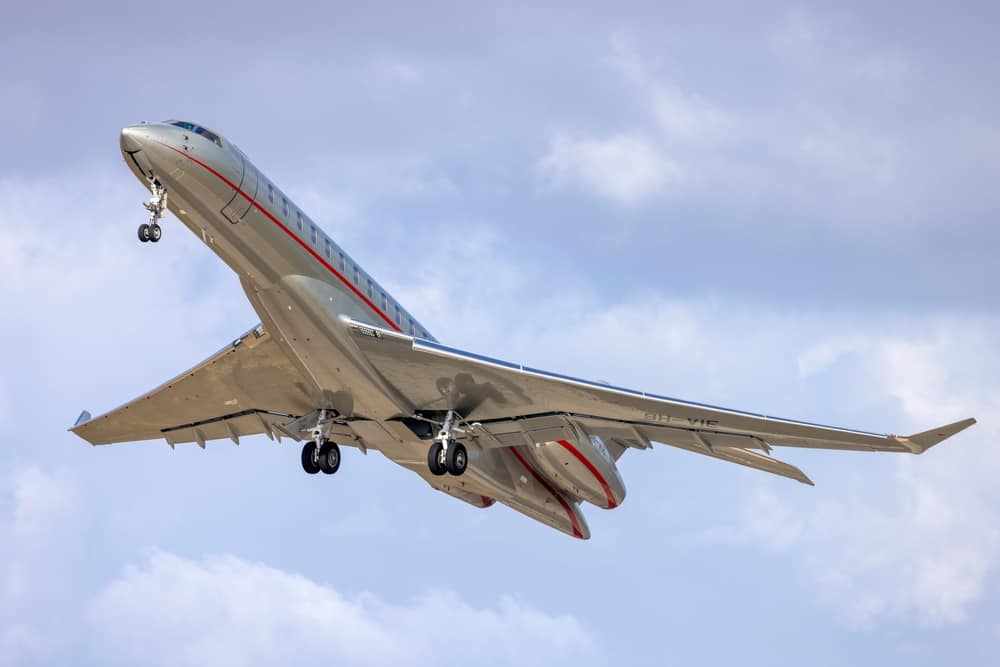 There are two versions of Bombardier aircraft on the list of the world's fastest:
6. The Bombardier Global 7500
There are a total of four distinct living quarters available for passengers aboard the Bombardier Global 7500, in addition to a closet and unrestricted access to the baggage compartment, which features the following areas:
A conference room with an expandable table and seats for six individuals.
An area that consists of four seats and two side tables that slide out from the wall (dining area).
An entertainment suite, where passengers are welcome to unwind and watch a movie.
At the very rear of the aircraft is the final area where travellers will find a bathroom with a shower, in addition to a bedroom and an office.
Moreover, the Global 7500 is the largest business jet that is currently available on the market.
Specifications:
Wing span: 104 ft
Passengers: 10 to 18
Total length: 111 ft
Exterior height: 27 ft
Cabin width: 8 ft
Cabin length: 54 ft 5 in
Cabin height: 6 ft 2 in
Max flight range: 7700 nm
Full lavatory
Max cruise speed: 530 kts
Crew: 2
7. Bombardier Global 8000
This brand-new aeroplane that was built in Canada takes the top place on our list. This private jet was released in 2017 and has an amazing range of up to 8,000 nautical miles, as the name says. The Global 8000 was able to attain the mind-boggling speed of Mach 1.015 during a demonstration flight, making it the fastest aircraft in commercial aviation. However, when it's put to use in a commercial setting, its maximum operating speed is 0.94 Mach.
Moreover, it's the very first aircraft designed for commercial transportation that can travel at the speed of sound while burning environmentally friendly fuel (SAF).
On board the fastest private jet in the world, there is room for up to 19 people, each of whom will be treated to opulent and comfortable accommodations. The Global 8000 contains four separate seating spaces, one of which includes a double bed with a bathroom.
The Global 8000 heralds the beginning of a new age, as city pairings previously thought impossible, such as Houston and Dubai, and Los Angeles and Singapore, are now within reach. Those who are interested in purchasing this superb ultra-long-range aircraft will be forced to hold off until the earliest 2025, when it will be available for non-commercial purchase, at a stunning $78 million price point.
5. Fastest Private Jet by Dassault
Dassault Industries, headquartered in France, is a multinational corporation comprised of numerous aerospace-related subsidiary companies. These companies are experts in the construction of civil and military aircraft, tech engineering, manufacturing, management, and aviation training computer simulations. After the end of World War II, Marcel Dassault founded Dassault Aviation, which would later become the principal division of the firm.
Each aircraft that Dassault Aviation produces is an example of how the company puts its expertise in cutting-edge technology to use for the benefit of its clientele.
Dassault Falcon 7X, Falcon 8X, and Falcon 2000LXS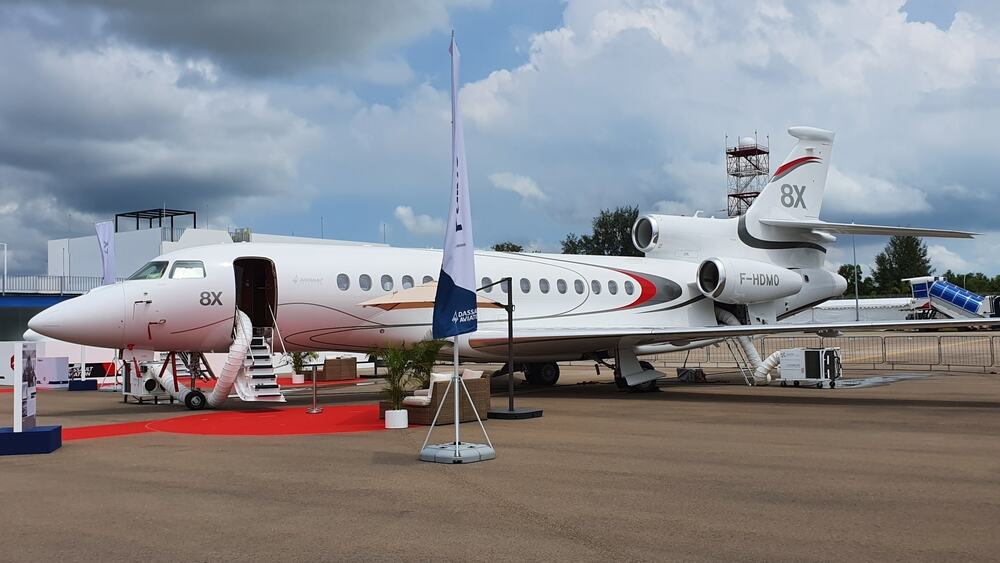 Let's take a closer look at Dassault's fastest jets.
8. Dassault Falcon 8X
The Falcon 8X is a heavy aircraft that offers a combination of economy, agility, and longer flight range than its predecessors, and is a member of the private jet category known as "Falcon." When all of the mentioned components are brought together in such a way as to create harmony, the result is a flight experience valued by every flyer.
The jet is divided into the following areas:
A spacious foyer at the entrance of the jet
A spacious crew quarters
A full kitchen
A shower in the rear
Staff supplies in the front
The 8X is one of the most spacious cabins that Dassault has produced to date. It gives passengers more options for personalization.
Specifications:
Exterior height: 26 ft 1 in
Passengers: 12
Full length: 80 ft 3 in
Cabin width: 7 ft 8 in
Wing span: 86 ft 3 in
Cabin length: 42 ft 8 in
Cabin height: 6 ft 2 in
Max speed: 600 kts
Max range: 6450 nm
Internal baggage space: 140 cu ft
Crew: 2
Engines: 3
9. Dassault Falcon 7X
The Dassault Falcon 7X is a new type of aeroplane that outperforms its contemporary rivals in terms of both altitude and range. In 2007, the debut of the Falcon 7X demonstrated that it was superior to other aircraft in its category. It has since been completely remodelled, and it now boasts three potent engines in addition to the upgrades that have been made.
Specifications:
Passengers: 12
Cabin length: 39 ft 1 in
Cabin width: 7 ft 7 in
Cabin height: 6 ft 2 in
Max cruise speed: 600 mph
Max flight range: 5,870 nm
Baggage capacity: 140 cu ft
10. Dassault Falcon 2000LXS
2012 saw the beginning of production for the Dassault Falcon 2000LXS. This private jet is responsible for a wide range of functions, including executive transport as well as the transportation of goods, amongst others.
Specifications:
Full height: 23 ft 2 in
Wingspan: 66 ft 4 in
Full length: 66 ft 4 in
Passengers: 10
Cabin height: 6 ft 2 in
Cabin length: 26 ft 2 in
Cabin width: 7 ft 8 in
Maximum cruise speed: 1574 kts
Flight range: 6,020 km
Flight range: 4000 nm
Internal baggage space: 130 cu ft
Crew: 2
Engines: 2
11. Aerion AS2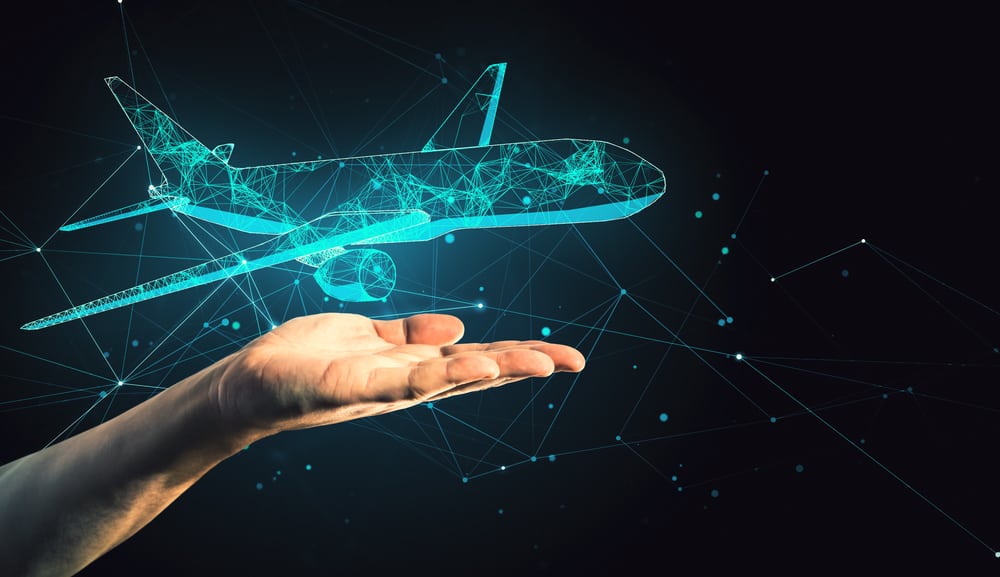 The AS2 is a project has involves Airbus, Boeing, and Lockheed Martin. Any thoughts on what these three power companies intend to develop? If your answer is a supersonic jet, that's correct!
AerionS2 is a supersonic business aircraft that Aerion is presently in the process of developing, and it's expected to be accessible to customers sometime in the year 2023.
This jet is powered by three General Electric Affinity engines, built and designed particularly for the AS2. Each of these engines delivers 18,000 lbf (80 kN) of thrust, and the goal speed is 1,227 miles per hour. This supersonic plane will have a range of around 4,750 nautical miles and it will be able to accommodate 12 passengers.
Specifications:
Super cruise: 1.4 mach
Wingspan: 77 ft
Wing area: 1,511 sq ft
Cabin length: 30 ft
Cabin height: 6ft 2 in
Cabin width: 7ft 6 in
Full length: 170 ft
Exterior height: 22 ft
If you want to own one, get ready to have a whopping $120 million less in your bank account.
Conclusion
With today's article, we hope we satisfied your curiosity about the world's fastest private jets and their specifications. We made a list of these incredible fast-speed jets that are among the world's most high-priced and have great value. Thanks to these wonderful planes, travellers can get where they need to go swiftly and in style.