Honda Aircraft Company is an aircraft manufacturer that uses the latest technology and innovation in aviation to produce their well-known HondaJet aircraft. What started as a research project in 1997 is now a well-established jet producer and a completely-owned subsidiary of Honda Motor.
The company's headquarters is at Piedmont Triad International Airport in Greensboro, North Carolina. It was at this airport that the first HondaJet prototype was assembled, and where flight testing was carried out.
Let's see how the company came to be.
About the Company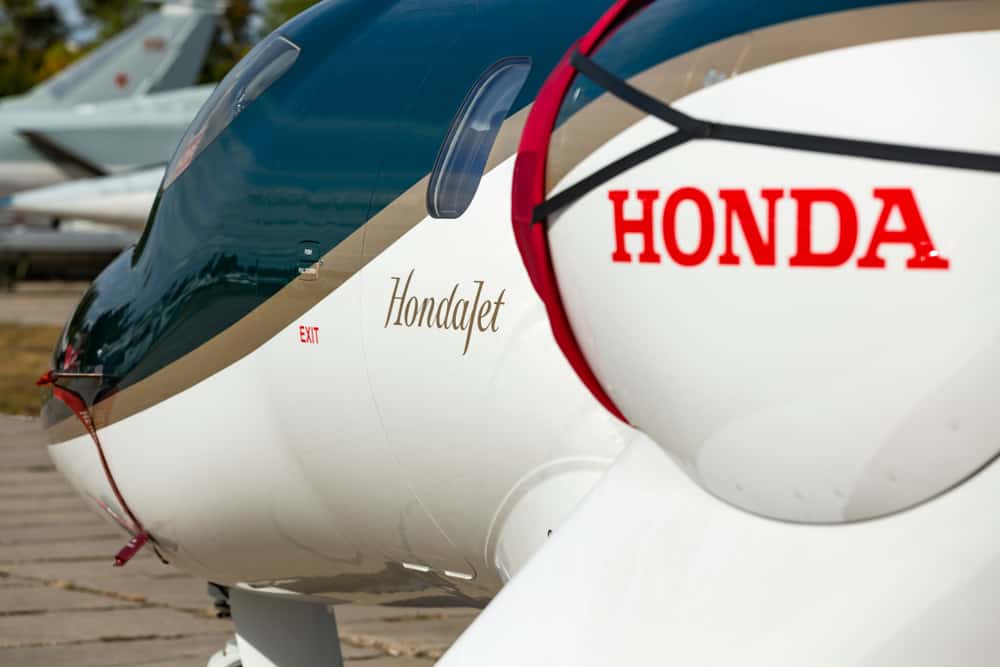 Hideto Yamasaki, the new president and CEO of Honda Aircraft, took the position on April 1st, 2022, after Michimasa Fujino, the previous chairman and president of Honda Aircraft, retired on March 31st.
At the beginning of what would later become Honda Aircraft, the talented aerospace engineer Michimasa Fujino was in charge of the research project that began in 1986 in the US and focused on light aircraft and jet engines, continuing in 1988 with the construction design. In 1993 began the flight testing of MH-02, the Michimasa Fujino project – an initial all-composite executive jet. Honda eventually put a halt to the effort in 1996 due to a monetary crisis in Japan.
1997 marked the beginning of the development of the HondaJet. On December 3, 2003, the prototype for HondaJet ascended to the skies for the first time, powered by two turbofan engines designed and manufactured by Honda. On December 9, 2015, the FAA granted certification to the HondaJet after it had been in development for many years and had collaborated with GE Aviation to create the HF120 engine.
The HondaJet made its first public appearance at the EAA AirVenture Oshkosh in 2005. The following year, Honda Aircraft was formally created, with Fujino serving as the company's CEO. During the National Business Aviation Association conference in 2006, the firm started accepting orders and quickly booked more than one hundred deliveries. This was the year when the company was established as a fully-owned subsidiary of Honda Motor.
The manufacturing of the HA-420 HondaJets began in 2012, at the purpose-built plant in Greensboro, North Carolina. After that, in 2013, the HF120 turbofan powerplant received certification from the FAA, and in 2014, the maiden flight of a production version took place. 2018 saw the launch of the HondaJet Elite, an improved version of the HA-420.
In 2017 and 2018, the Elite was the light jet that Honda supplied the most worldwide.
Since then, the jet has undergone consistent improvements, increasing range among other enhancements. Moreover, Honda Aircraft has increased production capacity at its facility in Greensboro, North Carolina, and the company currently produces most of the fuselage and the wings. The HondaJet Elite S is the most recent model available.
Products and Services
Honda Aircraft has recently confirmed the expansion of the HondaJet customer service system with four new sites located in:
Selangor, Malaysia
Bournemouth, United Kingdom
Portland, Oregon
and Sacramento, California
This brings the total number of locations in the HondaJet customer service network to 21 worldwide and 12 in North America. The company's first office in Southeast Asia is currently located in Malaysia.
Aircraft Types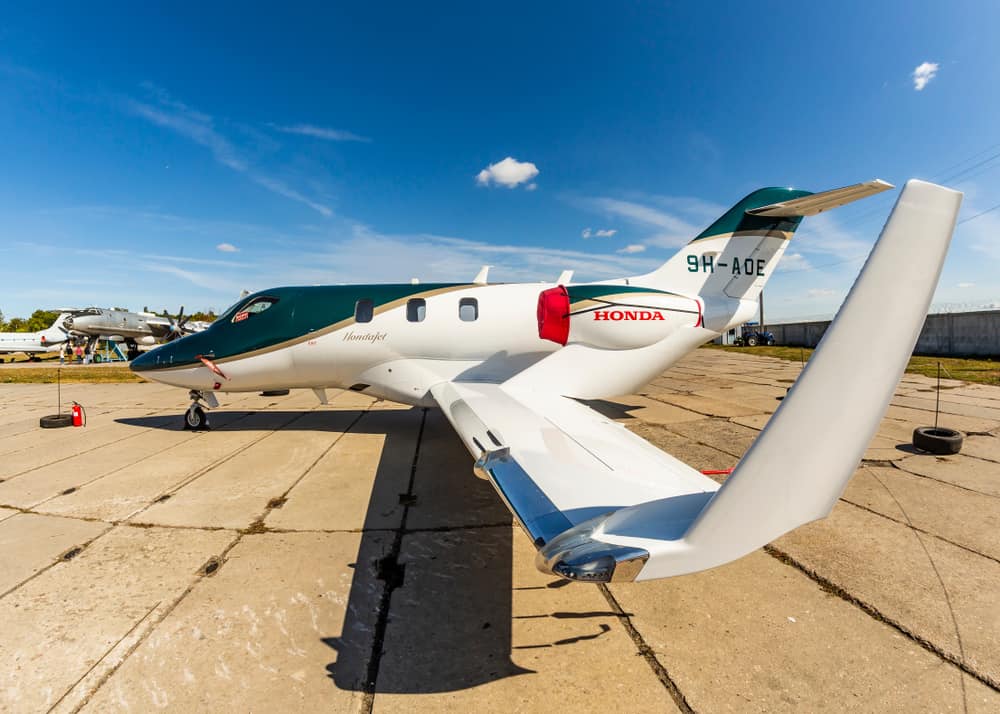 Business Aircraft
HondaJet Classic
The first HondaJet is a very light jet responsible for several firsts in the aviation industry.
The over-the-wing engine mount results from rigorous research and development on Honda's part, which led to its design and validation. This cutting-edge technology enables category-leading advances, such as a quieter and more spacious cabin and enhanced fuel economy.
This innovative technical solution leads to a fast cruising speed and enhanced efficiency in gasoline use. The fuselage of the HondaJet is made of lightweight composite material, in contrast to the aluminum used in the construction of most jets.
Specifications:
Full length: 42 ft 6 in;
Exterior height: 14 ft 9 in;
Wing span: 39 ft 8 in;
Cabin height: 4 ft 8 in;
Cabin length: 12 ft 1 in;
Cabin width: 5ft
Flight range: 1,223 nm;
Baggage space: 66 cu ft;
Maximum cruise speed: 422 ktas.
HondaJet APMG
Honda has an uncompromising focus on effectiveness and a persistent effort to unearth breakthroughs via structure, manufacturing, and innovation. This is one of the reasons why it's so successful. The most recent accomplishment brought about by this endeavor is the HondaJet APMG. Because of its shorter takeoff field length, the HondaJet APMG provides passengers with improved airport access in various settings.
Specifications:
Passengers: 6;
Full length: 41 ft;
Wingspan: 40 ft 1 in;
Exterior height: 13 ft 1 in;
Cabin length: 15 ft 1 in;
Cabin width: 4 ft 11 in;
Cabin height: 4 ft 11 in;
Maximum cruise speed: 485 miles;
Flight range: 1404 miles;
Crew: 1-2.
HondaJet Elite S
The Elite S is a member of the light jet category and has an expanded cargo range and improved technology, which strengthen the aircraft's operating capacity.
HondaJet Elite S establishes the benchmark for the world's most technologically sophisticated light jet. It surpasses every other aircraft in its category in terms of performance because of the ground-breaking aviation innovations that were developed and presented by Honda Aircraft.
The improvements provided by Honda Aircraft allow the HondaJet Elite S to have the most extensive cabin in its category, a private lavatory, and an environment that passengers can control through a smartphone.
Specifications:
Passengers: 8 to 10;
Exterior height: 14 ft 11 in;
Full length: 42 ft 7 in;
Wing span: 39 ft 9 in;
Cabin width: 5 ft 1 in;
Cabin height: 4 ft 11 in;
Cabin length: 17 ft 10 in;
External baggage space: 60 cu ft;
Internal baggage space: 10 cu ft;
Max flight range: 1437 nm;
Max cruise speed: 422 kts;
Crew: 1.
Hondajet 2600 Concept
The Honda Aircraft Company came up with the HondaJet 2600 Concept to address the challenges that lie ahead for the aviation industry. HondaJet 2600 can make nonstop transcontinental trips across the United States, thanks to the development of innovative aviation technology. In addition to offering comfortable accommodations and a generous amount of storage space for travel gear, the cabin also achieves an unrivaled level of fuel economy.
The cabin interior is modular and highly adaptable, built to accommodate various clients' needs.
Honda continues to innovate the HondaJet 2600, shown for the first time at the 2021 Business Aviation Convention and Expo hosted by the National Business Aviation Association. The design improvements helped simplify the systems, resulting in the aircraft being lower in weight, having better dependability, and being easier to maintain throughout its lifetime.
Specifications:
Passengers: 9 to 10;
Full length 57 ft 8 in;
Wing span 56 ft 7 in;
Exterior height 15 ft 9 in;
Cabin length 25 ft 4 in;
Cabin width 5 ft;
Cabin height 5 ft 2 in;
Max cruise speed: 450 kts;
Max flight range: 2625 nm;
Baggage space: 120 cu ft;
Crew: 1.
Most Famous Aircraft by the Company
The HondaJet Elite S is the world's most sophisticated light business jet because of its cutting-edge innovations, which allow it to surpass all other aircraft in its category. It ascends and maintains speed more quickly, soars higher, has more space, produces less noise, and consumes less fuel overall.
Safety
In June 2022, Honda Aircraft Company and FlightSafety International announced a 25-year renewal to their current 15-year agreement. This extension will ensure that the two firms will resume their collaborative and creative efforts till 2047. The agreement expands on a joint effort combining both companies to offer training to HondaJet operators and owners of the highest possible safety standard while simultaneously establishing a robust and long-term commitment.
Sustainability
Pollution prevention and collective equity are two areas in which Honda Aircraft Company sets a new benchmark in the business aviation industry. They use technologies created by their parent company to improve the characteristics of the aircraft and hence increase fuel efficiency. Each jet by Honda produces fewer emissions of carbon dioxide without compromising functionality. Honda would only have achieved these advancements with its global team of collaborators from over twenty nations combined.
Honda manufactures more than just planes with low fuel consumption. Both the Blue Skies for Our Children project and their LEED Gold-certified corporate headquarters are examples of how they actively work to reduce the company's environmental impact.
Innovations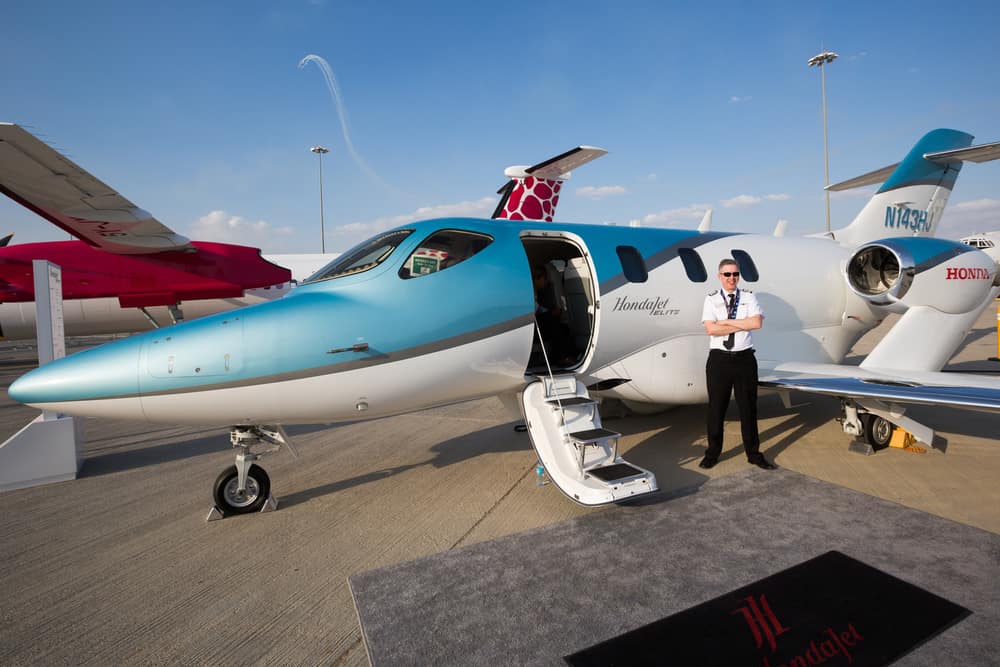 On October 20, 2022, the company introduced the "HondaJet Elite II". It's a newly improved aircraft that boasts a variety of essential enhancements in both convenience and performance. Additionally, the corporation announced the launch of new automation technology.
The HondaJet Elite II is intended to be the fastest and farthest flying in its category of light jets by achieving an entirely new level of endurance. This achievement was made possible by Honda's pursuit of innovation. As a result of the Elite II's increased flight range of 1,547 nautical miles, HondaJet can now cover a greater number of locations. The performance enhancements are finished off with the installation of ground stabilizers, which optimizes the performance of the landing and takeoff area.
The HondaJet is equipped with a number of technological advancements that allow it to achieve significantly greater cruising speed, more cabin and luggage room, and significantly better fuel efficiency than conventional aircraft in its category.
Key HondaJet technologies include:
proprietary over-the-wing engine-mount position,
a natural-laminar flow (NLF) wing and fuselage nose,
and an all-composite fuselage construction.
These breakthroughs are the culmination of 20 years of aviation research.
Along with the declaration that it would embark on a road toward automation, Honda Aircraft Company also plans to launch Autothrottle and Emergency Autoland before the year 2023 draws close. This direction sums up the ongoing endeavor to enhance the HondaJet via automation, upgrading, and safety-related advancements.
Conclusion
The Honda company creates aircraft using the most cutting-edge aviation technology with the goal of revolutionizing travel. Every HondaJet utilizes modern technology to fulfill various requirements for owners and businesses, medical evacuation, and other critical operations. Honda is making the advantages of private flying more accessible to a larger audience by developing quick, safe, and economical aircraft.