International Jet was launched in the late 70s and has managed to maintain a small private company attitude, while growing into one of the largest charter companies in Denver, Colorado.
Let's explore the company's services, but first, let's see how the company came to be.
Company History
Lynn Krogh and Bill Milam founded International Jet in 1979 in Long Beach, California. Ten years later, Brian Smith joined the company and became a partner.
The first plane featured in their fleet was a Cessna 421 turboprop. At the beginning of 1980, they purchased a Leajetr 24 and relocated to Denver, Colorado. During this period, International Jet performed a number of cargo flights for Emery Air Freight and Purolator.
In the summer of 1980, they added a Learjet to their fleet. Their original hangar, which is still in use today as a maintenance facility, was constructed shortly after they relocated to Denver.
International Jet is now the firm with the longest history at Centennial Airport.
They flew freight for numerous years and even had a helicopter charter service at one time. They also airlifted a female gorilla named BeBe to the Cincinnati Zoo, who was put to sleep for the duration of the flight. They also had a military contract at the time to fly missile launch codes to various air bases around the United States.
Didn't we say they have a fascinating past? Cargo, top-secret military planes, and a 700-pound gorilla are all part of their company history.
In 1989, the firm began to expand into passenger charters. In the early 1990s, Columbia Air Life (later HealthOne) became a long-time customer. Over the course of twenty-five years, International Jet flew over 10,000 medical transports with a fleet of fifteen aircraft.
They started building the existing Centennial Airport facility in 2002, which opened in 2003. In the mid-2000s, International Jet became a passenger charter airline and has since added a series of big aircraft to their fleet, which now comprises jets from every category and size.
Company Membership Program
The WINGS CLUB offers members significant savings on charter flights and the highest level of safety and service.
Members can choose 25 or 50 hours on any of the aircraft in their fleet for one way and round trips, even empty leg flights, with a pre-paid hourly rate and unlimited flight hours. Other passengers and pets are allowed on board, and to inquire about more perks, you can send them a message on their website.
Empty Leg Flight
A flight planned to go to a certain location without any passengers is known as an empty leg. When a plane has to be transferred or returned for another route, empty leg flights become available to charter for a fraction of the cost of a normal charter.
Finding an empty leg trip is always an attractive alternative, so read more about it on their site if you're open to last minute arrangements.
Maintenance, Management, and Sales
International Jet's management program aims to provide clients with the advantages of ownership but without the hassles and extra expenses that come with it. They are able to offer a complete aircraft management solution. This comes with numerous benefits, such as comprehensive coverage for insurance and a monthly report on all maintenance, professional pilots and 24/7 available flight coordinator, and a discount on fuel.
In 2018, International Jet Aviation's maintenance department received its FAA recognition of achievement Diamond Award, second year in a row. You can see the entire Management Program on their website.
When it comes to sales and purchases, there's AeroTrans International, a subsidiary company with more than 40 years of expertise in local and international aircraft transfers and offers commercial aircraft sales, consultancy, and aircraft purchases. Services clients can expect include aircraft acquisitions and sales, pre-purchase inspections, audits and consulting, aircraft management and insurance, maintenance, and financing.
The Fleet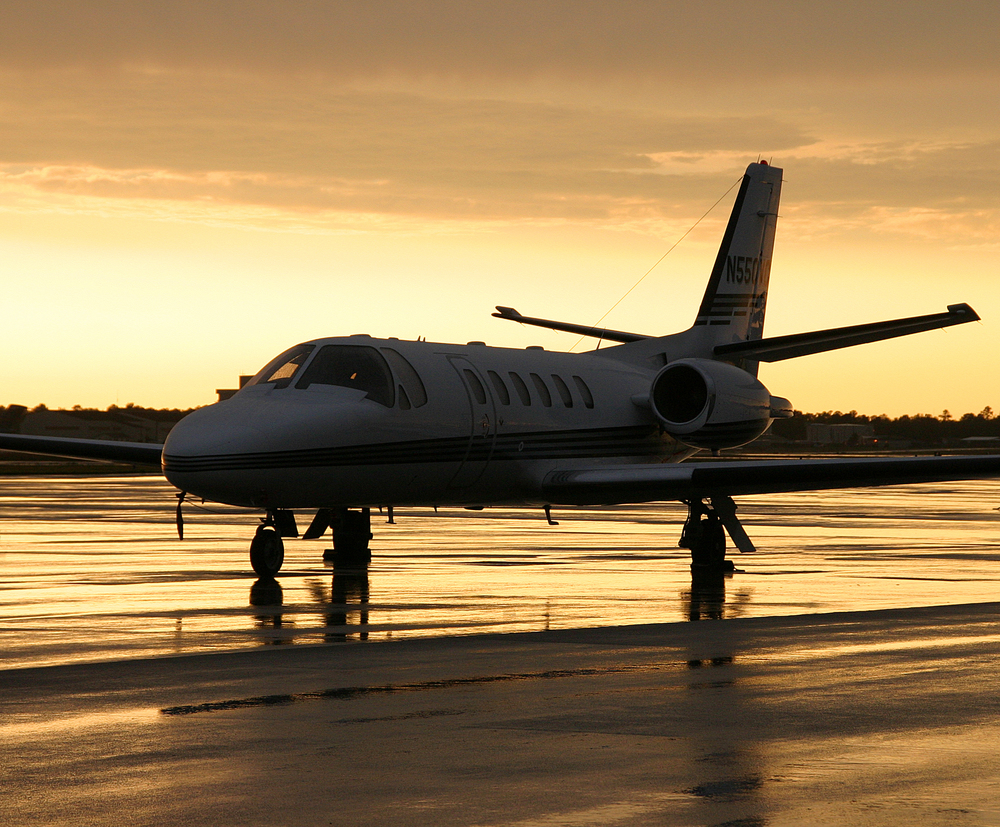 The International Jet fleet comprises turboprops, light, mid, super-mid, and large aircraft types, capable of satisfying any of their clients' flight requirements.
1. Turboprop
Turboprops are propeller-driven aircraft that are the most cost-effective option in any fleet. They're a very flexible option, incorporating the speed of jets but with the ability to land on non-concrete ground.
Turboprops are best used at low altitudes and at speeds of 450 mph, or less. As a result, they're a reasonable solution for domestic trips and landings at small airports.
Our Recommendation: The King Air 90
The Beechcraft King Air line was introduced in 1974 and has been manufactured ever since, giving it the privilege of having the longest continuous production duration of any passenger turboprop in its category.
The King Air 90 can accommodate up to eight passengers, and comes with a private lavatory.
Specifications:
Passengers: 6 to 8;
Wing span: 45 ft 11 in;
Exterior height: 14 ft 8 in;
Cabin volume: 227 cu ft;
Full length: 35 ft 6 in;
Cabin length: 12 ft 7 in;
Cabin height: 4 ft 9 in;
Cabin width: 4 ft 6 in;
Internal baggage space: 54 cu ft;
Max flight range: 1543 nm;
Normal cruise speed: 248 kts;
Crew: 1-2.
International Jet offers two turboprop models on their website, our recommended King Air 90 and King Air 250.
2. Light Private Jets
Light private planes are ideal for travels to nearby regional destinations that are only a few hours ahead. They can travel more than 1,000 miles and comfortably accommodate seven or eight passengers, making them perfect for shorter, domestic flights.
Our Recommendation: Learjet 35
The Learjet 35 is an American business jet and troop transport plane, that was developed by Bombardier Learjet in 1974. In comparison to previous models from the Learjet series, it uses less gasoline, has a longer range, and faster cruising speed.
Specifications:
Maximum passengers: 8;
Cabin height: 4 ft 4 in;
Cabin width: 4 ft 11 in;
Cabin length: 12 ft 11 in;
Flight range: 2,120 nm;
Flight speed: 470 kts;
Luggage space: 40 cu ft;
Lavatory;
Crew: 2.
International Jet offers only one light jet model on their website, our recommended Learjet 35.
3. Midsize Private Jets
Midsize planes are better equipped for trips that require more passenger capacity and better endurance. They provide more headroom and legroom and more luggage space, making them ideal for comfortable, longer flights.
Our Recommendation: Bombardier Learjet 60
The Learjet 60 is a jet with a good reputation, commonly utilized among passengers for both business and pleasure.
Specifications:
Passengers: 7 to 8;
Cabin length: 17 ft 7 in;
Cabin width: 5 ft 8 in;
Cabin height: 5 ft 9 in;
Aircraft range: 2,685 nautical miles;
Internal luggage space: 55 cu ft;
Cruise speed: 520 mph.
International Jet offers four midsize models on their website, our recommended Bombardier Learjet 60 and Bombardier Learjet 55.
3. Super-Midsize Private Jets
Super-mid jets can carry around ten passengers and offer the same degree of luxury as heavy jets. The super-mid class features a private lavatory, large internal and external luggage space, and sophisticated entertainment systems.
Our Recommendation: The Gulfstream G200
The Gulfstream G200 is a contemporary twin-engine business jet that was previously known as the Astra Galaxy. The G200 was built by Gulfstream Aerospace from 1999 to 2011 and designed by Israel Aircraft Industries. During the manufacturing era, 250 planes were produced.
Specifications:
Passengers: 8;
Full aircraft length: 62 ft 3 in;
External baggage space: 125 cu ft;
Cabin width: 7 ft 2 in;
Cabin height: 6 ft 3 in;
Cabin length: 24 ft 4 in;
Internal baggage space: 25 cu ft;
Maximum flight range: 3530 nm;
Maximum cruise speed: 470 kts;
Crew: 2.
International Jet offers only one super-midsize model on their website, our recommended Gulfstream G200.
4. Large Private Jets
Large, also known as heavy airplanes, are built to give greater comfort and enjoyment to those who are planning longer trips. With seats for around 18 people, large planes will genuinely give you a king-size flight experience. They have a flight range of up to twelve hours, allowing them to go across the country or continent without a single stop.
Our Recommendation: The Falcon 900
Dassault Aviation, France, produced the Dassault Falcon 900, a tri-jet business plane. It is an evolution of the Falcon 50, which was itself an evolution of the Falcon 20. The Falcon 900 is a larger, faster, and longer-range version of them.
Specifications:
Passengers: 12;
Full aircraft length: 66 ft 4 in;
Cabin volume: 1218 cu ft;
Cabin height: 6 ft 2 in;
Internal baggage space: 127 cu ft;
Maximum speed: 500 kts;
Maximum flight range: 3970 nm;
Crew: 2.
International Jet offers only one super-midsize model on their website, our recommended Falcon 900.
Company Safety Policy and Standards
International Jet is IS-BAO Stage 3 certified and ARGUS gold rated. Through the years, they have earned several NBAA Safety Awards.
The aviation industry has long employed SMS (safety management system) and QMS (quality management system) to help businesses create safe, extremely high-quality solutions. International Jet constantly thrives in providing timely and safe flights.
You can visit the company's website for a more detailed look inside the International Jet safety and quality program.
Pilots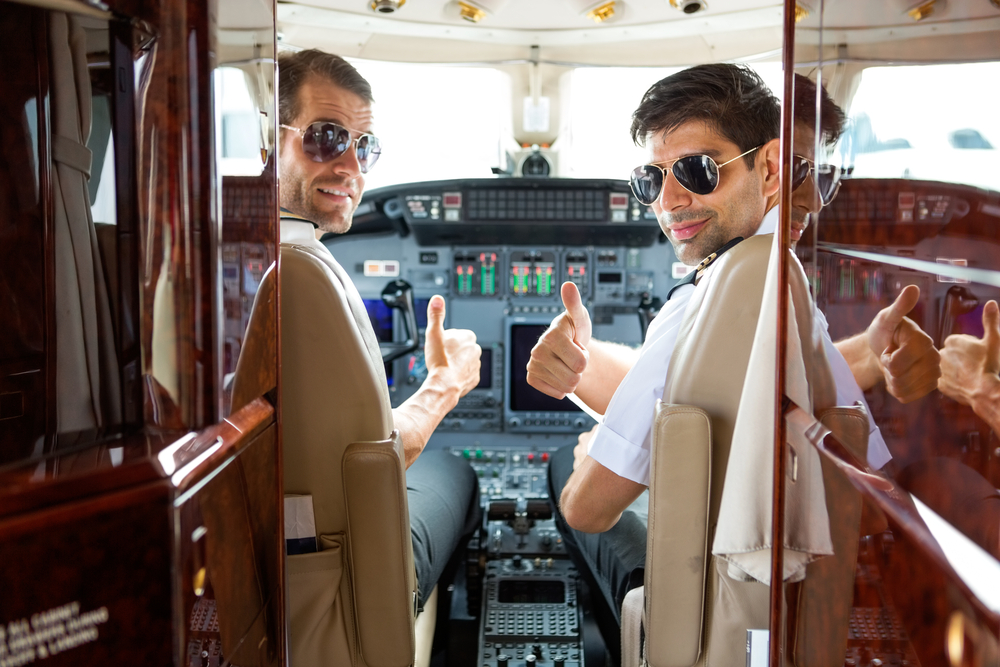 The International Jet crew meets all industry standards for safety and operations. They hire pilots with a wide range of professional aviation backgrounds, including the United States Military, Major Airline companies, Transport Services, Executive Flight Departments, Medical Flight Operations, and Flight Training Centers.
Despite their expertise, the pilots participate in yearly simulator trainings, where they rehearse "worst-case" scenarios to improve their ability to deal with the unpredictable. Furthermore, pilots are examined once a year in a genuine airplane. The examination is conducted by trained FAA Check Airmen so that the pilots can demonstrate competency abilities that are difficult or impossible to mimic in a simulator.
Pilots also gather once a month as a unit to discuss new FAA rules, operational specifics, and business directions. This gathering also provides a chance for them to share their field experiences and offer joint recommendations on how to enhance services and safety.
Additional Services
On every flight, International Jet provides a concierge service that is ready to meet their clients' needs. Their concierge services provide everything the passengers need so their flight is as pleasant as possible. This includes catering, limousines, restaurant recommendations and reservations, and any additional special requests.
International Jet also introduced its 37,000-square-foot private jet terminal in Denver, Colorado. It's the leading private charter terminal at Denver Centennial Airport, built in 2003, available for the company's passengers' exclusive use. International Jet clients can experience a private passenger check-in area, complimentary refreshments, and private meeting spaces for business requirements.
A pleasant and helpful individual is always available to assist you 24/7. When you contact International Jet, you will be greeted by a kind and knowledgeable representative who is ready to assist you at any time of day or week.
Conclusion
International Jet is a company with a long and illustrious history. In 2019, the company celebrated its 40th year in the aviation business, making them a worthy contender among the best aviation companies worldwide.