The Canadian jet manufacturing company Learjet was first established in 1962. This event is considered by many to be a milestone moment in the history of private flying. The company was one of the first to create elegant and luxury private jets, and even though it has gone through multiple ownership transitions, it has grown to become one of the most well-known names in the industry.
Following what appeared to be dominance in the executive aviation industry, the Learjet family of aircraft came to an end in 2021. Its parent company, Bombardier, decided to stop production after six decades of manufacturing, during which time Learjet made more than 3000 aircraft.
About the Company
In 1960 in Altenrhein, Switzerland, Bill Lear established the Swiss American Aircraft Corporation. The SAAC-23, later known as the Swiss P-16 aircraft, was the company's first private jet. Even though it was never put in service, its development led to the company's formation and focus on private jet flying.
In 1962, Learjet relocated the machinery necessary to construct aircraft from Switzerland to Wichita, Kansas, the residence of several of its rivals, including Cessna and the significant Boeing factory. In 1963, Learjet constructed its first successful jet, and the following year the corporation was renamed from Swiss American Aircraft Corporation to Lear Jet Corporation.
As of October 14, 1964, Lear had received 72 confirmed orders for their Learjet Model 23. Because of this, a number of other businesses rushed to enter the industry. However, it took Cessna five years to develop its first jet, and it took much longer for other manufacturers, like Dassault, to significantly impact the market. Therefore, Lear maintained his position as the exclusive provider of business jets.
During this time, Lear continued working on a number of other initiatives, one of which was the 8-track audio tape system, which enjoyed a brief period of popularity. This system allowed listeners to enjoy an entire music tape without having to rewind or turn the tape over during the playback. In 1965, he used this innovation to establish a stereo subsidiary of Learjet, which had its headquarters in Detroit. In the latter part of that year, he formed an avionics division in Grand Rapids. Lear Jet Industries was the corporation's new name when it underwent a name change in September 1966 to reflect its growing diversity.
Laurent Beaudoin succeeded Lear as President of the firm in 1969 and showed himself as brilliant and ambitious as his predecessor. The firm started a new age marked by Beaudoin's leadership. In 1966, the firm went public and was listed on the stock market.
After Bill Lear's 60% stake in the company was purchased by the Gates Rubber Company, Learjet eventually joined the Gates Aviation Corporation in 1973 and became known as the Gates Learjet. The first models constructed under this brand were the Model 35 and the Model 36.
When Bombardier bought over the Learjet Corporation in 1990, this resulted in yet another shift of ownership. Following that time, the line of private airplanes that Bombardier built became known as the Learjet series.
Products and Services
We'll go through Learjet's aircraft models and review some of Learjet's inventions, for which the company was mostly known.
When it comes to the services the company offers, Boeing still provides support and service for Learjet owners. After the production line at the Learjet plant in Wichita is shut down, Bombardier claims that it would continue to provide support and maintenance for already-existing Learjets.
Aircraft Types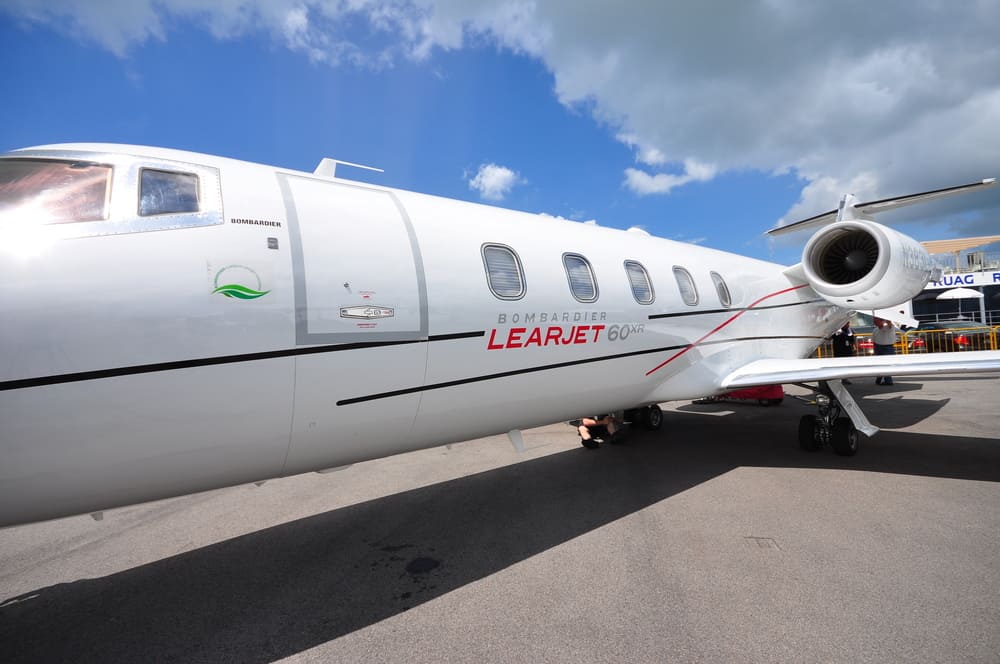 When the firm was first established, it was marketed as Lear Jet rather than the well-known Learjet. During this time, the company was responsible for producing three distinct aircraft.
As a subsidiary of Bombardier, a company that controls several other aircraft manufacturers, Learjet has been compelled to abandon its formerly autonomous practices and adopt a new organizational structure. Despite this, Learjet is the dominant player in the market for both small and medium-sized business jets, which spans many jet-size categories.
Let's look at the various Learjet models that have been manufactured throughout the years.
Learjet 23 – 1964 (101 built)
Learjet 24 – 1966 (81 built)
Learjet 24B – 1968 (49 built)
Learjet 24D – 1970 (99 built)
Learjet 24E – 1976 (16 built)
Learjet 24F – 1976 (13 built)
Learjet 25 – 1967 (78 built)
Learjet 25B – 1970 (102 built)
Learjet 25C – 1970 (25 built)
Learjet 25D – 1976 (140 built)
Learjet 25G – 1980 (23 built)
Learjet 28 Longhorn – 1979 (9 built)
Learjet 31 – 1990 (38 built)
Learjet 31A – 1991 (208 built)
Learjet 35 – 1974 (64 built)
Learjet 35A – 1976 (612 built)
Learjet 36 – 1974 (17 built)
Learjet 36A – 1976 (46 built)
Learjet 40 – 2003 (134 built)
Learjet 45 – 1998 (454 built)
Learjet 55 Longhorn – 1981 (126 built)
Learjet 55B Longhorn – 1986 (8 built)
Learjet 55C Longhorn – 1987 (14 built)
Learjet 60 – 1993 (318 built)
Learjet 60XR – 2007 (112 built)
Learjet 70 – 2013 (13 built)
Learjet 75 – 2012 (145 built)
On March 28, 2022, Northern Jet Management in Grand Rapids, Michigan, received the final Learjet that had been ordered. In a statement on their website, Northern Jet Management included a photograph of their staff gathered around the Learjet 75, the 24th aircraft in Northern Jet Management's fleet.
Learjet 85 – 2014 (only one was built before the project got cancelled)
When the firm was first established, it was first marketed as Lear Jet, rather than the well-known Learjet. During this time, the company was responsible for the production of three distinct aircraft.
The Learjet 23
The Learjet 23 was the first member of the family of business jets to take to the skies in 1963. It had the capacity to carry between four and six passengers in addition to two pilots. It came to life from the effort of American businessman Bill Lear and a group of engineers from Switzerland, Germany, and Britain.
The Learjet 24
An enhanced model known as the Learjet 24 came into being in 1966. It included improved engines, pressurization within the cabin, and one additional window.
The Learjet 25
The Learjet 25, an aircraft with an extended fuselage, was the third and final model to be manufactured under the original Lear Jet name in 1966. This aircraft was much longer than the 23 and the 24, enabling it to seat eight people rather than the last two aircraft's capacity of six.
As the company grew, so did their aircraft catalog, including:
Model 35 and Model 36
Learjet 28 and Learjet 29
Learjet 55
and Learjet 31
The Learjet 60
Eight passengers can fly in the Learjet 60, the first of the Learjet series aircraft to take to the skies in 1990, after Bombardier acquired Learjet. This jet was quickly followed by the Learjet 45 model, which had seating for nine people.
The Learjet 40
The very first flight of the Learjet 40 in 2001 brought Learjet into the 21st century.
The Learjet 70 and Learjet 75
After the Learjet 85 project was scrapped in 2015 due to its lack of success, Learjet produced the Learjet 70 and 75 – the final aircraft models manufactured by the company, bringing a stop to the series' narrative in 2022.
Most Famous Aircraft by the Company
When it first came out, the Learjet aircraft was a big step forward in innovation. Its nifty tiny airplane cabin gave passengers an experience like riding in a luxurious family sedan. However, private jet flyers found that larger jets were superior on most occasions due to the added space and amenities.
The Learjet 75
In 2012, during the European Business Aviation Convention and Exhibition (EBACE) in Geneva, Bombardier presented the Learjet 75 to the public for the first time.
The Learjet 75 is the most recent model of business aircraft that Bombardier Aerospace has created. It boasts innovative design elements, such as contemporary interiors, enhanced takeoff performance, high-cruise speed, enhanced engine performance, and lower operating expenses.
The Learjet 75 is an enhanced version of the Learjet 45XR jet, which was already known for its excellent performance. The airframe design is similar, but the tilted winglets are identical to those on the Global 7000 and 8000 aircraft, leading to increased maneuverability. The interior of the airplane is modeled by the cabins seen in Learjet 85 aircraft.
Specifications:
Passengers: 8;
Exterior height: 14 ft;
Wing span: 50 ft 11 in;
Full length: 58 ft;
External baggage: 50 cu ft;
Internal baggage: 15 cu ft;
Cabin width: 5 ft 1 in;
Cabin height: 4 ft 11 in;
Cabin length: 19 ft 9 in;
Max range: 2040 nm;
Max speed: 465 kts;
Crew: 2;
Engines: 2.
End of an Era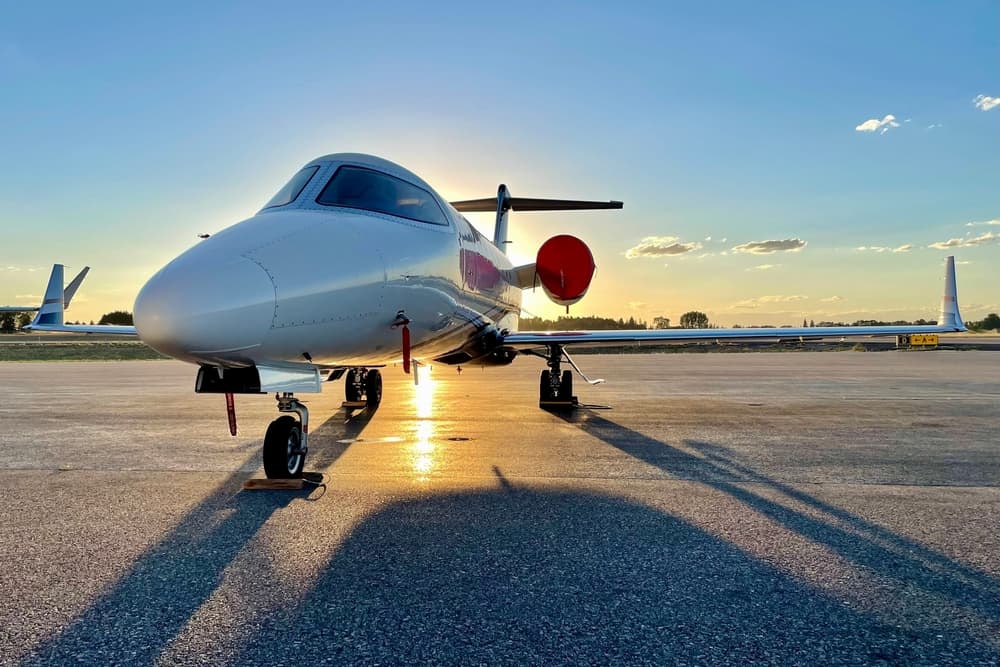 The Learjet was criticized for a number of things, including its cockpit's height and width, which could have been all right for CEOs and private jet flyers in the 60s, but in today's world, it just doesn't cut it. Despite this, Bill Lear had a well-known comeback to the criticism, which was as follows: "You can't stand up in a Cadillac, either."
Compared to the first Learjet, which had a range of less than 2,000 miles, the newest generation (such as the Global) has a range of 6,000+ miles and can fly non-stop for 12 hours, featuring an office, a workspace, or a bedroom in the air.
Therefore, in February 2022, Lerjet's owner Bombardier announced that it would cease widespread manufacture of the legendary aircraft and instead direct its attention to the development of its roomier Challenger and Global business jets.
Safety
In the early 80s, Learjet encountered a problem with high altitudes. This problem caused four Learjets to crash in the United States after having mechanical issues at high altitudes and losing control. The company has since accepted FAA and US government recommendations and made all the necessary modifications and improvements to Learjet aircraft. All the latest models are built with those requirements in mind.
Innovations
Learjet Inc., a pioneer in aviation technology, is one of the numerous legacies that the manufacturer and inventor William Powell Lear left behind in the 20th century. Although Lear is best known for his daring effort to build the world's first personal jet, he had a history of other innovations.
Only at 20, William Powell Lear was already a self-taught expert radio technician. He opened a modest store in Illinois and set out to advance state-of-the-art home radio technology. He successfully optimized radio coils and eliminated the need for storage batteries, in addition to making other improvements. His company started making money, and his efforts quickly attracted the attention of large manufacturers, like Motorola and Majestic.
Lear, still enamored with flying, invested in a tiny airplane, began training to become a pilot, and worked on developing an aviation navigation radio. 1931 saw the beginning of his sales, demonstrating his Lear Radioaire. However, during the difficult economic times of the Great Depression, only a small number of pilots had the financial means to buy such a radio. An even smaller number of pilots saw the need for such a communication device.
By 1934, Lear went back to his workshop to work on yet another invention, and he began drawing out the plans for the "Magic Brain." This standardized electronic chassis could be integrated into various radio set types. Within just two weeks, Lear was able to construct, show, and sell the concept, resulting in RCA awarding him a contract.
Lear then turned his focus back to aviation navigation and invented a radio triangulation device called the Learscope Direction Finder. These advancements not only garnered the respect of renowned aviation pioneers like Amelia Earhart, but they also earned him a place in the history of aviation's evolution.
During World War II, Lear focused his firm's efforts on developing electromechanical devices for fighter jets. These technologies included cowl controllers and auto-piloting systems, among others.
After the war, Lear Incorporated became a leader in developing all-weather flying instruments.
Conclusion
There is no other aviation company quite like Learjet. Every single business airplane was sleek and powerful, a representation of speed and style. Despite the fact that production will soon come to an end, the Learjet brand will not disappear. These aircraft will continue to be used and get assistance from Bombardier for many years ahead.