Tired of renting and chartering private jets? The time has come for you to take your flights into your own hands and finally get your jet?
We get that.
That's why we're highly committed to helping you gather all the information necessary, discover the best private jet marketplaces, and find what's right for you.
Buying a private jet is a huge decision, and anyone who decides to opt-in should be well-informed and confident with their decision as we're talking millions here.
In one of our previous articles, we explained how you can buy a private jet. In that article, we covered all the steps in the process of acquiring a private jet and the behind-the-curtain process that can make this purchase complex and tricky.
This time we give you detailed information on the best available online marketplaces currently.
Some aircraft sales and acquisition websites are multipurpose: they operate chartering, renting, "second-hand" jets sales, and new jet sales, while others are rather specialized, and deal with sales only.
As we always say when it comes to making this big decision: do not go through this process alone. Consult your broker, accountant, as well as an aviation-specialized lawyer. Some of these companies offer those services as well.
It's important that you're supported along the way, as we're talking millions of dollars of investment that are meant to last and to pay off in terms of the value and functionality of the product.
If you're not sure where to look, or what is it that you're seeing at first sight in the sea of online private jet marketplaces, let us support you on this first step by offering you a listing of all the web places we know that sell aircraft and are 100% reliable.
The Best Websites to Find Private Jets for Sale
Here are our top 8 online marketplaces for purchasing a private jet.
Net Jets

Fast Facts:
Net Jets is one of the oldest and largest private jet companies worldwide;
Operates a 700-jet fleet of all sizes and classes;
Collaborates with more than 4000 airports;
Is made of more than 6500 fractional owners across the globe;
What They Offer
Net Jets Membership card for those who fly more than 25 hours per year.
Net Jets Lease for those who fly over 50 hours per year, but don't want to own anything.
Net Jets Share for those who fly more than 50 hours per year and want to become fractional aircraft owners.
Fleet for Sale
They also sell aircraft. Here are the plane categories and models you can find in their assortment:
Wheels Up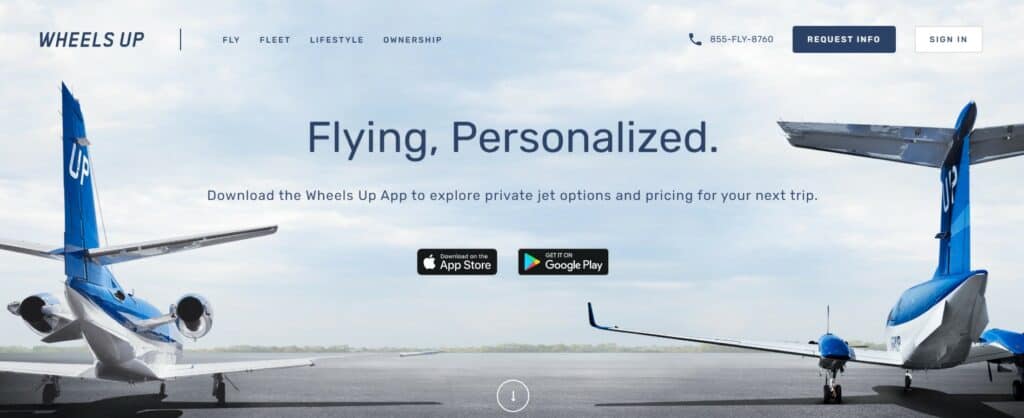 Unlike Net Jets that have been around for some time, Wheels Up is more of a new kid on the block. They are focused on utilizing technological advances to improve flying, much like Uber does.
One of their services is exactly that – short notice flight scheduling. However, if we take a look at the rest of their offer, they are still a jet charter company that also does aircraft sales. Let's take a closer look.
What They Offer
Membership cards are often a great replacement for owning a jet. Let's take a brief look at what Wheels Up can offer you:
Connect Membership: this is a chartering type of membership that gives you two passenger leads. You need to pay a $2995 initiation fee, and then cover your annual dues of $2495 from the second year.
A passenger lead, by the way, is the one passenger that has booked the flight. That means all postpones, cancellations, and similar, go through them. Imagine that the lead gets sick, they'd postpone or cancel the tickets, and it would be hard to transfer the tickets to someone else. I'm sure you've tried this.
With a second lead, they're simply an equal backup to the first passenger lead, and everything is going to be okay.
Core Membership: core membership gives you ultimate flexibility regarding available nationwide aircraft, all days of the year, and as quickly as within 24 hours. You can literally have whichever type of plane you need. The initiation fee is $17500, while further annual dues cost some $8500.
Up for Business Membership: Initiation fee here costs $29000, while annual dues that begin in the second year of membership cost $14500. With this program, you can have any type of aircraft for a fixed fee, any time you want. You can also have six authorized lead passengers, which should be enough to cover your guests on the plane.
Wheels Up also offers an expert team – a team of trusted, professional advisors: brokers, acquisition experts, trade experts, and new plane acquisition advisors. These people are here to help you go through the acquisition process as painlessly and stress-free as possible.
Fleet for Sale
When it comes to sales, Wheels Up has a limited offer of aircraft. At the moment, there are two types of second-hand planes in their sales inventory.
James Edition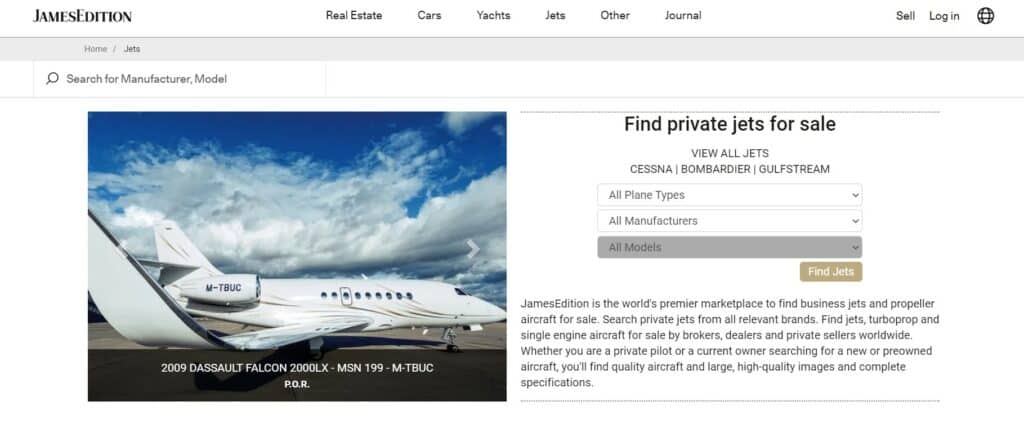 James Edition is a luxurious marketplace for all kinds of posh stuff: real estate, cars, jewelry, watches, jets, yachts, motorcycles, etc.
The company is based in Amsterdam, Netherlands, and it's kind of an AliExpress for expensive stuff.
It's by far the simplest one to browse, as you can search for specific product categories (turboprop jet of a certain producer), as well as just broadly scroll through all available products.
Fleet for Sale
James Edition is by far one of the most saturated online markets for private jet sales. They trade both second-hand and new jets. Prices are mostly available on-demand, although some models' prices are publicly displayed.
AV Buyer

AV Buyer has been around almost as long as Net Jet. From the very beginning in 1998, they have been focused on connecting aircraft buyers with aviation service providers using their means of marketing and communication: live events, printed magazines, and their website.
AV Buyer offers a myriad of services:
Buy and sell aircraft;
Market insights;
Jet and helicopter comparisons;
Buyer guides;
A hub for maintenance services and maintenance services;
Advertising services, etc.
Their online magazine is one of the most thorough resources regarding the world of jets, along with their jet buyer's guides.
Fleet for Sale
AV Buyer offers the most numerous fleet for sale compared to all other online marketplaces. They have more than 200 models per category, making it impossible for us to present to you their entire offer. That's why we'll only sort their offer by brand, and you can browse for specific models of a certain brand by clicking on the link.
| | |
| --- | --- |
| Plane type | Brand and model |
| Turboprop | Beechcraft – 63 aircraft (mostly King Air and 1 Duke)Pilatus – 17 aircraft Cessna – 47 aircraft Piper – 19 aircraft (Cheyenne, JetProp, and Meridian)Embraer – 2 aircraft Daher – 7 aircraft (TBM and Kodiak)Piaggio – 6 aircraftSocata – 12 aircraft |
| Very light jets | Cessna citations – 5 aircraft Embraer – 7 aircraft Honda jets – 2 aircraft Cirrus jets – 3 aircraft Socata – 12 aircraft (TBM) |
| Light jets | Beechcraft – 4 aircraft Bombardier Learjet – 13 aircraft Cessna Citation – 68 aircraft (Encore, Jet, Ultra, V, CJ, etc) Embraer – 10 aircraft (Phenom) Hawker – 10 aircraft (Beechjet, 400 XP)Pilatus – 2 aircraft |
| Midsize jets | Bombardier Challenger – 7 aircraft Bombardier Learjet – 24 aircraft (XR) Cessna Citation – 39 aircraft (Sovereign, XL, etc) Dassault Falcon – 7 aircraft Embraer – 2 aircraft Gulfstream – 23 aircraft (G) Hawker – 19 aircraft |
| Large jets | Airbus – 7 aircraft Dassault Falcon – 56 aircraft Boeing – 23 aircraft (BBJ, MAX, etc) Bombardier Challenger – 29 aircraft Bombardier Global – 51 aircraft Embraer – 10 aircraft Gulfstream – 57 aircraft |
| Turbine helicopters | Agusta – 94 aircraft McDonell Douglas – 30 aircraft Airbus – 25 aircraft Robinson – 16 aircraft Airbus/Eurocopter – 153 aircraft Bell – 148 aircraft Robinson – 16 aircraft Sikorsky – 9 Leonardo – 10 |
| Piston helicopters | Robinson – 63 aircraft Guimbal – 5 aircraft Enstrom – 4 aircraft Schweizer – 3 aircraft |
| Single Piston planes | Cirrus – 47 aircraft Cessna – 39 aircraft (Skylane, Stationair…)Piper – 21 aircraft (Arrow, Cherokee, Dakota, Matrix, Saratoga, Warrior…) Beechcraft – 7 aircraft (Debonair, Bonanza) Gippsland – 5 aircraft |
| Twin Piston planes | Piper – 24 aircraft (Aztec, Seneca, Navajo) Cessna – 20 aircraft Beechcraft – 16 aircraft (Duchess, Baron, Duke) Diamond – 6 aircraft (DA) Tecnam – 3 aircraft (P2006) |
Besides the aircraft models listed in the table, AV Buyer also offers military and classic types of aircraft, among which you can find Yakovlev and Boeing and representing brands.
Jet Linx
Jet Linx is an aircraft charter, rent, and sales company mainly focused on trading. They've been in business since 1999, meaning that they're a part of the older gang within the industry.
Since the beginning of doing business, their main focus has been customer satisfaction, which is why they're focused on providing the most personalized service possible.
They offer services like:
Jet membership cards;
Joint ownership;
Sales and acquisition;
Fleet They Offer
Jet Linx has an average-sized fleet, nothing near current numbers at AV buyer. The number of aircraft can vary depending on the current trends in the market and the popularity of the aircraft trade. Their current fleet size is somewhere around 26 aircraft.
International Jet

Founded by the former aircraft mechanic, International Jet has been around for the last 40 years, trading aircraft both locally (US) and internationally.
The company employs experts in all fields necessary for conducting successful aircraft trade: brokers, financial experts, technicians, etc.
Sales and acquisition are done through their subsidiary called Aero Trans.
They offer services such as:
Pre-purchase inspection;
International registration;
Brokerage;
Negotiations;
Contracts and legal aid;
Financial and tax aid;
Acquisitions;
Insurance;
Aircraft management;
Appraisals;
Audits;
Maintenance programs.
Fleet They Offer
Air Charter Service

Air Charter Service is another company with a truly large fleet that has been active in the aircraft industry since the early '90s. They operate a large fleet of aircraft and have more than 23000 take-offs each year from worldwide destinations.
What they offer:
Private charter;
Group charter;
Cargo charter;
Aircraft sales and acquisition;
Expert assistance.
Air Craft's business model is slightly different from the previous companies, as their fleet for sale is not available on their website. If you wish to find out about the aircraft they offer, you need to contact them through contact forms or emails exhibited on this page.
And while this might seem strange, as all other companies have publicly displayed their selling fleet, it's also logical, as it's much better to have human and expert contact from the very beginning when it comes to making such a huge investment.
The Private Jet Company

The Private Jet Company is the only aviation company to operate corporate and private flights on the Isle of Man.
They hire a wide range of professionals to satisfy their customers' individual needs.
What they offer:
Assistance with purchase and sales;
Delivery;
Registration and de-registration;
Operating services;
Crewing;
Maintenance;
Documentation;
Hangarage.
Fleet They Offer
Since this company too offers more than 200 aircraft at any moment, it's impossible for us to present you with every single available model. That's why we'll just list available plane sizes along with suitable brands. By clicking on the link, you can review the exact models available for each brand and plane size.
Also, as you browse their website, pay attention to the small numbers in the lower-left corner of each picture. It stands for the number of available pieces of that particular brand and model. This is something that other sellers rarely have. Usually, only one piece of one particular model of aircraft is available per seller.
Summary
This was our top 8 selection of the best websites to find private jets for sale, however, this is not where the market ends.
There are many other great online jet marketplaces you can visit, that we haven't listed here.
Controller, Liberty Jet, Global Air, Charter Jet One, Jet Listings, and many other companies also trade aircraft, and if you haven't found what you were looking for here, perhaps these might offer you that specific something you want.
Wherever you choose to purchase your airplane, keep in mind that you should always have a team of experts by your side.
Some companies offer expert help like brokerage, financial advice, pre-purchase inspection, legal assistance for taxes and registration, but some don't. If there are no such services offered by the company, make sure to form your own team before closing the deal.
Also, think twice before purchasing the plane: are you sure that's the right step to take? Is fractional ownership or jet membership a better option for your needs, or do you estimate that the number of hours you spend in the air each year justifies this kind of investment?
Of course, you are allowed to make such moves out of pure luxury, but purchasing an aircraft is not just leisure. It's like running a separate business because it's not exactly a car you can simply start and then use to drive yourself around town. You need a large team of experts, from the pilot and the cabin crew to technical, legal, and financial aid.
Also, you need to inform yourself about the types of planes that exist on the market, and which type of plane would best suit your needs. Where are you going to fly? How many people will be taking off with you each time?
You may have an eye for the Boeing heavy jet, but if you're only taking 5-6 people with you on your trips, and if you're only flying locally, it would be a meaningless investment.
We hope this article served you well as an informational piece. Follow our website for more similar articles.