An area of particular interest when it comes to chartering a private jet is the jet's restroom, commonly referred to as lavatory in the aviation industry. Oftentimes, this is a deciding factor when choosing an aircraft since not all are equipped with a lavatory, and those that have different types of lavatories and amenities.
In the following lines, we'll explore a variety of lavatories that can be found on different types of jets, as not all lavatories are made equal. But before we get into that, let's see why private jet toilets and bathrooms are called lavatories.
What Does the Name Lavatory Mean?
The word lavatory means "to wash" or "a place to wash" and comes from the Latin word lavare and lavatorium. The phrase was fashionable and often used by the higher classes during the late 19th and early 20th centuries. In the same period, the era of aviation was on the rise. And since the elite was predominantly flying at the time, the word lavatory replaced the term bathroom in the aviation sector and made its way into the aircraft vocabulary.
Let's take a closer look at the different types of lavatories you can encounter on private jets.
Types of Private Jet Lavatories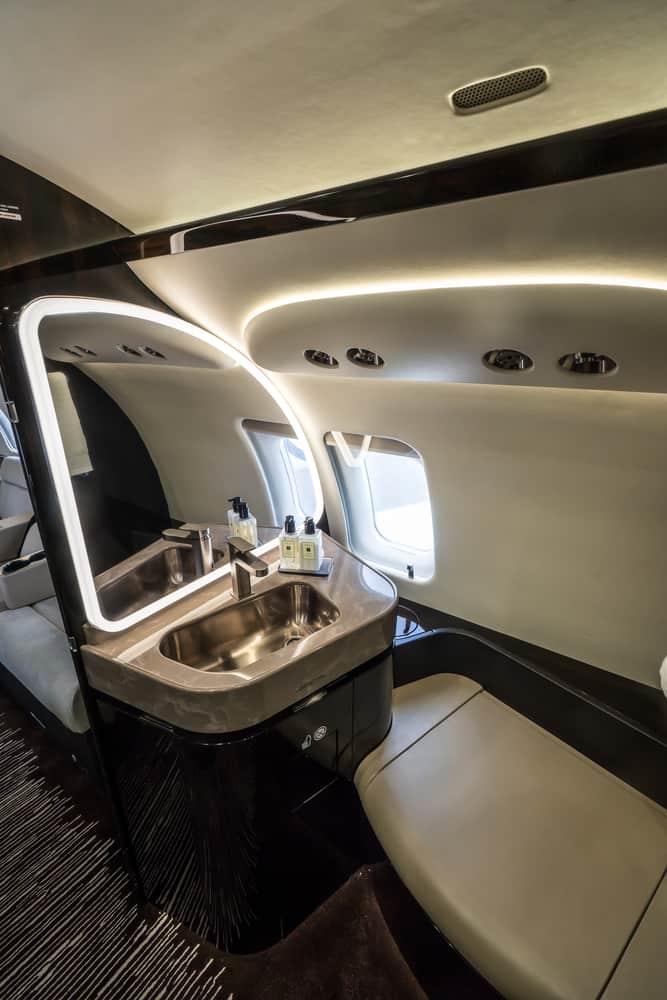 Private jet toilets and bathrooms, or jet lavatories, generally fall into two categories: fully and partially enclosed. This division is based on the level of privacy they offer, so let's see how they differ.
Fully Enclosed Lavatory
According to industry regulations, for a lavatory to be fully enclosed, it needs to have one of the following:
A plastic accordion door
A wooden swinging door
A hardwood bi-folding door
Two wooden doors that slide and meet to form a solid door
The facilities in a completely enclosed restroom vary, but most feature a toilet, a sink, and a mirror.
The toilet in some private jets can also be turned into a "lav seat", which is an additional seat that can legally be used. It's padded with the same fabrics as the seats located in the cabin and has a seatbelt.
Partially Enclosed Lavatory
Many flyers don't mind giving up the privacy of a completely enclosed restroom for a more affordable alternative. No facilities are required as there are no regulations by aviation industry standards for semi-enclosed lavatories. Most lavatories of this kind come with a seat and a seat cushion that, when lifted, reveals the emergency toilet. This toilet is not flushable but chemical, known as "the potty."
This potty is often placed between the cockpit and the passenger cabin, ready to be used in case of emergency. Even though semi-enclosed lavatories provide far less privacy, most do come with a detachable separation curtain.
Types of Private Jets and Their Toilets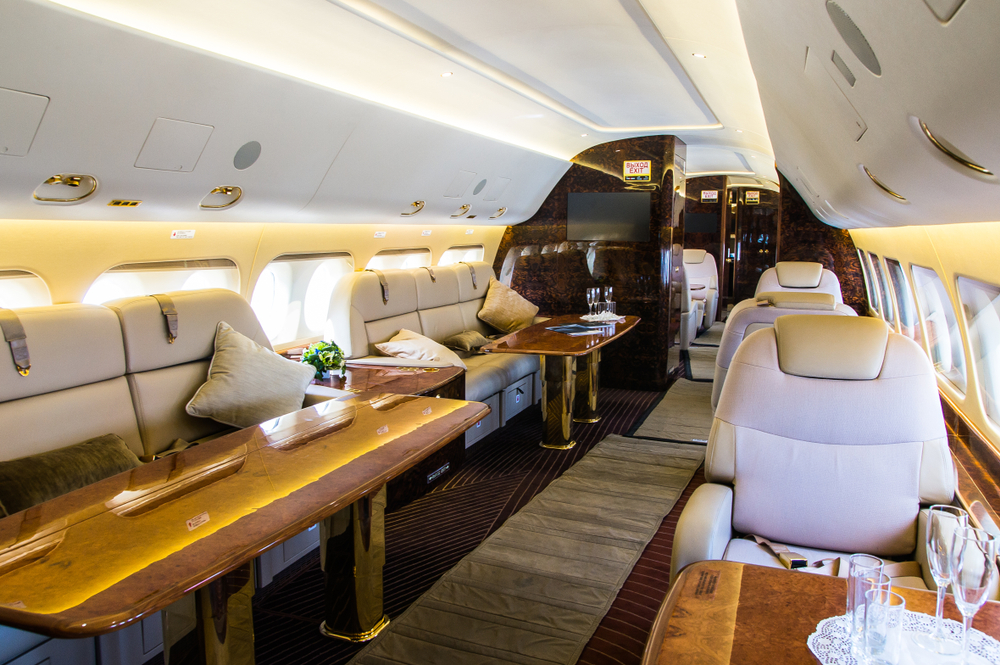 As you can see, private aircraft restrooms are not created equal and vary in size, mainly based on the aircraft type. Some have complete restrooms and showers, while others have a little toilet behind a curtain. And there are even jets that don't have any type of toilet at all.
To choose a jet that will suit your preferences, here's what you can expect from lavatories on different jets.
Turboprops and Very Light Jets
Turboprops and very light jets are the smallest jets available, which is why most don't come with a toilet. Consider the Eclipse 550 and the Cirrus Vision Jet – these jets are designed for brief flights, usually under an hour, so there are no toilets in the cabin. Manufacturers usually don't include lavatories to lower operational expenses and the overall cost of manufacturing. If your trip is short, flying on a turboprop or a very light private jet is the most cost-effective option.
There are also jets in these categories that have semi-enclosed restrooms with chemical toilets. There aren't any doors and the toilets don't flush, but there's usually a detachable curtain for privacy. For example, the Cessna Citation Mustang features a partially covered toilet between the cockpit and the cabin.
Some, more luxurious very light jets, like the HondaJet, do feature a fully enclosed restroom with a door, not a curtain, and with a sink and a faucet.
Light Jets
Light jets usually come with lavatories that are a bit more spacious than those in very light aircraft. For example, light jets like the Phenom 300, Citation CJ2, and Nextant 400 have a private, covered restroom that's located at the back of the cabin.
A wooden swinging door, hardwood bi-fold doors, sliding pocket doors that merge to form a solid door, or occasionally an accordion door divides the bathroom from the cabin.
A flushing toilet, a sink with a mirror, and cabinets are common facilities. Although they may be tiny, these are well-designed and practical lavatories for trips of a couple of hours that small planes can handle.
Some earlier types, like Cessna's Citation Mustang, feature an "urgent situation" toilet facility that's situated in between the cockpit and the cabin. It has a detachable privacy curtain and lacks a sturdy door.
Midsize and Super-Midsize Jets
Toilet facilities get a bit bigger as you move up the size range of private aircraft. The reason for this is simple – midsize and super-midsize jets have between 4 and 8 hours of flight time and accommodate more people, so a lavatory in these jets is mandatory.
For example, the 8-seater midsize jet Citation XLS+ has a well-designed restroom with all the essential facilities.
Super-midsize aircraft, like the Legacy 500, have even greater bathroom amenities and more space, including a dressing area, cabinets, and more space to walk around, which doubles the lavatory as a personal wardrobe.
Heavy Jets
Once we've arrived at the large private jet category, the bathrooms start to get interesting. Most heavy jets feature a big bathroom suitable for taking showers, while more exclusive models even have a full bath. Heavy jets can fly non-stop for more than 14 hours, which is why the bathrooms are bigger and fully equipped with a sink, mirror, flushing toilet, cupboards, and plenty of space.
Long-Range Jets
Long-haul planes provide passengers with more spacious restrooms and amenities for flights lasting between 9 and 12 hours. These lavatories are usually equipped with attractive fixtures, lights, a mirror, and cabinets, giving a comfortable space for travelers to dress and refresh. Some also feature a shower or a full bath, and have windows and more storage space.
The Bombardier Global line, Dassault's Falcon family, and Gulfstream's G650 and G650ER make up the high end jets in this aircraft category. These ultra-long-range planes have spectacular, well-equipped bathrooms since they are usually used for international and intercontinental travel.
VIP Airliners
VIP airliners are the best of what private aircraft offers. They are usually customizable and very spacious, so naturally, there's always a fully enclosed lavatory with high-end facilities and amenities.
Some offer numerous baths, spa amenities, and even a Turkish bath. But more frequently, there is a bathroom with a shower in the middle of the cabin and an additional bathroom with a shower adjacent to the VIP bedroom at the back of the aircraft.
Airliners that have been converted to VIP jets include the luxurious BBJ (Boeing Business Jet), ACJ (Airbus Corporate Jet), and Embraer's Lineage 1000E, all of which feature spacious lavatories equipped with everything one might need.
Conclusion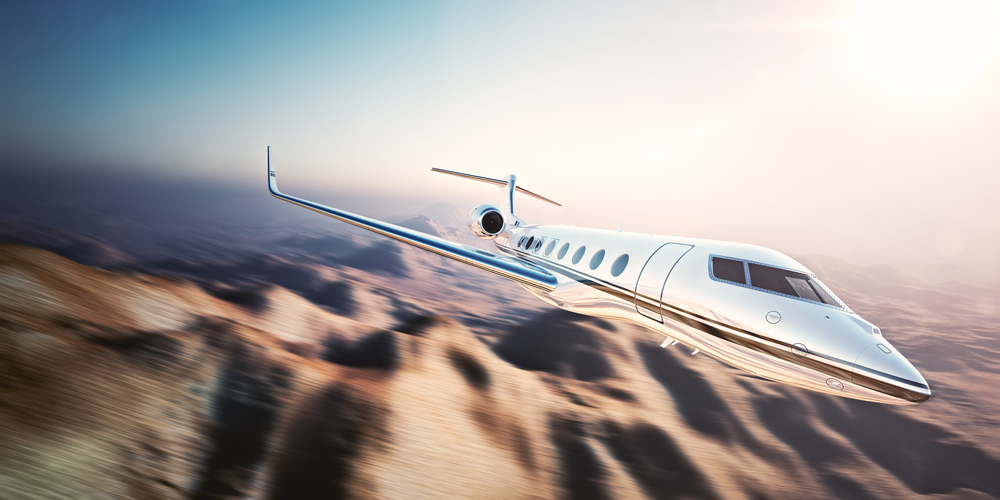 As a result of everything we've learned so far, you should always ask and inform yourself about the bathroom type of your preferred aircraft before making any private jet-related decision. We think this is our most appropriate advice, so that there are no surprises for you on your flight.